Two years ago THP hosted its first annual 12 Days of Holiday Cheer. A contest unlike any other on the internet and it quickly became "legendary" in that THP gave away unbelievable prizes for 12 straight days over the course of the Holiday season. With the holidays approaching quickly, we are now announcing the 3rd annual event and have taken this iconic event to a new level.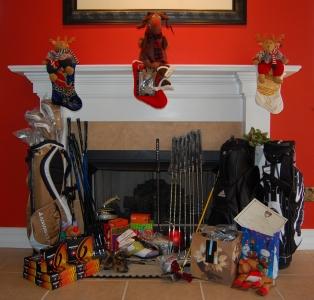 This contest is a thank you of sorts. A thank you from the entire staff at THP as well as all the wonderful companies that are involved in this unbelievable event. As with everything that THP does, we wanted to raise the bar from last year's epic contest and so this year 12 Days of Holiday Cheer in actuality will be 17 days long. That's right! 18 days of contests ONLY on THP.
The Contest
Nothing means the holidays more than giving and THP wants to give away some fantastic gifts to all of our readers. Entering the contest is as easy as sending a single email. Your job is to send an email to contests@thehackersparadise.com and in 50 words or less, explain why you love THP, by doing so you will automatically be entered in all 19 days of contests. You can tune into the THP Forum each night at 8pm EST when we announce the winners.
Rules
One entry only per participant
Your email must be sent to contests@thehackersparadise.com
This contest is open to anybody that would like to participate
Winners will be randomly drawn.
The deadline of this contest is Sunday December 11th, 2011 at 11:59pm EST. All entries must be received by then to be considered. Winners start getting announced Monday the 12th.
Bonus Entries
Your email counts as 1 entry in the "hat" for each day.
If you Tweet this contest on twitter you will also receive a bonus entry in the "hat" each day. You can do so by clicking the green "retweet" button at the top of this article or by mentioning the contest & the twitter handle @hackersparadise in a tweet.
If you mention this contest on Facebook by tagging the THP Facebook Fan Page & "like" THP you will also receive a bonus entry.
If you are a forum member with at least 10 posts, and 5 in the last 30 days, you will receive 5 entries in the "hat" each day rather than 1, if you choose to enter.
You must include your forum screen name, twitter handle & Facebook Page link in the email sent to qualify for the extra entries.
If you are not a forum member but would like to sign up, Click Here. Registration is always fast, free, and easy.
Prize List
Day 1 – Bridgestone – 1 year supply of golf balls (12 dozen) after going through a B-Fit session.
Day 2 – Cleveland – 588 Wedges (56 & 60)
Day 3 – Nike – VR Pro Limited Edition Forged Driver
Day 4 – Izzo – Swami 3000 GPS
Day 5 – Callaway – Complete Outfit (Shirt, Belt, Shorts/Pants, Hat)
Day 6 – Odyssey – Choice of Long or Belly Putter Including Sabertooth, DART and/or 2-ball
Day 7 – Bushnell – Hybrid GPS/Rangefinder
Day 8 – Bushnell – Tour V2 Laser Rangefinder
Day 9 – adidas Golf – Tour 360 ATV Shoes
Day 10 – Fairway Styles – $200 gift card
Day 11 – Mizuno – Set of Irons (your choice from current line)
Day 12 – Mizuno – Golf Specific Outfit
Day 13 – Cobra – ZL Encore Driver (winner can choose all white or black and electric yellow)
Day 14 – PUMA – Complete Outfit Including Shoes – Male or Female (top, bottoms, shoes)
Day 15 – GolfTec – Swing Evaluation
Day 16 – Wilson Staff – Duo Golf Ball – 6 Dozen
Day 17 – SCOR – set of 3 wedges (2 winners)
Day 18 – PING – Scottsdale Putter of your choice and iPING Cradle + A second winner gets an iPING Cradle
Day 19 – SeeMore – CS Series Putter (6 putter models to choose from) plus a Pat O'Brien DVD, SeeMore hat, Triangulator, extra head cover and divot tool
We wish you all good luck and hope you enjoy the 3rd Annual THP 12 Days of Holiday Cheer. Remember to check the THP Forum contest section each night to find out if you were a lucky winner.