The unknown is all that is known right now as it pertains to the remainder of the 2014 season for Tiger Woods. With the final major of the season on deck, and the injury forcing him to leave the tournament today, it could mean an abrupt end to a rather interesting year for the former world #1. His results look rather unimpressive and of course are in place due in part to the back surgery that took him out of play.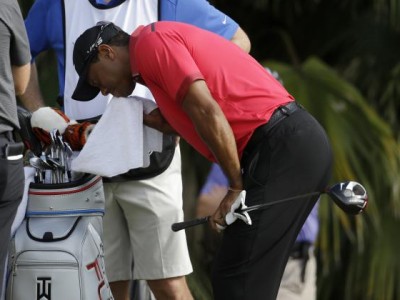 The year so far featured a tie for 80th, tie for 25th, 69th, missed cut and 2 withdraws. Hardly the stat line you would see from arguably the greatest ever. Fans flock to the injury, detractors flock to the swing and his rough stretches since partnering with Sean Foley. The only thing the golf world knows for sure right now is that the dominant Tiger Woods of old is not here and may not be here for quite some time.
Most would agree that Tiger needs to become healthy again before making the jump back to competitive golf. While this most likely pulls him from the Fedex Cup, the Ryder Cup and the final major of the year, it does give him the ability to return to the spotlight at the right time when the game is in check.
During today's telecast, Sir Nick Faldo said "Most come back at 80% and swing at 80% until they work their way back into form. Woods came back and went at shots from the rough at what appeared to be 100% and it might have cost him". Based on what has been seen, that statement feels quite accurate and coming back this early for the Open Championship and the WGC Bridgestone may have cost Tiger Woods the ability to compete in the PGA Championship at a course he has won it previously.
What do you think will happen? How will the rest of the year play out? Will we see a fresh Tiger Woods make a return in 2014 or is 2015 the return date? Lastly, will Sean Foley still be with his star pupil? Join us in the THP Forum here to discuss the latest on Tiger Woods.