The newest craze in the golf shoe industry is getting away from the use of spikes. Sure, companies will continue to make spiked golf shoes, but many are testing the limits of what type of golf shoes people will buy that are considered "spikeless". Allen Edmonds has partnered with Jack Nicklaus to design a spikeless golf shoe made from some of the finest leather for comfort and looks. In the series designed by Nicklaus, the golfer has the ability to go with the ever so popular saddle shoe or the look of the desert mountain. Before we dive in, let's learn a little bit about the company.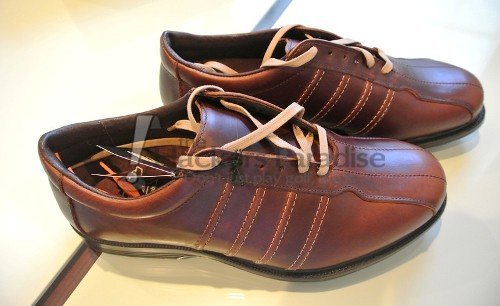 The Company
In 1922, Allen Edmonds founder Elbert W. Allen launched his new shoe company in Belgium, Wisconsin. Partnering with Bill Edmonds they decided that to be successful they needed to stay close to their Midwestern roots. The value of hard work, honesty, humility, and trust would be the cornerstone of a new kind of shoe company.  It would be considered a "new kind" of shoe company because of the innovative manufacturing techniques that relied on Goodyear welting to make durable shoes that were nail-less and shankless.
They have received endorsements from some very influential people throughout the years. These people include; Presidents Ronald Reagan, George H.W. Bush, Bill Clinton, and George W. Bush who all chose to wear a style of Allen Edmonds during their inaugurations.
It is no surprise that they have kept the same innovations and stylings throughout their golf shoe lineup. They have added the Jack Nicklaus Signature Series this year and it is the first shoe imagined, co-designed and worn by one of golf's greatest champions himself. The all leather collection features a "stability rim" sole to help prevent sway, waterproof technology, as well as the X-pattern tread that offers superb traction and is still kind to putting surfaces. They also feature breathable, all leather uppers and removable insoles that will allow you to replace with custom orthotics.
Looks
The Desert Mountain is a contemporary bicycle-toe balmoral available in four colors and can be had in various lengths as well as widths. I have personally struggled to find the best comparison in shoes or golf shoes when it comes to looks. The design on the shoe is almost one of a kind. The more I look at it, the more I try to compare it to a mix between an oxford with the style of the bicycle toe and lines on the side that give it a small sporty look. I have also searched the internet to find a golf shoe that would be comparable, which is not an easy task. As soon as you take the shoes out of the box you instantly notice the quality of the leather. The leather is very soft and has a nice shine to it. The other models available have more of a matte finish, for those looking to go away from shine.  The insoles and the leather upper are extremely comfortable as well. The shoes came with two different sets of laces; one is seen in the picture above and there is also an orange set for someone looking to spice up their shoe. To me, the orange laces take the shoe from the "dressy" look to a more casual look. The sole of the shoe has soft spikes that are placed for excellent grip in all weather conditions and gives you the ability to wear them on and off the course.
Technology
The creators of Allen Edmonds started the company on innovation and new aged designs, so of course they would put all their innovations into a golf shoe. Upon receiving the shoes I looked at them as a nice pair of golf shoes but was very unaware of the technology packed into them. I was blown away with aspects of the construction that only a shoes designer and a major champion could incorporate into one heck of a golf shoe.
SOLE CONSTRUCTION FEATURES
Patented extra perimeter cleats create "Stability Rim" for added swing stability and prevent sway

Molded traction x-tread spikes for excellent grip in all weather conditions and to help distribute weight for a green-friendly read to protect the putting green surface

Wide x-tread cross patterns create a green friendly tread, will not form indentations on greens

Highly durable and strong wear resistant outsole TPU skin

Colors to enhance shoes styles and be on trend

Signature co-branded logo under mid-foot

Jack on 17th logo on heel

Designed to be worn to work, course and back home
IN-SOLE CONSTRUCTION FEATURES
Removable in-sole to allow custom orthotics and ultimate comfort for sport's ultimate walking game

Heel and forefoot molded pads for added comfort and shock absorption from heel strike forward

TPU contoured heel and arch pocket to support foot and allow even weight distribution

Jack on 17th logo and co-brand on in-sole

Polyurethane body for heel-to-toe comfort and stability
SHOE CONSTRUCTION FEATURES
Full leather outer and lining for rich look and interior feel, allowing breathability and reduces heat

Water resistant treated leathers cement lasted to mid-sole for protection

Padded collar and tongue for added comfort

Multiple laces included for those who want to add color to their look

Anatomical foot bed with triple density comfort system, cushions the foot to resist fatigue while allowing feedback from all ground conditions, sand, rough, fairway and green

Polyurethane mid-sole
Testing
I was excited to put these shoes to the test from the day they arrived. For me, they are purely a shoe I would wear with pants. I did receive these in the early summer, so I decided to wear them with shorts for comfort. The Instant I put them on I knew they were going to be comfortable for a round of golf. First off, they fit very true to size. I received an 11.5 and my foot fit exactly how I would prefer a shoe to fit. I do not like any heel slide whatsoever and have not had issues with that. Even when I wear pants for golf, I still wear ankle socks, so the leather upper has proven to come in handy when my socks slide down a bit. I have had no issues with blistering or any irritation. I have low arches, so a big concern for me is arch support. I do not need a lot, but I need a shoe that is going to offer it in some way. These shoes have that support I need and I noticed no foot soreness in my arches after my round.  The course was a little damp due to some rain the night before and I didn't have one instance of losing my footing during my swing. There are also some railroad ties that are used for steps that can sometimes be slick after a rain. I have a pair of shoes that causes me to slide every time I step on the ties, but the Desert Mountains did not give me that issue. Upon ending my round the shoes still looked very nice. There were no creases in the leather to speak of and my feet felt fantastic, especially considering I was wearing an out of the box shoe.
If you will notice, I have not mentioned anything about fit around the toes. While researching the Allen Edmonds website I learned that the proper fit is in the ball of your feet and it doesn't matter where your toes end up, speaking of width of course. If you are unsure of how a shoe should fit, you will find ample help from their customer service department, which is located in Wisconsin.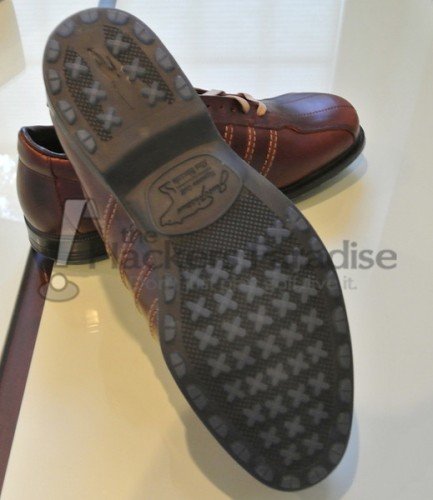 Overall
I was a bit hesitant on the looks of the shoes from the moment they arrived. I don't typically wear pants on the course and I feel like these should be partnered with pants. As I wore the shoes a couple of times, they began to grow on me in looks. I still find it difficult to put them on with shorts, but on some occasions have worn them in a more casual environment.  They remain to be a very comfortable shoe and the leather has held up very nicely. There are care instructions on the website if this is your first leather shoe or you just need a reminder. The lines on the side of the shoe still to this day throw me off just a little bit. That's just a look preference that obviously will not affect someone else. I prefer a more basic look when it comes to a golf shoe of this nature, so the lines add that "sporty" leather look.
I do feel like these shoes are a very nice addition to the Allen Edmonds golf shoe line and many people will favor the look. I have had a couple of friends who have commented that they love the look and will be searching for a pair soon. As mentioned before, I am very impressed with the technology packed in these golf shoes that will do nothing but assist you while on the golf course.
You can find out more at http://www.allenedmonds.com/
MSRP: $195.00