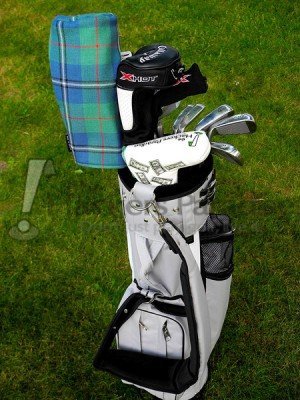 In today's golf industry, moving backward isn't exactly common. Can you imagine the idea of buying a set of retro persimmon woods to play next season? For most the answer would be no. However, there has been a recent push towards bringing back some of the icons and brands of the past in other parts of the game like fashion and accessories. A perfect example of that is the return of the Jones Bag. Before we start talking about the Jones Stand Bag I reviewed for this article, let's take a look at the company and what they are trying to do with the reinvention of the brand.
#EnjoyYourWalk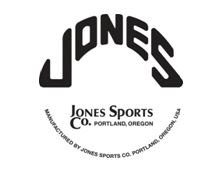 In 1971 a part-time golfer and cab driver from Portland Oregon glued, taped and cobbled together the first of what would become a line of golf bags that would revolutionize the category. The plan was simple: Create an iconic, functional bag that could easily be customized. The result was a bag that served as the face of amateur, high school and collegiate golf for generations. The technical and design revolution the modern golf bag underwent in the early 1990s left the classic Original Jones Bag to fend for itself as a single-strap, no-stand bag that seemed to be slowly forgotten among the new styles and features of the modern golf bag.
It's oh so very good to be back. The Jones Sports Company would like to extend its appreciation for the movement to bring back an icon. 40 years in the remaking, with a passion for purity, Jones is thrilled to have the re-release of The Original Jones bag on our shoulder, and aspirations to continue bettering the golf world in sight. We look forward to uniting generations around this legendary bag as we bring a vintage piece back to life.
The vision for Jones is to retain its dominance in the golf industry and assert itself as the premier traditional carry bag on the golf circuit by bringing back the recognition and distinguished identity held in its prime. We look to relieve the ever-growing nostalgia of those that once had the pleasure of carrying a Jones bag. When you strap on a Jones, you're not carrying a bag, you're carrying a legacy.
We also hope that you will keep an eye out for more to come from the Jones Sports Company as we delve beyond just the golf bag industry. The Lemman family, the third owner of Jones, also acquired Forrester outerwear and plans to soon partner the two brands, thus creating the perfect golf duo. The future of Jones has its sights set high on launching lines of apparel, luggage, and other accessories that change the way golf is played.
The Jones Stand Bag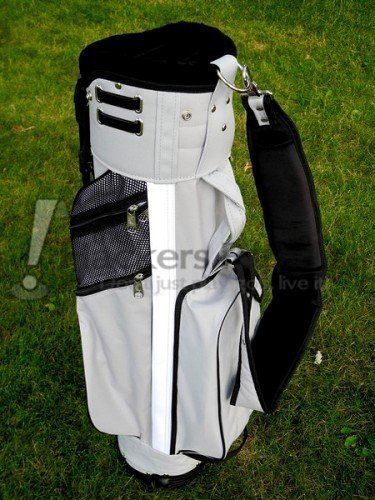 Simple. Vintage. Classic. The Jones Stand Bag embodies all that is Jones in a single strapped reproduction of the 80's and 90's icon. Fur topped and rugged, this carry bag is guaranteed to bring back memories of your heyday.
Features:
The Jones single strap for ambidextrous carry
Signature fur top club divider
Signature twisted handle
Signature two zippered ball pouch
Full length club dividers
Original Jones Bottom Mold
Updated stand mechanism
Two Full length outerwear pockets
Two Valuables valour lined pouches
Two Mesh Exterior pockets
Two Exterior umbrella sleeves
Clear owner ID sleeve
Includes rain hood
Specifications:
Top: 7.75 x 8" / 3 way divider
Pockets: 3 (2) front (1) back
Single strap
Made with MTL Nylon
Weight: 5.4 lbs
The Jones Stand Bag epitomizes simplicity and truly embodies the retro movement, while providing some of the luxuries we rely on today. In comparison to many of today's styles it is truly understated. Available in four color options – black, red, blue, and gray (tested) – the lack of flair almost seems out of place. However, looking deeper, many unique and appealing details emerge. Small accents like the fur lined dividers, black leather buckle straps, and the signature twisted handle are all things that give the bag character that we aren't seeing elsewhere.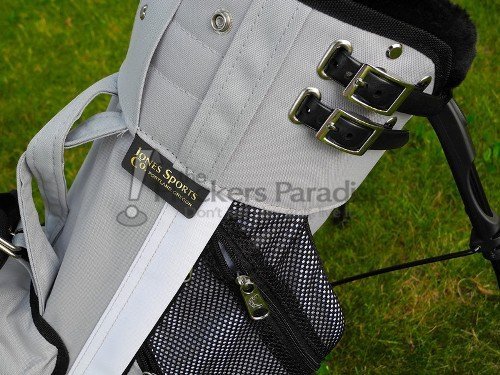 The single carry strap was a new thing for me and I will admit that I had some concern regarding comfort when tasked with carrying the bag for rounds of golf. What I found was that the bag possessed one of the most padded straps I've ever seen. This proved to be very useful, as I didn't experience any undue discomfort or fatigue while testing. In fact, I felt like the single strap was easier to just grab and go, as opposed to double straps that have to be put on with a touch more effort. The bag feels very light in weight and really made carrying a breeze. In addition, it was easily secured to a golf cart for a riding round I played.
I have a simple test for pockets when it comes to golf bags. Are they all useful and are they convenient to access? The Jones Stand Bag passed here, with each pocket holding some value and residing in a convenient place. The two valuables pockets are fleece-lined, which I think it almost a necessity. The only complaint I have about them is they are a little tight to get the hands in, which made it harder to grab items that fell to the bottom. Above the valuables pockets are opposing mesh pockets that were easy to get to while carrying. The larger side pockets were perfect for a small wind shirt or rain jacket. My favorite storage feature was the two-way ball pocket, something I hadn't seen before and learned to really enjoy. I was able to stack a couple sleeves of balls on the right side and then keep all my larger accessories on the left side. Not a new idea by any means, but one that I appreciated.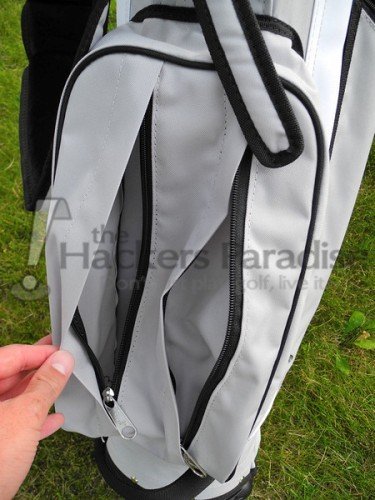 The stand apparatus worked flawlessly during testing, with no instances of the legs failing to retract when picking the bag up. While Jones offers the 'Original' bag that doesn't have stand features, I don't think I could do without something to prop the bag up. I'm glad they took this modern element and added it to the line. The fur lined, three-way divider was hit or miss for me. I appreciated the full dividers and loved the look of the fur, but in practice it was somewhat difficult to insert and remove my clubs while the bag was sitting with the stand legs extended. I'd go as far as to say it was frustrating at times, though I found that picking the bag up, slinging it on my shoulder, and inserting the club while walking mostly cured that issue altogether.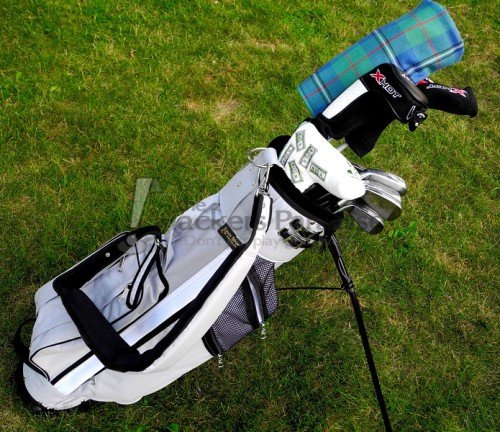 Finally, the details are always important and I do feel there are some improvements to be made here with the Jones Stand Bag. I felt that there were two items that would have made the bag much more functional – an external water bottle holder and a score card pocket. I don't want to mess with zippers while I'm walking and both are things I like to access while moving between holes or shots. These small details are things that are somewhat integral to the modern bag, yet I don't think they'd upset the retro look that Jones is aiming for if they were to add them.
Final Thoughts
The Jones Stand Bag appealed to me on a number of levels. I loved the throwback look and the idea that I was carrying something similar to so many golfers before me, without giving up too much modern comfort. The light weight and massively padded strap really did facilitate a comfortable walk and I surprisingly found that the single strap was almost preferable for convenience. There are some minor improvements that I think would complete the bag and the experience and I hope that Jones will take a look at them in coming releases. They have a great thing going and I think they can take it even further. For more information, you can check out the Jones Golf Bag website at www.jonesgolfbags.com. The price of the bag as reviewed is $199.95.