The 2013 US Open from Merion was one of the most unique in recent years. What started off as one giant weather delay in which some in the media thought low scores would be abundant finished the way most have in recent years. With even par holding up as the true measure.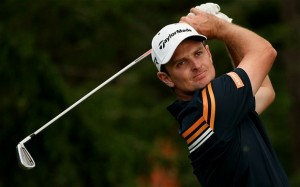 Heading into Sunday's final round, the tournament had 8 players right in the thick of things and only one man under par. That man, Phil Mickelson. The same Phil that has been a bridesmaid at the toughest test of golf multiple times and never the bride. Carrying no driver and an extra wedge, the man they call "Lefty" played the course beautifully for 3 rounds and the final round came and went with Mickelson once again coming up a bit short. The story was not just Mickelson however, the story was Justin Rose and his beautiful performance.
Justin Rose performed brilliantly throughout and played the course the way it needed to be played, only taking chances when they were for the taking and minimizing risk. Rose recently switched to a new putter, the TaylorMade Spider Blade, and big putt after big putt you could sense a level of comfort that he had with the new flat stick.
Here is a look at the tools Justin Rose used to win his 1st major, the 2013 US Open.
Justin Rose WITB
R1 Driver (Matrix 6m3)
RBZ Stage 2 Tour HL 16.5 3-wood (Matrix 7m3)
RocketBladez Tour irons (3-6, KBS C-TAPER)
Tour Preferred MB irons (7-PW, KBS C-TAPER)
ATV wedges 52, 56, 60 (Dynamic Gold Tour Issue S400)
TaylorMade Spider Blade putter (37")
Lethal Golf Ball