Last year KBS surprised everyone when they brought to market a graphite hybrid shaft.  As a leader in steel iron shaft design and innovation, graphite was the exact last place most of us expected them to go, but they did. Fast forward to present day and they are doubling down with not just another shaft, but four different weights of iron shaft sets. With the focus on light weight while keeping the same design principles as the KBS Tour's in steel, this is a definite shake up. THP got the TGI 70 in to try them out and see just what type of performance has been brought to the table.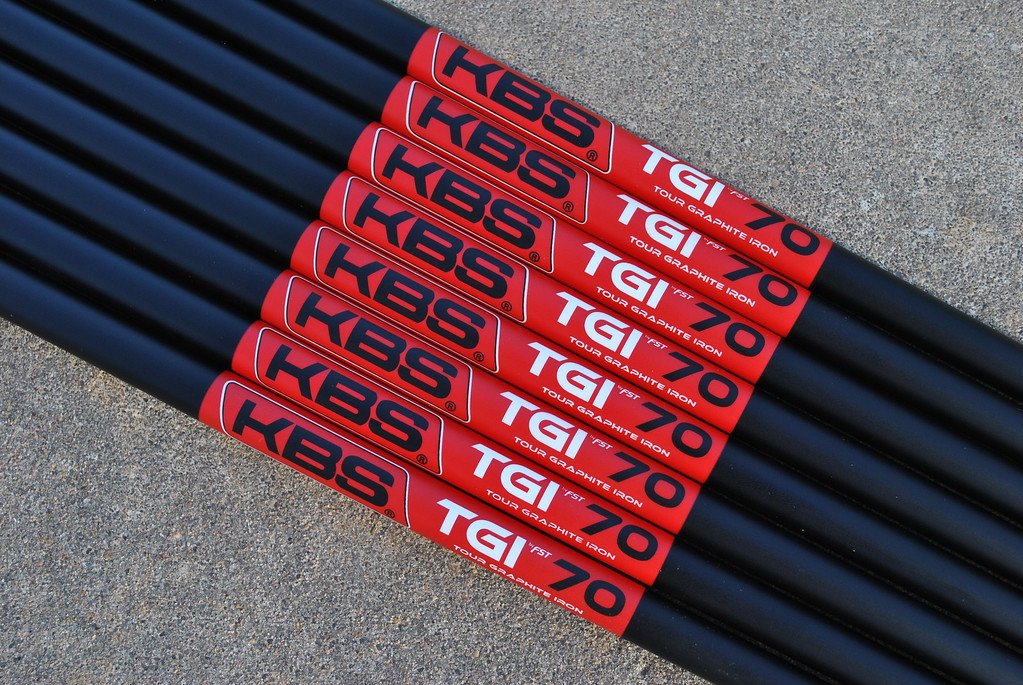 KBS on the TGI 70 Iron Shafts:
10 Years ago, KBS Golf Shafts changed the way your Irons played and performed, now we are doing it AGAIN, with Graphite. Introducing the KBS TGI Tour Graphite Iron. The KBS Tour Graphite Iron is the first Graphite Shaft to play like KBS Steel with optimized weight and stiffness per player to gain maximum play-ability & performance. It is designed with the same E.I. curve as our KBS Tour Steel and is in every weight class to fit every player from Juniors to Women, to Tour Professionals.
Shaft Features
5% lower trajectory
5% less spin
5% more distance
Available in 4 flexes from 50g › 80g
Where Does "TGI" Fit?
The TGI (Tour Graphite Iron) shafts are being brought to market in four different weight ranges, 50, 60, 70, and 80 grams respectively. The kicker here is that each is essentially its own flex and according to KBS's installation materials they range from 1.0 Frequency in the 50g and increases incrementally into the 80g which Frequency at 4.0 (the TGI 70 reviewed situate at 3.0). Additionally, for full disclosure of the design, these are also .370 Parallel tipped shafts meaning they have to be tip trimmed as well as butt trimmed, the nice thing here though is that you can tip them more to bring up the flex a bit. Regardless though, by design the TGI series is likely to appeal to the more average and slower swingers than the bigger hitters out there.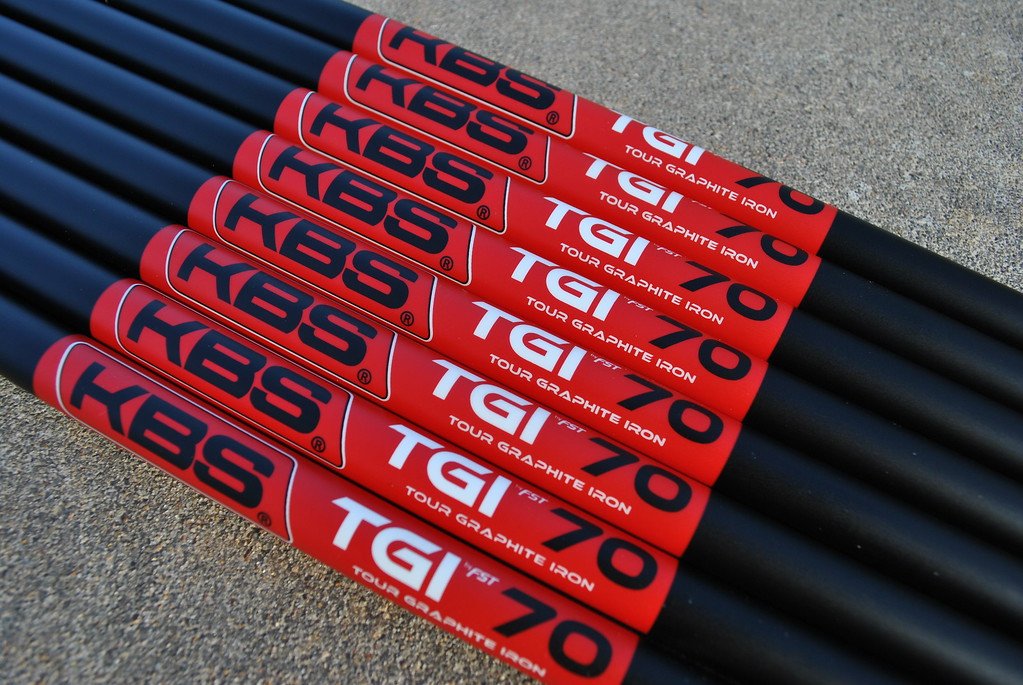 Where do they fit? KBS says they're 5% lower flying, lower spinning, and longer…but longer than what? According to the recently released "Fit Chart" (pictured below) these numbers appear to be in relation to the KBS Tour 105 and KBS Tour 90's,which given the weight range makes a lot of sense. Without giving away thoughts in the next section, what I saw in time with the TGI 70 was in line with the claims by KBS. Despite being a stronger swinger, having played the KBS Tour 90 there was a lot of similarities seen in terms of launch and overall flight, so for those seeking a super lightweight graphite iron shaft these check a lot of boxes.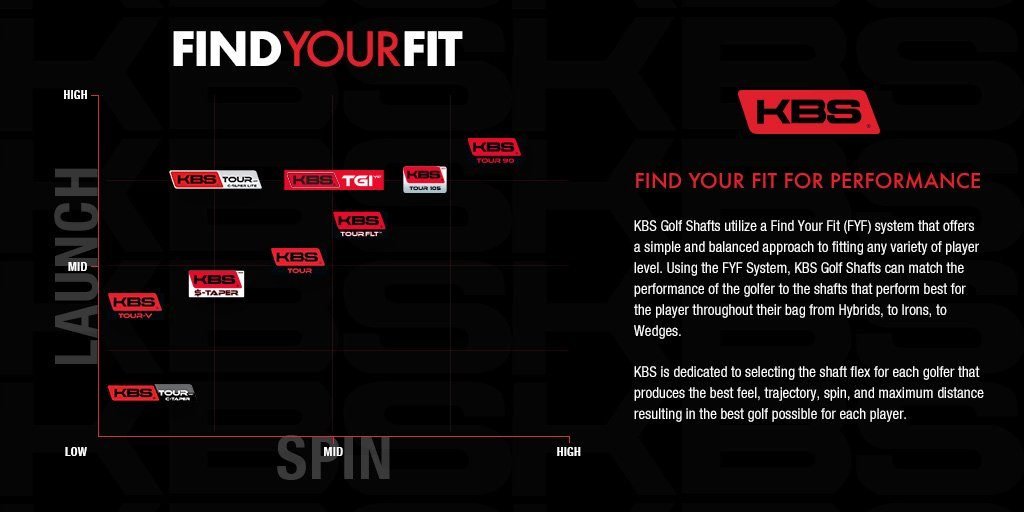 Performance:
The TGI 70 shafts were installed into Mizuno MP18 irons after some additional preparation to the heads given the .370 tip of the TGI's. It will be interesting to see if we eventually see a .355 taper tip option from KBS, but perhaps that is saved for the much rumored "tour" weights some are anticipating later this year. Install was no different than any other graphite set, though given the constant weight nature of the shafts (all come in at 41" uncut and the same weight) there will need to be some additional work put in to get the irons to swing weight properly, particularly if you play heavier swing weights. Most will go through authorized club builders though, and for professionals like that it should be a breeze. A minor issue for me was that the matte black is stellar and the red label as always POPS to the eye, but this is a wraparound label with the KBS logo and info on two sides which makes a logo down install impossible, something that will bother a portion of potential users.
In hand, the TGI 70 are just as lightweight as expected.  Even with a D3 swing weight, they feel super light and I had an enjoyable time handing them to people to get their reactions. Here is the thing though, the stability they showed overcame the comments of the weight quickly each time. For myself as a higher swing-speed player, there was a definite required adjustment to the swing, but even then there was no "loose" feeling through the swing or at impact, though in the longer irons I did experience more issues than from 7i-PW. For more average swingers, there was a lot of excitement with what they saw in terms of flight, feel, and distance.
Ball flight for me was actually not as towering as I anticipated, it worked to what would be classifies as a "high" peak, but it was on a trajectory much flatter than expected. Additionally, the spin was not super high even in higher spinning heads like the MP18's, they actually spun less than the steel Zelos shafts in the same weight range I recently reviewed. Combine those things with the light weight, and naturally a swing and ball speed jump was seen leading to more distance than I have been seeing from the irons. However, for me personally they were a little erratic on the target end, but that is completely a fit thing. Also noteworthy is the feedback on misses as well as overly steep (chunky) swings, they dampen harsh vibrations incredibly well, which does blur feedback a touch, but it's no more than any of the other high end graphite iron shafts I have worked with.
Parting Thoughts:
It might sound cliché, but KBS is on to something here. I was one of the biggest pessimists when I heard they were dabbling in graphite because to me it's just incredibly un-KBS like, but as I also expected they did their homework and nothing was rushed. For the more average speed players out there who want to go lighter graphite and not sacrifice KBS performance these check a lot of boxes and are certainly worth a swing. For stronger swingers out there, these should create even more intrigue for if/when heavier weights and/or stronger flexes are coming because the potential is there.
More information on the KBS TGI Tour Graphite Iron shafts can be found at www.KBSgolfshafts.com.