Regardless of what you think about upgraded putter shafts they are here to stay, and frankly, it's about time that the shaft evolves to catch up with the change of putter head weight over the decades. The issue many have, is price. Enter KBS and their new One Step Putter Shaft hoping to add some competition at a lower price, but does it perform? Let's find out.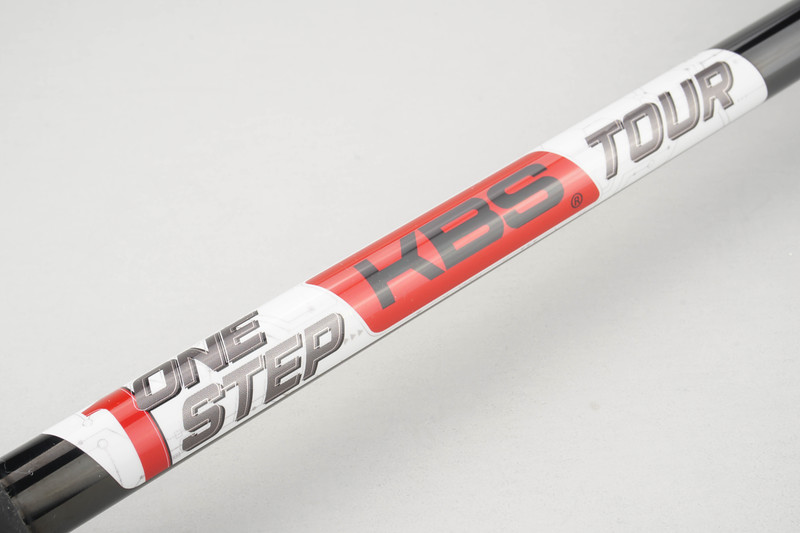 Quick Take
An excellent performer offering exactly what it claims, at a fraction of the price of competitors. Though the multiple finishes will excite many, the current decision of offering a straight shaft only is missing an opportunity to fill a gap in the segment.
KBS Tour One Step Putter Shaft
The One Step shaft has a name that is pretty self-descriptive as to its design premise. It has an elongated upper portion that retains the same diameter as under the grip much further down than a typical putter shaft. Typical, until a single taper takes it down to the .370 tip size, which is currently the only option from KBS. Visually, it looks a lot like the Stability shaft, but full steel.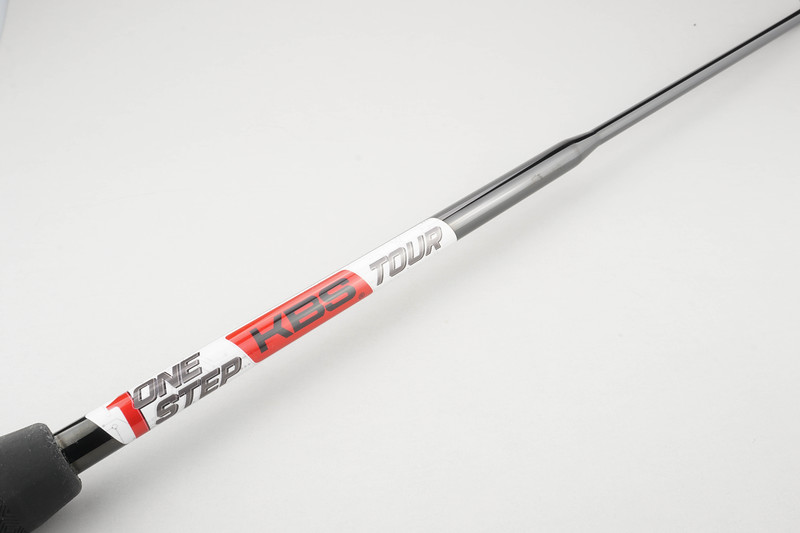 For those unfamiliar, putter shafts have become the new battleground for design as putter head-weights have become much heavier on average throughout the decades, but the standard shaft companies use is essentially unchanged. The One Step comes in at 38" and 130g in its raw state which is in-line with traditional steel putter shafts. This is a key aspect because it sort of goes in the face of some of the designs out there ballyhooing going to varied materials in order to increase the stability without simply increasing the weight. According to KBS, they have accomplished this with a full steel design.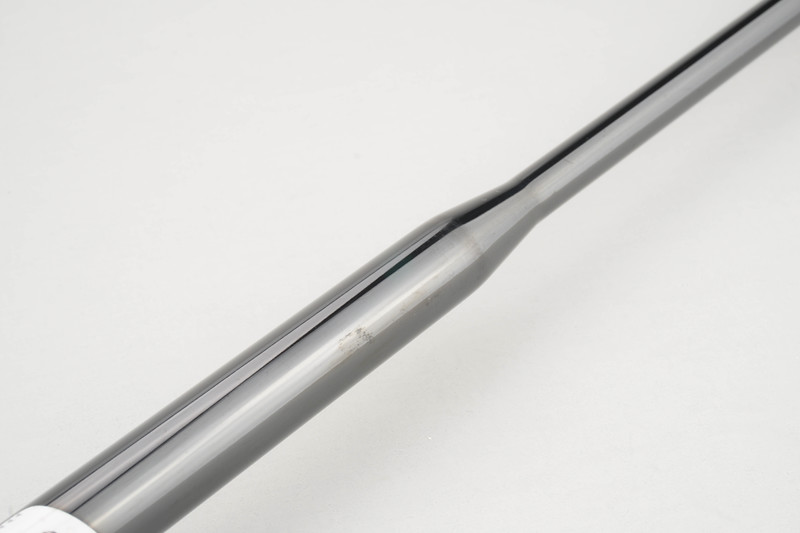 Worth noting, the One Step is available in straight shaft only, which being all steel I feel it to be a miss on the part of KBS as the graphite competitors in particular have no way of accommodating single or double-bend designs, but all steel could. With that said, I'm hoping that this is a starting point and perhaps KBS moves to expand down the line if these are successful.
Installation and Performance
The KBS Tour One Step comes in three different finishes, chrome, black matte, and black gloss. I was able to get the black gloss in-hand and install it into a Mizuno M-Craft V putter which has a very modern head-weight of 355g. While there is little information out there at the time of this review on the One Step, there are murmurs of tipping the shaft for installation. We reached out directly to KBS and were informed that a straight in (butt trim to length only) install is recommended for most. However, it can be tipped up to one inch, although that is recommended only when using a heavy head or playing longer than 35". For this review I put the shaft straight-in playing at 35" on the nose and it was as straight forward as any shaft installation.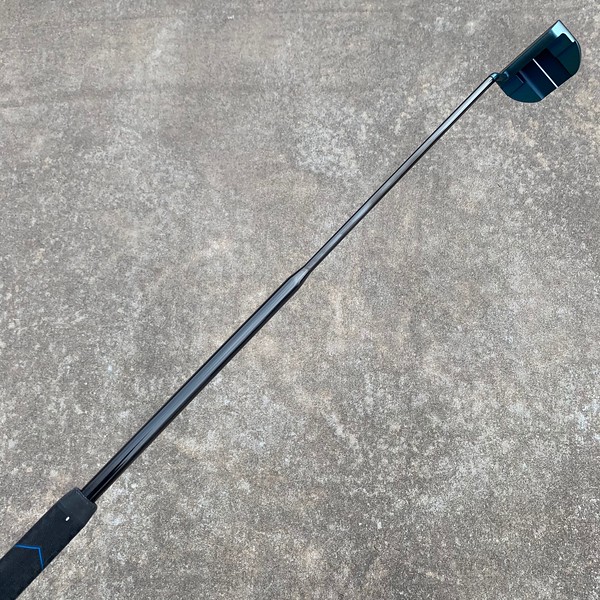 Now, to the big question in the room, does it work? Well, it's a putter shaft, so yes, it works. More focused, does it offer the improved stability, greater accuracy, vibration reduction, and amplified feel that KBS claims? That is an interesting one.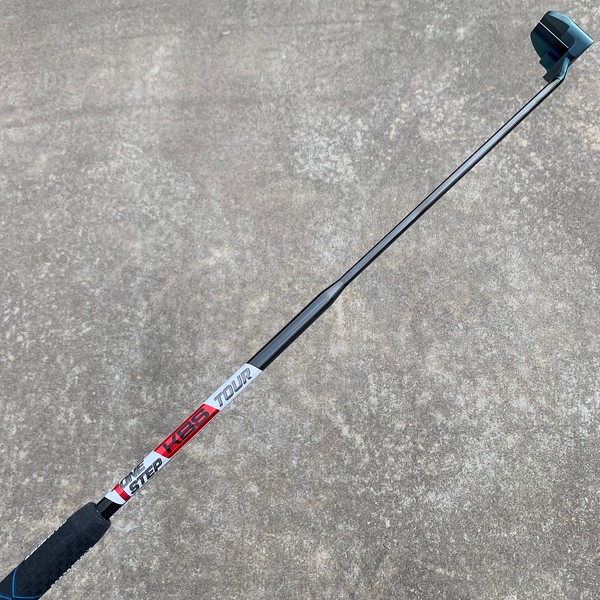 As to the feel and vibration reduction, the feedback that I got from the head and shaft combo I worked with over the past few weeks did not in any way leave me wanting. Was it drastically altered? I cannot say for sure, but there's nothing lacking in feel. What I can tell you, based on comparing with the other popular putter shafts I've been able to review for THP, this one offers much of what they do, but at a much more palatable price. There is a connectedness that the One Step offers that is, pun intended, a step up from a standard putter shaft. Now, without getting on a SAM Lab, all we can really discuss is personal opinion, but confidence is everything in putting and for me it was there with the One Step. It also helps that though the look is non-traditional in taper style and location, still looks good at address.
The Details
Is the KBS Tour One Step a "game changer"? There is no way that I can tell you if it will be for you or not. What I can say is at a much more palatable price point ($64.95 – chrome, $74.95 – black matte and gloss) it is much more accessible for people to be willing to go out and try to see if increased stability has a positive effect on their games or not.
The One Step is available now worldwide at fitters as well as directly from KBS on their website. Are you going to give this one a try? Jump into the conversation below as well as on the THP community and tell us what you think!