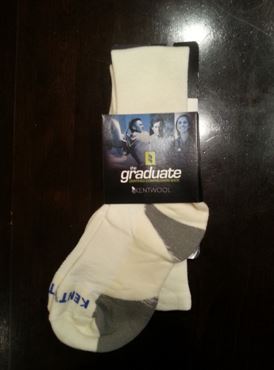 If you've been around The Hackers Paradise for a while you've definitely heard us talk about Kentwool socks.  We've featured their booths from the PGA Merchandise show and we've also done multiple home page reviews on some of their past products.  These reviews have been on a wide range of offerings and they all seem to end the same; they are filled with positive results about a great company making a great product.  This time Kentwool sent us a pair of Graduate Compression socks to get a closer look at. 
Kent Manufacturing has been around since 1843, but it wasn't until some 165 years later that the Kentwool brand and golf sock would make its debut to the world.  The story of how it all happened is quite interesting, and according to their website Mark Kent sounds like a pretty solid golfer.  Needing an eagle on the 18th hole of the 2008 Web.com Tour's BMW Charity Pro-Am to secure a spot in the final round, the story goes that Mark let his focus drift from his golf game to his badly blistered feet.  He failed to eagle the hole and the rest is history.  Kentwool Performance golf socks would soon become a reality.
Product info from Kentwool
The Graduate Sock compresses the lower leg to increase venous blood flow that slows down with forced inactivity or long periods of sitting—at the office, on a plane, in the car. Increased blood flow also improves leg and foot muscle recovery time for athletes. The Graduate Sock is engineered to reduce muscle and tendon soreness caused by impact forces when walking, running or golfing.
• Made from 18.5 micron super-fine Merino wool—one of the softest hands of any fiber
• Thermoregulatory capabilities: cools in summer, insulates in winter
• Naturally absorbent: holds up to 30% of its weight in moisture
• Natural wicking keeps moisture and sweat away from skin to keep you dry, comfortable
• Non-abrasive and friction-resistant to skin—No Blisters!
• Odor resistant—does not bond with bacteria
• High-performance fibers are easy to clean and highly durable
• Natural and high-tech fibers provide maximum elasticity to conform perfectly to your foot
• Cocona fiber drastically reduces friction to eliminate abrasion and skin irritation
Prior to testing the Graduate I probably would have told you that I was always under the impression that compression socks were for old men.  I don't know where that misconception came from, but I guess it could be from seeing old men in golf shorts with their knee high compression socks on.  That couldn't be more of an inaccurate assumption, as the Graduate Compression is a sock engineered for athletes.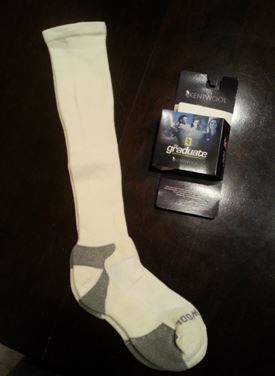 As I tested these I was constantly amazed at just how good they felt when pulling them on.  I've worn them while walking 18 holes multiple times and I've been really impressed with how much difference a good pair of socks like these make.  The portion that goes around your foot and just up on the ankle is fairly thick and offers great cushion.  I expected that to mean that these socks would make my feet sweat a great deal, but that wasn't the case at all.  The performance materials used to make these and other Kentwool socks make them comfortable, and in my case, completely sweat free. 
The Graduate Compression sock runs $40 a pair.  At first I was thinking the same thing you are probably thinking right now – that is too much for a pair of socks.  But really, is it?  Match these up with a decent pair of golf shoes and your feet will thank you.  Not only that, if you've got a company so confident in their sock that they offer a 100% money back guarantee then maybe that's not too much to pay after all.  I've continued to wear this sock every time it is clean and I have yet to find a bad thing to say about it.  I know people like to pay $8 for about 10 pairs of socks, but that's not even the same category of sock as the Graduate Compression.  Give it a try and I think you'll like it.