Who would have ever thought that some of the biggest innovations and ideas in golf equipment would at some point be putter shafts? Well, it really feels like that is where we are at right now with companies finally questioning the most unchanged shaft design in the bag. At THP we have been able to spend time with a few of these shaft designs, but it could very well be that none are as outside the box as the Paderson Kinetixx Tuned putter shafts.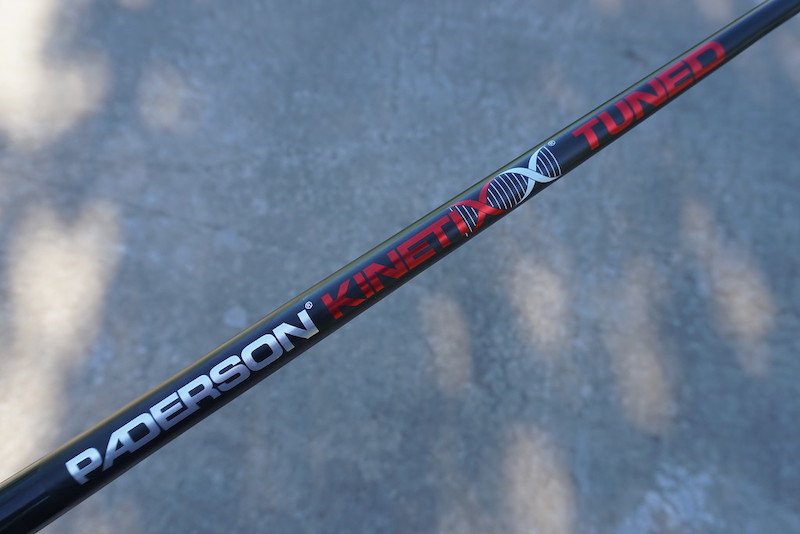 Quick Take
Outside the box might be selling the Kinetixx Tuned putter shafts short. Delivers undeniable amounts of stability, but without a traditional grip and a beefy overall weight. This one has to be experienced to really understand.
What is "Tuned"?
A better question might be what about these putter shafts aren't tuned.
Offered in a standard balance "Red" and counter-balanced "Blue", every single aspect of these shafts has been deliberately designed with feel and function put above everything else. Both models offer 0.0° torque through the use of the Kinetixx materials which the company claims offers not only stability and stiffness, but creation of an actual kinetic energy transfer.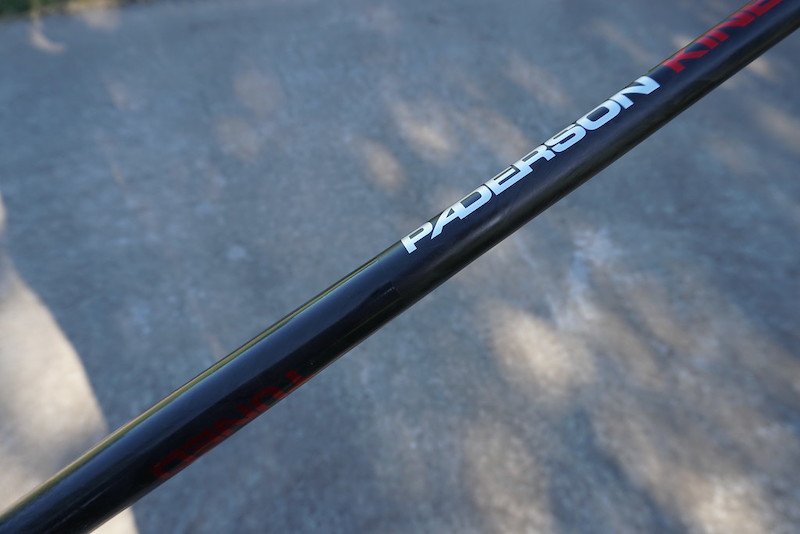 The shafts are currently limited to straight shaft in-hosel applications, most commonly a plumber's neck setup. The bigger thing though, and what will certainly be a heavy conversation point for people, is that the butt section is elongated and parallel while also being the grip itself. Yes, you read that correctly, the shaft is the grip through the use of a polymer membrane on the outside of where the hands are typically placed on the shaft.
Beyond that, the use of a special butt cap completed the "Tuned" design by dampening and suppressing unwanted feedback to the hands which could distract the user through the stroke. Literally no stone has been left unturned by Paderson when it came to creating their putter shaft.
Form or Function
I received the Tuned Red in-hand to work with for this review, which as previously mentioned has a balance point in-line with traditional putter shafts. The shaft uninstalled is actually only 33-inches in length and has a 215g weight. I mention those things because it is indeed heavier than standard and also at the length it comes in it will play 35" in a typical plumbers neck design. So, if you are an over length player it is something to keep in mind. For me, that length works, and I installed the Tuned Red in a SWAG Handsome Too putter for the review.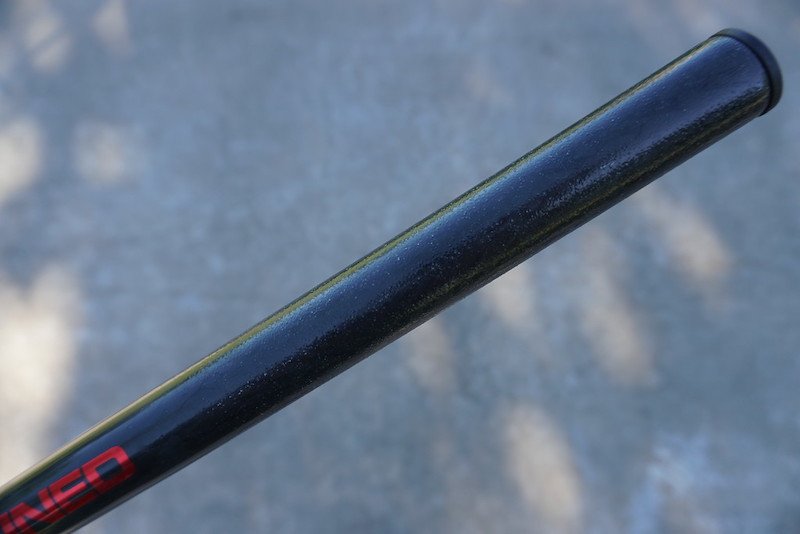 When we talk about form, the shaft manages to look cool and wild at the exact same time. Naturally, the fiber materials and application show through on the shaft and combined with the text graphics it's an interesting overall look. More than that though, immediately you notice the lack of a grip as well as the much wider than normal parallel section of the shaft where the grip would typically be. Even at address, the size of the shaft just looks and feels bulkier than "normal" because, well, it is. For me, it was an easy acclimation, but I know golfers vary on how they respond to such things.
Installed on a 350g putter head at 35" playing length the Tuned Red setup ended up swing weighting to a rather beefy F3 overall. Through the stroke, I definitely noticed the weight of the setup overall as well as swing weight. Even with that head heavy sensation, the Tuned Red stayed "connected" through the stroke, for lack of a better term. Putting it plainly, the stability on this one in terms of feeling like the hands and the putter head are connected is through the roof, you may not think the standard steel putter shaft has enough torque or flex in it to notice, until you try one of these stability focused designs like the Kinetixx Tuned.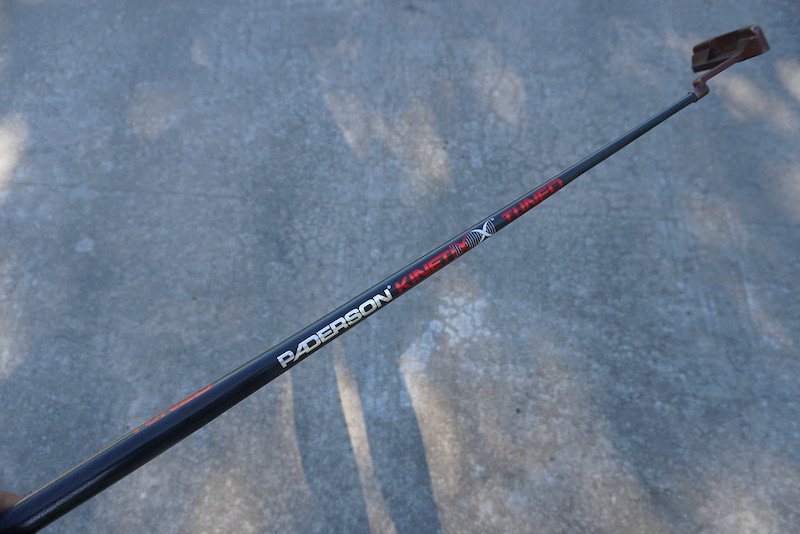 While the stout nature of the setup is definitely notable, I have to focus on the grip situation. I can sit here and tell you that as time goes on you get used to it, which was in my case true, but this is one of those things you have to experience to quantify if it works or not. The fact that there is no rubber grip on the Tuned shafts is a definite mind-trip, add in that it's a round "grip" and you have two very outside the box things going on. First, the shape isn't as awkward as I built it up to be in my head, in fact it's pretty natural since all your other grips in the bag are round. The bigger acclimation is to the "aerospace polymer membrane" which is on the parallel grip section and about the size of a mid-sized putter grip. It doesn't look like it should work, but it does. Also, you glance at it and assume it will either get slick in wet conditions or allow grass and debris to cling to it, but I experienced neither.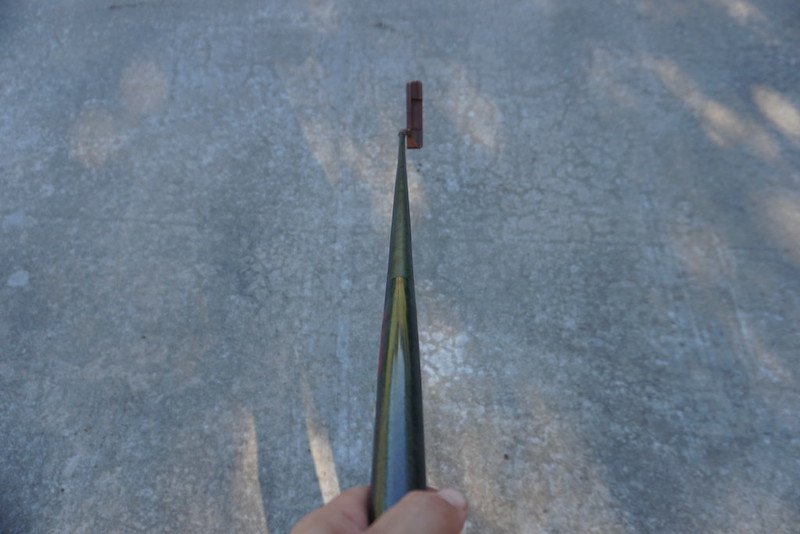 When we talk sheer performance, I rolled the Kinetixx Tuned Red quite well. Can I sit here and point out specific things that make it superior? Honestly, I can't, but I do know it does what it intends, it makes one heck of a stable setup and with that you are left with zero doubt that the putter head is responding exactly as your hands intend it to. It's a solid feel overall, I didn't have any length of putt where I thought the feedback/sound/feel was off and the end cap system seems to "tune" all of that adequately so what you are getting to the hands and ears depends more on the putter style being used than anything else.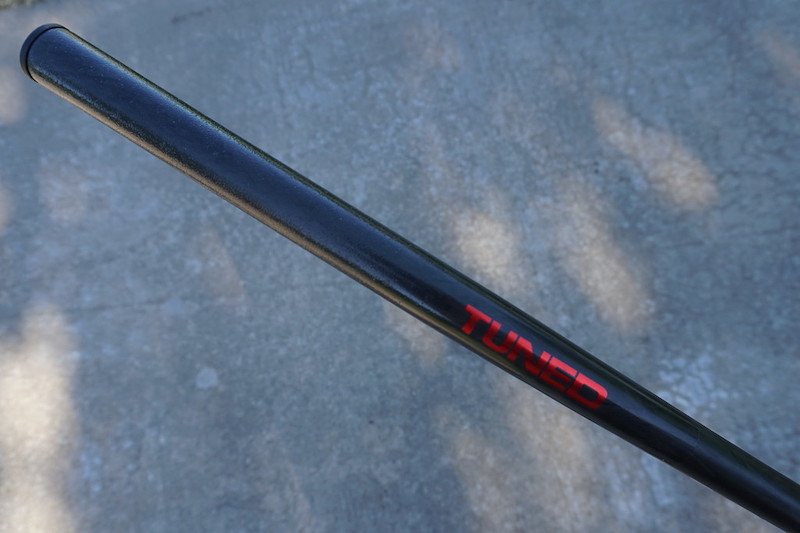 Will either the Tuned Red or Blue lead you to making infinitely more putts? I can't answer that for you, but if it can help hole one or two more per round by creating a more consistent directional roll, then I think you garner some legitimate interest at the $134.99 price tag. I will say, the limitations of the material design leaving it only to straight shaft designs where the shaft is inserted into the hosel (no over-hosel applications) do hang some out in the cold, but I would assume as time goes on we see some expanded designs and options.
Have thoughts on the Paderson Kinetixx Tuned putter shafts? Have you or do you plan on giving one a go? Jump into the conversation either below or on the THP forums and share them with the community.
The Details
Available: Now
Price: $134.99
Options: Tuned Red (standard balance), Tuned Blue (counter-balance)