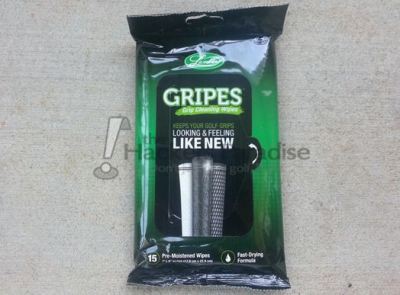 Lamkin is a company that has evolved quite a bit in recent years. They saw the golf industry's push towards customization and responded by offering their line of R.E.L. 3Gen grips in a multitude of colors. They've also proactively educated consumers through their unique online grip-fitting tool. Their newest product, Gripes, disposable wipes for cleaning grips, is a little less flashy, but could prove to be a useful addition to many golfers' bags.
Company Information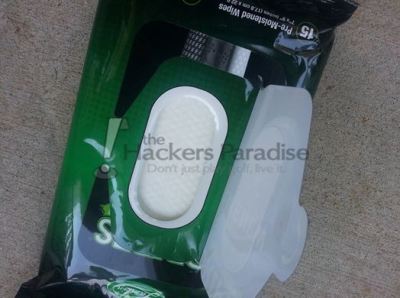 GRIPES grip cleaning wipes are the easiest way to keep your grips looking and feeling like new. Each pack ($5.99 SRP) includes 15 large-surface wipes created specifically for golf grip cleaning. The wipes offer superior, fast-drying cleaning strength ideal for rubber and synthetic rubber grips. The convenient resealable pack fits easily into your golf bag and, when sealed properly, will last for more than a year! GRIPES will be available in November at select green grass, golf specialty shops and online retailers.
Exclusive cleaning wipes created specifically for golf grips.

Immediately reactivates surface tackiness.

Keeps grips feeling and looking like new.

Pre-moistured wipes, fast drying formula.

Large surface wipes 7″ x 9″. 15 wipes per pack.
Not Your Typical Wipe
Naturally, the first thing I thought of when hearing about Gripes was the disposable baby wipes that so many of us are familiar with. Aside from being a 'wipe' and the packaging they come in, Gripes are quite different from baby wipes. The first indication of that is the scent. Gripes come soaked in a cleaning solution that is pretty pungent when you open the packaging. In addition, Gripes are larger, heavier, textured, and sturdier than the baby wipes I have in my house. Out of curiosity, I decided to see how they compared when it came to actually cleaning grips and they were separated even further.
Here are two pictures showing how the two compare after use. The baby wipe is on the top and Gripe is on the bottom. You may notice that the baby wipe is actually coming apart already.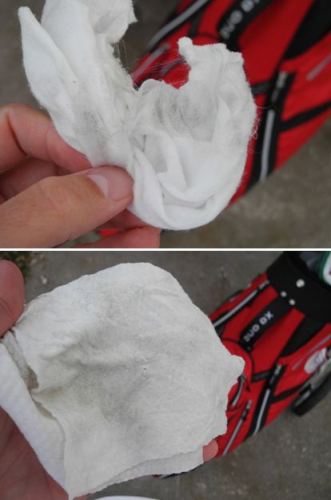 The most telling thing in those pictures is that the Gripe had already cleaned seven grips at that point, while the baby wipe hadn't thoroughly cleaned one. In truth, there really isn't any comparison at all.
The Convenience Factor
There are more than a few ways to clean grips, but I'm not sure I've found one as convenient as using Gripes. In the past, I'd fill a bucket or a sink with soapy water, scrub the grips, rinse them off, and then towel them down. While this worked quite well, it involved quite a bit more work than pulling a wipe out of package. I was able to use Gripes anywhere, including the tee box while I waited for a green or fairway to clear. While that might sound odd, I had situations during the summer where a combination of dirty grips and humidity left me struggling to hold on to my golf club, so I do see some value in on-course use. I think it would be very hard to dispute that Gripes offer superior convenience over most traditional methods when it comes to grip cleaning.
Performance
I don't think that there is much I can say that a couple pictures can't say better, so the first thing I'll do is defer to the photos below.
Before

After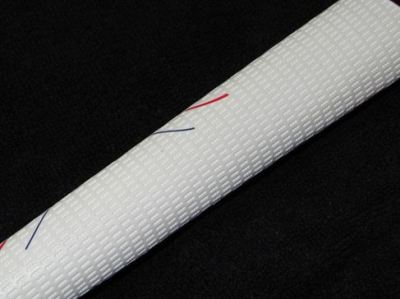 As you can see, I was able to bring a filthy grip back to life. In addition to the brighter color, I noticed a great deal of improvement when it came to tackiness of the grip after I'd wiped it down. This was a common theme with every grip I cleaned during the testing process.
Longevity and Durability
Lamkin says that a single Gripe should clean five grips. Testing showed me that number was pretty accurate, if not on the low side. With standard golf club grips, I actually was able to clean far more than five, but with my jumbo putter grips, they didn't quite get that many clean. The actual Gripe held up fine, but eventually, the cleaner just got used up and the wipe dried out. The level of dirtiness was also a factor in longevity. The very dirty putter grip pictured above had a bigger effect on longevity than a relatively new grip that I only needed to briefly wipe down.
When it came to durability, I had a hard time doing anything that caused measurable damage to the Gripes. I cleaned everything from cord and multi-compound grips to a bargain-bin grip with a texture that resembled a grinding wheel. I can confidently say that Gripes will hold up to any grip cleaning job that is thrown at them without disintegrating or tearing.
Final Thoughts
At a suggested retail price of $5.99, I think Lamkin has a product that is both valuable and useful to anybody that cleans their grips regularly. I found the Gripes did a very good job cleaning my grips and reduced the amount of time and effort that the process took. In addition, since they are portable, I now keep a pouch in my golf bag in case I find myself needing them during a round. For more information, including retailers in your area, you can head to www.lamkingrips.com.