Remember when laser rangefinders first hit the market and the price tag associated with them was perhaps a bit too high for some to stomach? Well, the days of needing to spend hundreds of dollars on a rangefinder have come and gone. Don't get me wrong, there are still plenty of units on the market that command anywhere north of $400. On the flip side, we appear to be living through a time where there is a massive influx of budget-friendly, sub $200 rangefinders. Today, we take a look at the Macwheel V1000 laser rangefinder, which currently comes in at a price tag of under $100. How does it stack up in a suddenly crowded market? Let's find out.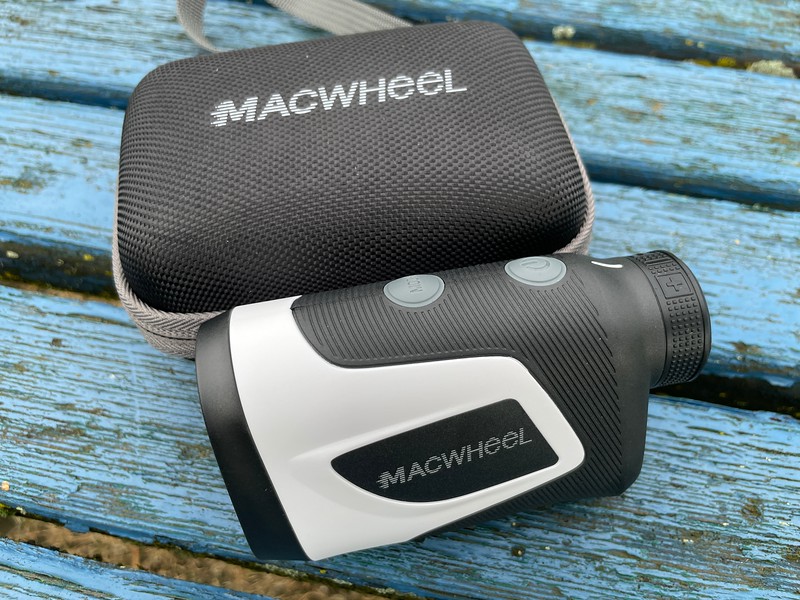 When finding out the price tag of this rangefinder, you probably think it either doesn't have many features/modes or flat out isn't very good. Guess what? You would be wrong on both accounts. Macwheel V1000 boasts five different shooting modes: distance, flag-pole, golf trajectory, speed, and horizontal/vertical distance. Within these modes, there is also the ability to enable slope mode, which will give users a better idea of their yardage based on the incline or decline of their target. Some of these options, such as speed and vertical distance, might not be useful on the golf course but can undoubtedly be used for other outdoor activities such as hunting or hiking. Several other robust features on the V1000, such as a rechargeable battery, which charges via USB-C, 6x magnification, and the ability to acquire targets up to 1,000 yards away. As for battery life, Macwheel says that a full charge will last 20,000 readings.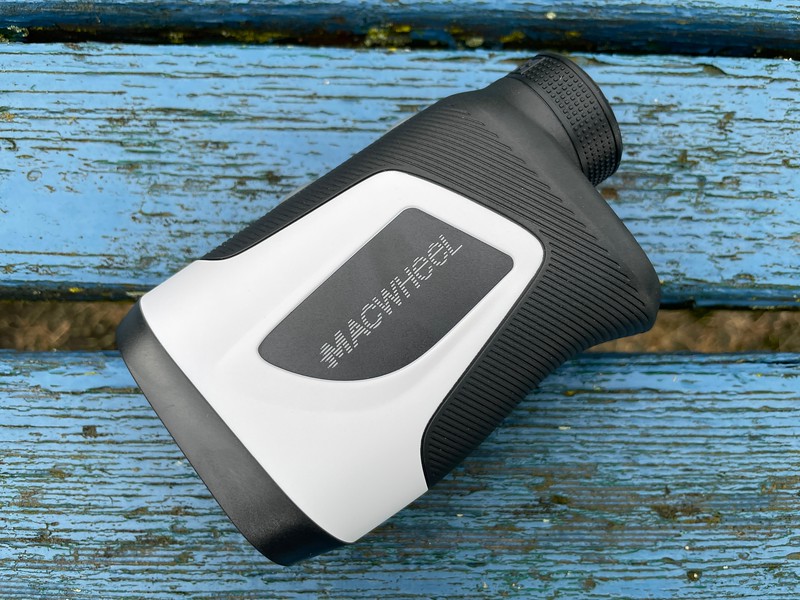 Out of the box, the V1000 offers a dual-textured feel that is one part smooth plastic and the other a rubber-textured material that provides an enhanced grip. Two buttons allow users to change the mode and acquire a reading along the top. Both buttons are generously raised and give a subtle click when compressed. One of the bright spots about the display on this device is that it is very apparent what method you are using when cycling through. If you want to pan and scan with some live readings, hold down the power button while in a non-flagpole mode.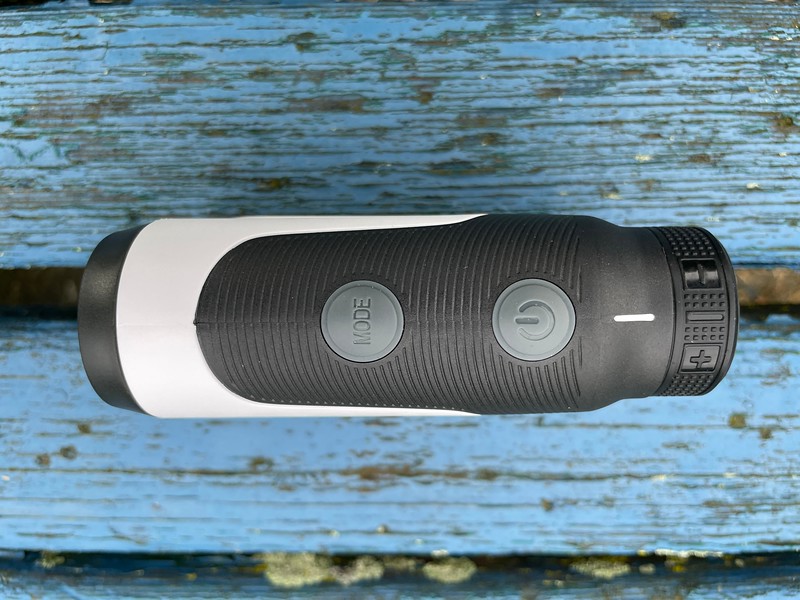 As always, the most significant question mark when looking at a rangefinder is just how accurate is it? With the V1000, there were times when our readings differed from other rangefinders we tested alongside it, but the variances are what I would consider in the acceptable margin of error. If our numbers were different, they were usually no more than a few yards off, which will be plenty good enough for an overwhelming majority of golfers.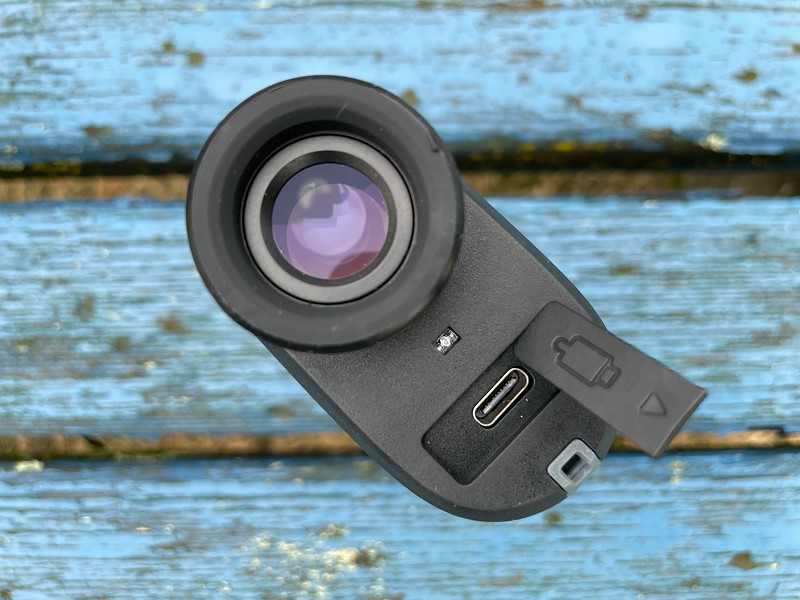 Two other features that impressed were the speed and the consistent vibration feedback. Throughout the years, we have seen plenty of budget rangefinders suffer in terms of speed. In good lighting conditions, the V1000 was very responsive and quick to produce yardage. We did notice a slight drop in speed when playing rounds late in the day when the sunlight was scarce. Once your target is acquired, the entire unit gives unmistakably strong vibration. This works the same whether you are locking in on a flag or another landmark.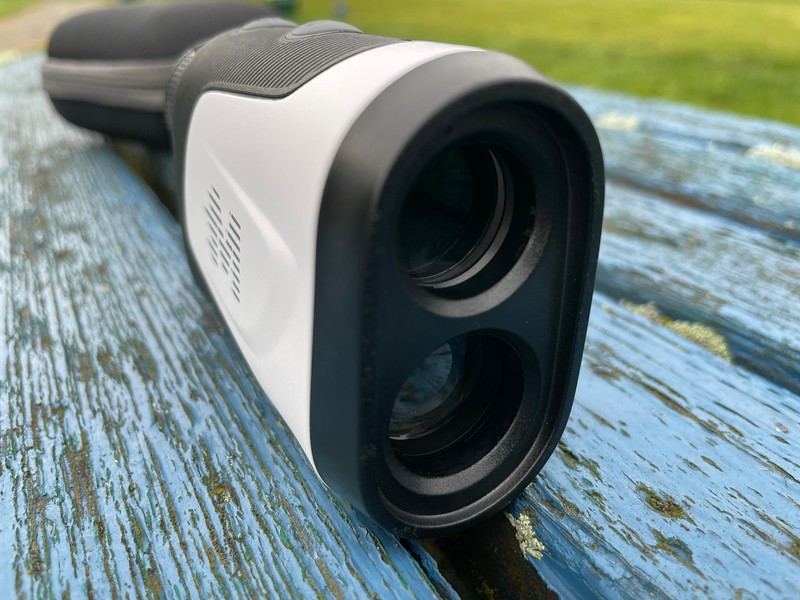 The Macwheel V1000 impresses in many ways. Thanks to its five different target modes, comfortable ergonomics, clear display layout, and haptic feedback, there are plenty of features to enjoy. It even handles the details such as a nice carrying case, a USB-C port, and a battery indicator on the screen. We've danced around the price tag long enough. Currently, the Macwheel V1000 is only $80. That's right, $80, and it comes with a 2-year worry-free warranty. More information on the Macwheel V1000 rangefinder can be found at www.imacwheel.com.
The Details
Price: $79.47
Available: Now
Features: 6X Magnification, 5 Shooting Modes, Vibration Feedback, Rechargeable Battery