One of the most fascinating areas of golf equipment right now is in iron shafts, particularly graphite. We are currently going through a proverbial "boom" period with more and more options of growing technical quality and performance. The fact of the matter is that as irons are concerned, graphite is rapidly closing the gap between itself and steel as being viable options with true performance benefits and finally breaking the common misnomers about how graphite iron shafts are supposed to perform. Matrix was one of the first companies to truly bring to market a "high-end" graphite iron shaft option with their Program line of shafts, and in typical Matrix fashion they have not stopped trying to find ways to advance and improve them. This is where the new F15 Program line comes in. Seeking to be a more effective graphite iron shaft in many design facets, they are definitely generating some merited attention.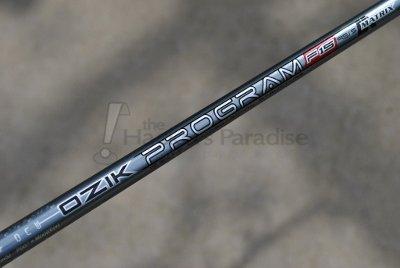 For this review THP was sent the Matrix Program F15 95's to review and they were installed in a 5-AW set of Callaway XR Pro irons as well as a single XR hybrid for the purpose of this review.
Matrix on the Program F15's:
The flagship of all Matrix produced iron shafts, the OZIK Program F15 offers players of all levels the benefits of optimized control found in steel with unmatched feel at impact. Program F15 provides for a mid- launching and spinning profile, slightly lower than the original Program family of products. Additionally, the OZIK Program F15 features an enhanced HD internal platform and profile design allowing for tighter torsional (horizontal) and flight (vertical) patterns than from a steel shaft of similar weight. This nexgen design also provides for more efficient swingweight builds.
Look for Program F15 in the hands of many of the best players in the world, on Tour as well as any authorized Matrix dealer.
Specifications and Information Breakdown: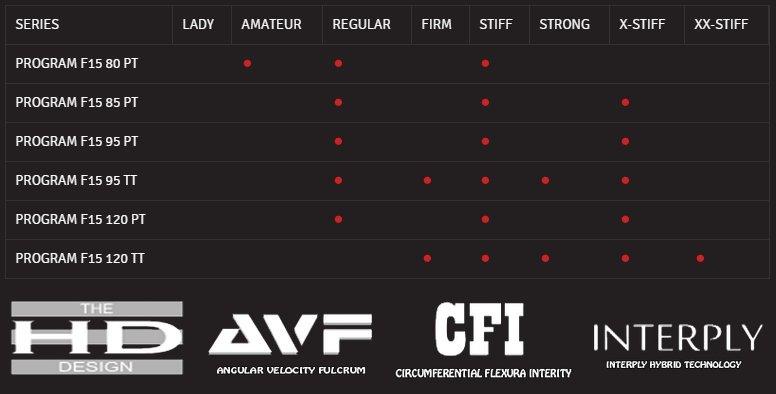 The Program F15's are seen by Matrix as an evolution on their Program line rather than actually trying to re-invent the wheel. The primary emphasis here is in the ability to bring a more effective building capability in terms of getting them to swingweight much easier. Previous versions could be quite difficult for the builder to hit the swingweights they were looking for, so with the F15 their "nexgen" design has shifted the weight within the actual shaft profile to help make this process easier. For this reviewer, it definitely held true, as they incredibly easy to hit the desired swing-weights of D3-D5 through the set without any excess tip/butt weighting necessary.
The F15's are available in three different weight profiles, 80, 85, 95, and 120, which range in weight from 78g all the way up to 119g. All of these weight models are available in .370 parallel, but thankfully Matrix has also made the F15 95 and 120 models available in a .355 TT version, so there is likely to be something for all club building needs.
As with most shafts, the actual technical information is somewhat limited, but from an overall standpoint, the F15 seek to provide all of the benefits of graphite blended with some of the traits of steel. However, unlike some of the other graphite releases, their goal is to keep within range of a more mid-launch and mid-spin profile and staying within the largest margin of the bell-curve for what most golfers need in a flight profile. In the end though, it is another illustration of the advance we are seeing in graphite since its inception. It isn't about being as light as possible and launching as high as possible anymore. These companies have finite parameters they are trying to hit and the technology and materials have really allowed them to get there.
Aesthetics:
The F15 release of the Program iron shafts marks a pretty significant, and savvy, aesthetic departure from previous iterations for Matrix. While the traditional style of using formulas and multiple languages within the graphics of the Programs remains very familiar, gone is the white paint which we have come to know them by. Instead, Matrix has made a move to a much deeper silver/gunmetal paint scheme, which from a distance looks much more steel-like than the white ever did. While not a big deal to some, this is one of those clever little things that can help get someone hesitant to be seen playing graphite to take the plunge. Installed in both the irons and the hybrid they look phenomenal and very sleek. Add in the ability to have Matrix engrave/personalize them and they get even cooler.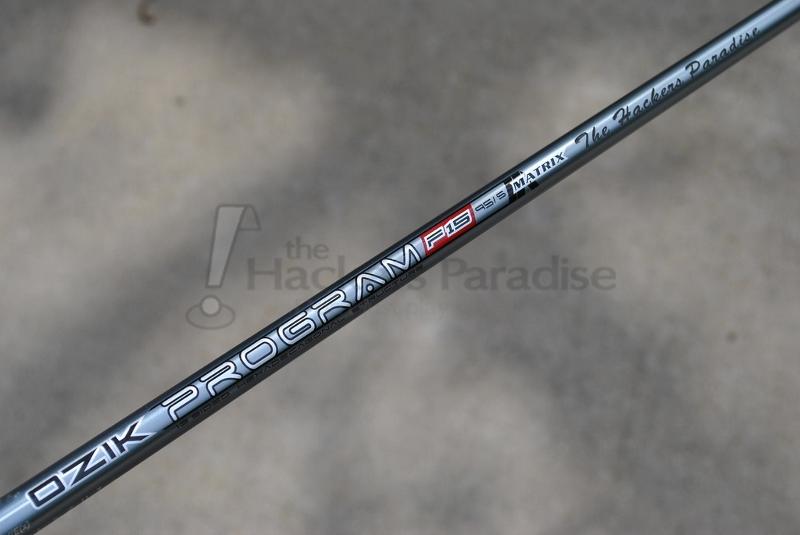 Performance:
As mentioned earlier, the Matrix F15 95's were sent in to THP for this review and were installed in a 5-AW set of XR Pro irons as well as installing the 4i shaft within an XR hybrid to test out there. All testing was done on the driving range as well as the course in a variety of different weather conditions.
Matrix classifies the F15 Programs as being a mid-launch and mid-spin shaft, and while the spin certainly fell into that range, the ball flight during review actually hit the upper end of mid-high rather than being "mid". Now, the actual launch angle is going to vary user to user and swing to swing, but multiple shafts, graphite and non, were hit side by side with the F15's in the same lofts/head and with multiple users to draw a solid overall baseline for this review. In terms of the popular graphite options on the market right now, the Program are definitely one of the higher launching designs. With that said, while a higher launch in irons may not be for everyone, the ball flight to the peak was incredibly easy and actually took the reviewer aback a few times. Well struck shots just get up with a really pleasing ascent that gives a lot of confidence for going at greens and knowing you can hold them. As a player who tends to be a low-mid ball hitter, the flight off of the F15's was really enjoyable.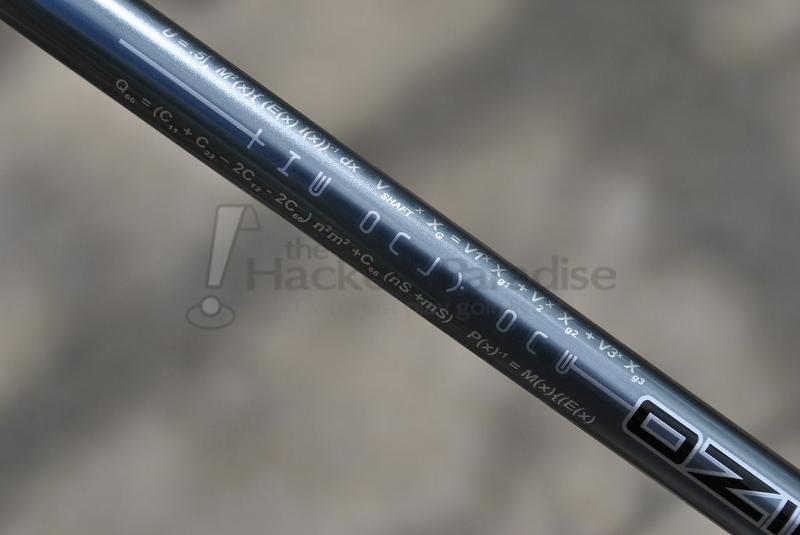 Naturally, any time a "high" type of launch is mentioned some have immediate concerns of the ability to keep the ball down when the situation necessitates it. Thanks to the wonderful weather patterns at the time of review, this was something that was thoroughly tested in low wind, extremely high wind, and even rain. In total honestly, there was no issue for this reviewer to be able to knock the flight down or even play it up and ride the wind as necessary. Ball position changes as well as clubbing up/down given the particular situation showed that the F15's are more than capable of hitting all of these different shot goals. In fact, thanks to the nature of graphite and its shock absorption, the low-lining, back-of-the-stance hook shot (that really needs to be hit down on) became much more enjoyable thanks to not being as jarring through impact. Although there will always be a point of diminishing returns with a higher launch into a hard face-wind, the same can be said for most shaft setups. The F15's still allow for the knockdown where it is needed, so it was no concern for this reviewer.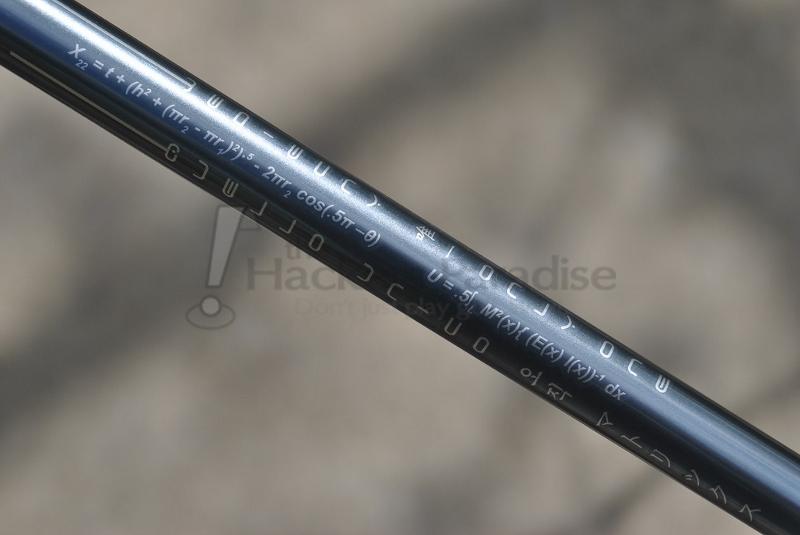 Something else to note – though the overall line of F15 Program's is called mid-mid by Matrix, the multiple weight profiles will certainly make it feasible to see different launch characteristics based on that. Although they will still launch the ball based on the design, there will definitely be some fitting ability there to influence it a bit. As with ANY type of shaft, the key is going to be fit and matching individual needs. With the F15's, Matrix has done a solid job in at least providing the options to hit a wide margin of player types.
Shot Shape and Dispersion
To be entirely straight forward, when it comes to full and partial swing dispersion and shot shaping with the F15's they play pretty much like every other iron shaft out there. What is meant by that is that nothing really jumps out as being substantially positive or negative. This reviewer is a fade hitter with irons and hybrids and this was the same ball flight seen with the F15's during testing. Even with the hybrid, it was no more accentuated or reduced than with any other iron shaft. The control with the F15's are precisely what one would expect in an iron shaft, and thanks to the launch and spin profile the ability to hold greens was quite impressive, but this is another "fit" issue more than anything.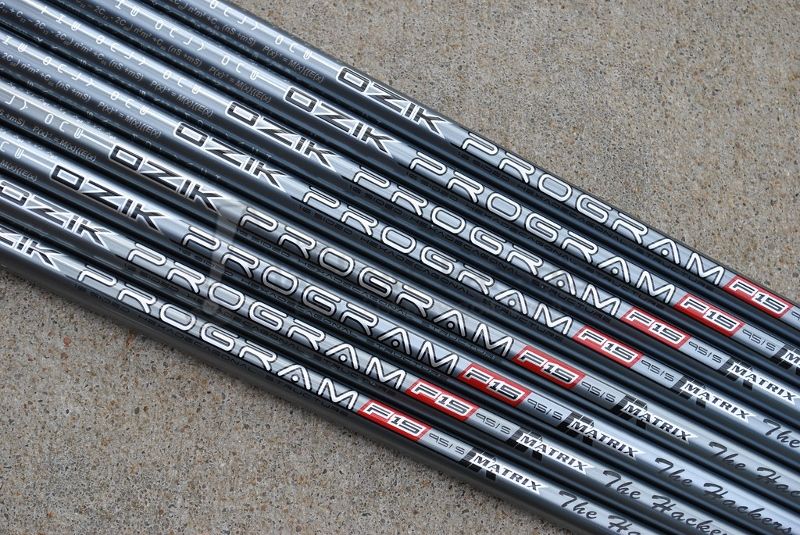 For the thoroughness of testing, there was an emphasis put on shaping shots as well during the review. Much as the dispersion was pretty status-quo for this reviewer, the same can be said of shaping the flight. Though naturally the ability to draw and fade a shot will vary based on the user, there was no more or less effort needed to hit the desired shape with the F15's. If anything, it became more enjoyable with the launch angle that was being seen. There is nothing quite like seeing a nice high draw being hit into a tucked pin. It does bear mentioning that one shaft was installed into a hybrid to compare with the irons and although the launch profile did change based on what a hybrid is designed to do, there was no issue with dispersion or shaping shots there either. In fact, it proved to be a very fun setup in the hybrid, as it made it really blend with the irons while keeping much of what you want to see launch/spin wise in a hybrid shaft.
Graphite "Feel" and Benefits
As a reviewer for THP I have the pleasure of having to hit a LOT of golf balls multiple times throughout a week, and during a testing, hours upon hours go into putting something through its paces, which is at times extremely hard on the joints. So, when a graphite iron shaft set comes in, there is an immediate increased level of anticipation thanks to one of the traditional benefits of graphite being its shock dampening and absorption. While something like this is going to vary from user to user based on the type of swing they have (think: angle of attack), it is really worthwhile to hone in on given the current trend of graphite iron shafts trying to adapt to have a more and more "steel like" performance trait to them.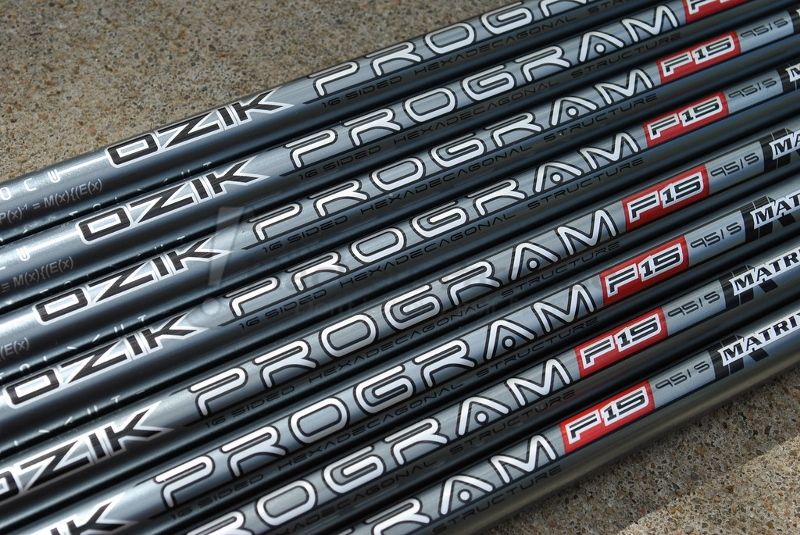 Suffice to say, a LOT of golf balls were hit during this review, and fortunately the weather was wild enough for them to be tried in both dried out hardpan conditions as well as saturated ones. There is no doubt that less wear and tear was inflicted during testing than with a standard steel shaft setup. At impact, the sensation of the iron was made even "softer" or more "plush" thanks to the dampening of the shaft on pure strikes and those thin misses that are usually so harsh. In particular, it got rid of a lot of the typical hesitation of a full irons swing off of a true hardpan lie and also out of an extremely wet situation with the potential of a lot of digging and twisting. All of this testing simply leads to the clarity of why we are seeing so many companies like Matrix investing so much into their graphite iron shafts and getting them on the level of consistency we traditionally associate with steel and beyond. The tactile benefits to the user physically could make a major difference for a lot of amateur golfers.
Parting Thoughts:
Despite the claims of being lower launching than their predecessors, the Matrix F15 Programs are not a massive revolution in terms of performance, which is not a bad thing. Instead they keep the same flight, spin, and weight profile options that have the potential of fitting the largest margin of amateur golfers out there and add to them a much more friendly and effective design in terms of club-building and swing-weighting. It is a given that the ball flight seen here will not be for everyone, but they also are not necessarily aimed at everyone either, and for the portion of the bell-curve they point to the F15's pack a ton of tech with a ton of performance value. As with anything, but in particular shafts, fitting is going to be a key component and visiting a qualified Matrix dealer/fitter cannot be recommended enough.
A list of facilities capable of a proper fitting as well as information on the Program line and every other graphite option that Matrix produces can be found at their website, www.MatrixShafts.com.