The Matrix RUL is the newest Ozik product to be added to the Matrix family. Since its inception in 1993, Matrix has quickly become one of the world's most influential shaft companies. This influence has been developed, nurtured, and blossomed by putting a strong emphasis on design. Matrix has been at the forefront of shaft manufacturing by designing transformative structures for nearly every golf company in the world wide market place. Matrix was founded on the platform of creating the finest shafts available to not only the World's best golfers, but with the weekend warrior in mind as well. In the last decade, Matrix has successfully increased their use on Tour, which speaks volumes about how performance-driven and technologically advanced their product is. It's comforting to know that the best golfers in the world rely on Matrix shafts, but I'm here to tell you that you can too.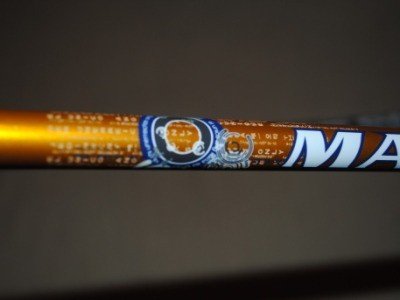 TECHNOLOGY
For the first time in one of my shaft reviews I will not be incorporating any sort of technology from the manufacturer. A lot of that has to do with a couple of things: first, is that the RUL has not yet been added to Matrix's website, and secondly, is because I believe that Matrix wants to put an emphasis, not only on all their products, but especially the RUL at the PGA Show at the end of January. What I do know about the RUL, I will share. The RUL incorporates Matrix's Asymmetric Cross Ply Technology (ACT), which enhances the shaft's ability to recover prior to impact, while at the same time increasing tip velocity. The result of this incorporation is an incredibly stable feeling shaft throughout the golf swing.
I also know that the RUL will be available in the 50, 60, 70 and 80 gram models, ranging from Regular to XX Stiff flexes. That seems to completely cover the gamut for just about every golfer out there. Matrix was kind enough to send the RUL 60 Series Ozik in Stiff flex for testing. The RUL 60 is available in the following flexes with the weight in grams in parenthesis:
Regular (63.5 grams), Firm (64 grams), Stiff (64.5 grams), Strong (65 grams), X-Stiff (66.5 grams), and XX-Stiff (68 grams)
LOOKS
My absolute first impression when seeing the RUL was something like this: "Wow! It kind of looks like a C. Kua" The deeply enriched gold color reminded me of the Miyazaki at first but upon further investigation, the RUL seems to offer more of a muted/matte finish, which is something that appeals to my eye. The color gives the shaft a "royal" feeling, like it is rich, embodied, educated, and perhaps better than the rest. I like that! It's nice to experience positivity and confidence in a product solely based on how it appears. Like it's brothers and sisters in the Matrix family, the RUL features the "MATRIX" branding in white, but the RUL has a nice little graphic touch that adds an artistic vibe to the aesthetics. I'm not sure what the artistry is meant to mean or encompass but it's a nice touch that adds a level of modern and coolness to the RUL.
Again, Matrix has a shaft on the market that does not dazzle the consumer with special effects and graphics, but with a deeply enriched base color that should easily appeal to the masses. Quite simply, with a Matrix shaft, you know it's a Matrix, and personally, I am a fan of that.

TESTING
Again, I received the Matrix RUL 60, in Stiff flex, to review. The shaft was shipped to me at the stock length of 46''. I tipped the shaft with an adapter for my R9, butt trimmed the shaft to 45.5'', and installed a Golf Pride Tour Velvet grip on it. All range and on course testing was conducted in a local environment and all testing of the RUL 60 was conducted with a Taylormade R9 driver at 9* of loft. During my testing I always leave the settings on my driver on Neutral to keep things as "standard" as possible.
I love the fact that there is absolutely no information available on this shaft. I wasn't even aware of the weight of the shaft until my testing was complete. By going in "blindly" I feel like I can focus 100% on what I am experiencing, witnessing, and feeling with the RUL.
I was able to put the RUL in play for 4 rounds of golf and to conduct testing during 6 range sessions. My initial impression was that it was light weight. I had a feeling it was a 60-something gram shaft (hence the 60 series) but it almost feels lighter than that. Initial waggles with the driver led me to believe that the RUL was plenty stiff enough in the tip and I could easily get an idea of where the clubhead was in my swing. After my first ball strikes I quickly determined a couple of things. First, that this shaft is more of a mid launching shaft and secondly, that I quite liked it.
The RUL is a very smooth shaft that transitions very well with my swing. I never felt like I was losing shots due to the shaft being too whippy or too weak. I believe it offers a bit more spin than the other Matrix shaft I've been testing, the M3, and it showed in my flight pattern and dispersion. Shots seemed a bit looser for me in comparison to the M3 but not by a large margin.
On the course, the RUL was far more successful for me when I put a smooth, fluid swing on the ball. If I were to get to aggressive through the hitting zone, I had a tendency to cut the ball more than I anticipated. That being said, when I was fluid, the shaft was flawless for me. Through 4 rounds of golf with the RUL, I hit an average of 8.5 FIR (fairways in regulation). My misses never resulted in a penalty or a lost ball but if I was too aggressive with my swing, I saw more balls end up in the left rough.
I suspect the RUL is ideal for the golfer looking for a mid/high launch and mid spin. I did put the R9/RUL 60 combination on the Vector to get some numbers and here are the results:
Average Launch Angle: 14.8*
Average Ball Speed: 159 mph
Average Spin: 2723 rpm's
Average Carry: 270 yards
My dispersion was nice and I was consistently seeing a bit of a fade biased shot pattern. In all honesty, I would easily live with these numbers out of a driver/shaft combination. In fact, there isn't much there that would steer me away from the RUL series one bit.
CONCLUSION
Matrix continues to impress me with their products. Their catalog continues to grow with products. Products that push the envelope technologically, aesthetically, and most importantly where it counts the most: in results! I honestly feel that the RUL is an offering from Matrix that caters to someone looking for a shaft that offers mid-launch and mid-spin characteristics.
If you are interested in finding out more about the RUL Series or Matrix in general, please visit their website at www.matrixshafts.com.
Thanks for reading!
-TC