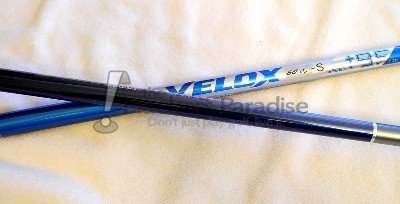 Matrix Shafts has introduced a number of technologies to the golf industry, but one their greatest contributions in the last year has been a move towards simplifying the shaft selection process, most notably through their "Flight System" that was designed around the White, Red, and Black Tie series of shafts. Many of THP's readers will attest to the fact that shafts are among the least known about and most confusing pieces of the golf equipment puzzle, and any sort of system that makes selecting one easier is highly valued. The new Velox series from Matrix introduces both new technology and a new look at making choices easier.
Introducing Velox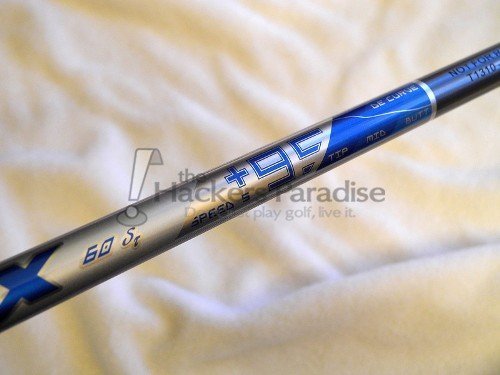 Matrix Shafts introduces Velox, the latest modern design concept developed by the Matrix R&D team and led by Chief Designer Daniel You. Velox joins the long list of premium woods shafts offered by Matrix, and is categorized as a speed shaft designed to obtain maximum head speed and control at impact.
Capitalizing on an innovative breakthrough in Matrix's DE Curve design technique, the Velox family optimizes the flex profile of each shaft for the players swing speed. The rate change of the flex profile and curvature during the swing were evaluated and matched to the different speed ranges, maximizing head speed.
Within the Velox family there are two versions, Velox St representing the "Tour" version and Velox Sp, representing the "Player" version. The Velox St model is designed for standard tour type builds, and is for the player who wants to add to club head speed while maintaining control and workability. The Velox Sp model represents the new generation of clubs that are built longer and with shallower aerodynamic heads. This version maximizes speed and allows for standard swing weights with longer builds.
The Velox cosmetics feature a premium blue/chrome silver color scheme, with speed categories shown in replacement of traditional flexes. A visual representation of the DE curve is also shown to differentiate each speed model. The "Tour" version, Velox St, will be priced at $375 while the "Players" version, Velox Sp, is available at $275.
Both the Velox St and Sp are available in a number of weights, ranging from 55g to 80g, depending on the model. Flexes range from 75 (A) up to 115+ (XX).
Key Technology
DE Curve Design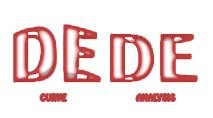 As noted above, Matrix has refined their DE Curve technology, but many people will be left wondering what that actually means. In layman's terms, this technology allows Matrix's designers to accurately predict a shaft's performance in spin, launch, and ball speed for a given swing speed. This allows the shaft to maximize the efficiency at which the shaft transfers energy (club head speed) for individuals.
"The DE Curve is a golf-specific measurement of the entire shaft created by Matrix.  This breakthrough provides our engineers with a predictive resolution for the design's role in effecting Spin Rate, Launch Angle, and Ball Speed.  For the club builder and golfer, this predictive ability allows for faster and more accurate club fitting.  For Matrix engineers, being able to predict spin, launch, and speed allows for faster and more accurate creations of future iterations".
Speed Categories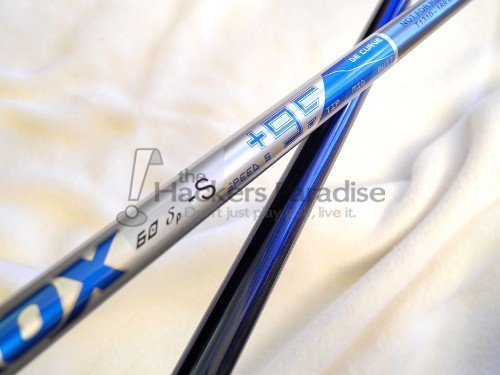 To assist in the much desired simplification of shaft selection, Matrix has replaced the standard "regular, stiff, extra stiff" demarcations that we are familiar with today. The weakness of those classifications is that there is no industry standard. So for example, one may find a certain brand's stiff flex is more stiff than they'd prefer, even though they play and enjoy another brand's version of 'stiff'. To eliminate guessing, the Velox series is separated by swing speed designations, with different flexes respectively labeled 85, 95, and 105. Those numbers signify the swing speeds at which the shafts will perform the best for an individual. For example, if a golfer has a 100mph swing speed, the 95 speed category should be the best fit.
Weighting and Bend Points
The St and Sp, while both under the Velox name, do have unique qualities that are fairly easy to sort out.
The St version, with 't' standing for 'Tour', is designed for standard Tour builds, which normally consist of a shorter length driver with a stiffer tip section to produce lower launch and spin. In addition, the St series is designed to limit the 'boardiness' or overly stiff feeling many of these types of shafts have. Those players looking for a lower ball flight will likely gravitate towards the St.
The Sp, with 'p' standing for 'players', is designed for mid to high launch and spin, which should help those looking for a higher ball flight. In addition, more weight is situated at the butt end of these shafts, which helps them retain standard swing weights with today's longer drivers. Many people will recognize the weight placement as 'counterbalancing', which has become increasingly popular in golf lately, especially in putters.
Aesthetics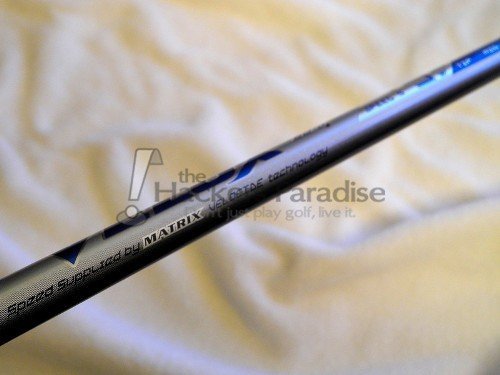 Matrix typically designs their shafts with a nod towards elegant simplicity and the Velox line is no different. Both the Sp and St are virtually identical in appearance and feature the same color combination – silver and blue. Void of flashy graphics, the shafts have a very clean, if not somewhat lackluster look from afar.
Unique to Velox is the labeling on the shaft. As noted before, the speed category of each shaft is prominently displayed, as is a visual representation of the shaft's DE Curve.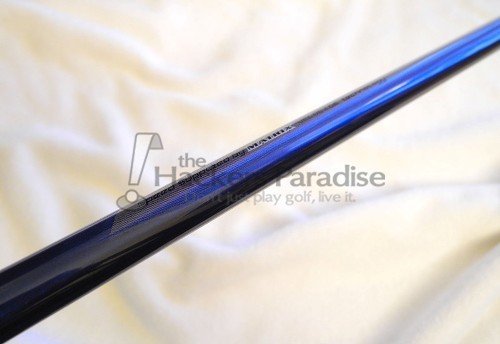 As a finished product installed in a driver, the Velox does offer a clean and refined look that should be popular with many. Preferences will vary, but a white grip really popped against the silver and blue of the Velox.
Performance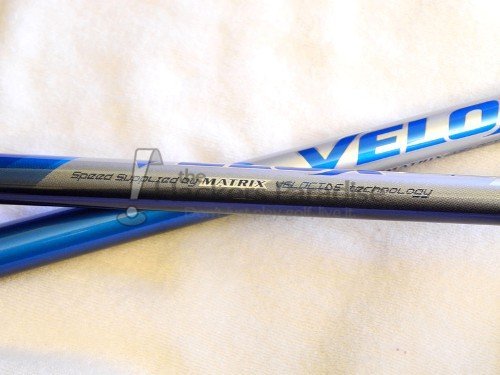 As noted, the Sp and St do offer different ball flight profiles and testing using a Vector X launch monitor and on the golf course showed that Matrix's explanations were quite accurate. Individual needs do vary, so please take the time to demo or get fit before making such a substantial purchase.
The St, while feeling remarkably smooth for a 'Tour" shaft, did in fact offer a much lower spin when tested on the Vector X launch monitor. On the course this translated to a lower overall flight and increased roll out. For this tester, the combination wasn't exactly ideal from a fitting standpoint, but those players looking to possibly drop some launch or spin should enjoy what the Velox St brings to the table.
The Sp delivered a higher ball flight as advertised, though in ways it was surprising to see just how high, even compared to the Matrix White Tie. Increased spin and launch angles combined with an already higher launching head (Callaway X-Hot) to produce a very high trajectory that relied almost solely on carry for distance. Paired with a TaylorMade JetSpeed, which is a lower spinning head in a lower loft, the trajectory flattened out substantially. What that indicates is that, again, fitting is key when selecting driver shafts. The golfer's swing and the driver head used will have major effects on trajectory and shaft choice.
While the St was a very smooth rendition of the typical tip-stiff shaft, the Sp proved to feel extremely smooth through the swing and at impact. It was one of the better feeling shafts this tester had a chance to try out in 2013.
Final Thoughts
More information on the Velox line of shafts can be found at Matrix's website. As noted before, even though this line greatly simplifies which shaft should work for the individual, it still doesn't replace the importance of a proper fitting. Certified Matrix fitters and retailers can be found on the company's website as a resource for interested consumers.