There have been a lot of points made recently about the golf ball and the pace at which it has evolved and continues to do so. Honestly, it is something that I never put much credence in until I sat down and really thought about all of the innovations we have seen in recent years – from core to cover, from 2 and 3 pieces, and now up to 4 and 5 piece golf balls. Just as I started to wrap my head around it all and believe that maybe we are starting to finally cap out, Maxfli Golf has taken it even further with their U/6 golf balls, a six piece design. So, when these came in for review I got very curious very quickly.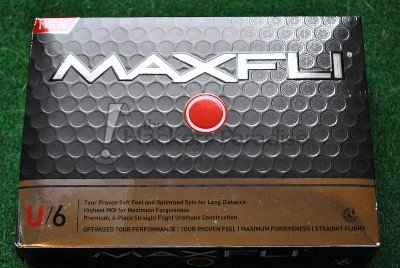 Information from Maxfli about the U/6:
GOLF'S FIRST 6-PIECE BALL
The right golf ball for you is the one that will help lower your score. The new U/6 is the most technologically advanced golf ball ever made by Maxfli. The 6-piece construction is engineered to lower scores through providing the optimized combination of spin, launch and forgiveness to provide more control, straighter flight and longer distance. A super low compression core, 4 mantle layers and tour-proven urethane cover combine to make the new Maxfli U/6 the ball for lower scores.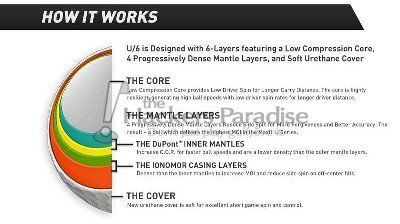 Performance
There is little doubt that many hear 'six-piece' and wonder "how much is too much" and I'm admittedly one of those people. With so many layers supposed to do so many things, like increasing MOI, reducing sidespin, and even lowering compression, it is a lot to wrap one's head around. Just by studying what went into the ball you can't help but be taken aback by it all. In the end, all the claims are fantastic, but it comes down to what is seen when they are actually put through their paces. I saw it fitting to break my observations down into several different categories to present as well rounded of a review as possible.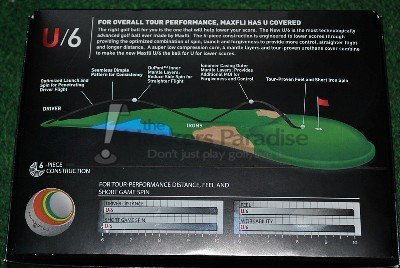 Full Swing – Tee Shot
From the tee my natural focus with the U/6 was on the overall compression, distance, the sidespin due to the urethane cover, and if the multiple layers actually reign that spin in a bit. What I saw in comparison to many other balls, including others with a urethane cover, is that the side-spin off the tee was really not any more accentuated here than with any other golf ball. I had no issues losing the ball further left or right than I normally would. Although it sounds and feels great where compression is concerned, for me, it did lag a bit in distance. With so many layers in the ball I knew it would be nearly impossible to provide the same tee action as two or three piece models and that is exactly what I saw. In the end, even though it is not the longest, it was still very respectable in this area, and the fact that the sidespin did not get out of control is a big plus.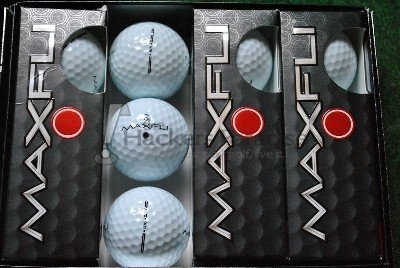 Full Swing – Long Irons and Mid/Short Irons
The next area of focus was on full swings with the longer irons and hybrids (3-7), as well as the mid and short irons (8-UW). I wanted to pay broader attention here, because unlike off of the tee, sidespin becomes less of a concern for me. Instead, compression, launch, and holding the green with adequate backspin are in the spotlight. These are also the two areas where the ionomer layer being added just beneath the urethane cover is intended to play a larger role. It does this by being denser and thusly helping to raise the MOI and add forgiveness and control.
Here I actually came away quite impressed by the compression of the golf ball, as well as the launch that I saw. There were no issues of feeling as if I was not "getting all" of the ball or getting it airborne. Obviously, a ball will not be able to make up for miss-hits with any club off the deck, but I've always felt like the compression here is what makes the biggest difference. While I'm not the biggest worker of the golf ball, it was nice to see that I was still able to take the ball left/right as well as flighting it up/down off of the long and mid/short irons, even with all of the claims of controlling the sidespin within the different layers. Another nice thing is that the U/6's urethane cover seemed to hold greens in the long and mid/short clubs just as I would expect any premium level ball to do.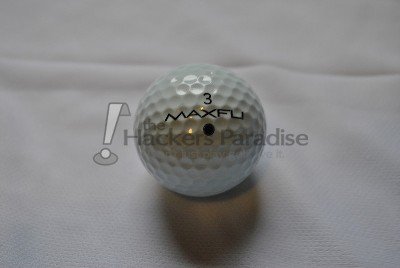 Greenside
Any golf ball that sits in the "premium" price range like the U/6 is going to be expected to perform nicely around the greens. The Maxfli U/6 was pleasantly surprising here for me with the amount of check I could get out of different types of shots around the green. I was able to make the ball do pretty much whatever I wanted here, whether it be to hop and stop or even play the run-out, providing that a proper swing was put on it of course. The ball really responded quite well no matter how aggressive I wanted to be with each shot and you can't ask for much more than that in this area.
Durability
I have been known to be incredibly rough on golf balls. I'm definitely not afraid to put one off a tree, path, or any other object, so durability definitely shows through after some time with me. Typically, urethane covers are susceptible to cutting and scarring because they are so soft. In the case of the U/6's (with the exception of the cart path – it always wins), the durability was quite good. Even with repeated full wedge shots, scuffing and scarring was not an issue. The only thing of note here was the fact that they show grass stains incredibly easy, which can make them appear to be much more worn than they actually are.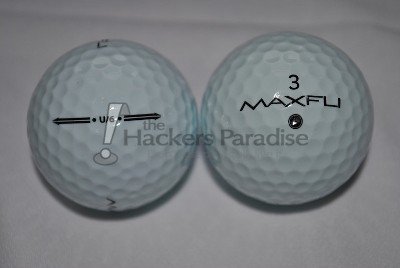 Final Thoughts
The return of Maxfli as a brand and pushing boundaries is nothing but a good thing for all golfers, and the six layers of the U/6 is definitely eye catching. More important than the amazement of that sixth layer though is the fact that it is a solid offering. Although it may not be the longest off the tee, it delivers in the other areas. However, it is also worth noting that the U/6 has an MSRP of 44.99 and this places it squarely in the "premium" ball category in both price and performance. Even though it is certainly a solid golf ball offering that I believe would pleasantly surprise many who try it out, would that be enough for people to choose it over bigger named premium balls in that same price range? In the end, that is the question.
For more information on the U/6 and the rest of the Maxfli golf ball range, be sure to check out their website at www.maxfli.com.