INTRO
This is not my first Miyazaki rodeo. In fact, when I think of Miyazaki, it brings me back to the very first THP gathering. Seventeen strangers coming together because of their bond and love of one thing: golf. It was at this outing that I was first introduced to Miyazaki shafts. I had unlimited range balls, a launch monitor, lots of time, and in the end, I left Florida with a driver shaft that performed for me like no other I had ever tried.
Ironically, some two years later, I'm back in the Miyazaki saddle. The latest offering from SRI Sports is the Miyazaki Kusala Indigo series. Just like its predecessors in the Kusala family, it adorns artwork from Japanese artist, Kusala, and is aptly named after the base layer of coloring on the shaft. In this case, Indigo. I love my job here at THP. I have a bizarre fascination with golf equipment, and in particular with shafts. It's quite remarkable to see how you can take a constant, like a driver head, and by simply plugging in a new shaft, witness a completely different shaped golf shot. It's a beautiful blend of technology/science with coordination and athleticism. We're all different as golfers in what we need off the tee. Some need higher launch, others need lower launch. Some like a heavier shaft, while others gravitate towards the increasing trend of ultra-light shafts. In the end, it's about options for the consumer, and Miyazaki is definitely a class leader in that regard.
TECHNOLOGY
From SRI Sports:
Miyazaki Shafts are driven by the science and artistry of the golf swing. The shaft is the delivery vehicle of the modern golf club and Miyazaki places the highest premiums on performance, consistency, and effective fitting. Without optimized and consistent delivery of the clubhead to the ball, significant performance potential is lost with every impact. Miyazaki shafts designs and specifies shafts using a superior approach to quantifying the actual bending and torsional flex profile of each shaft. Each shaft has designed a proprietary International Flex Code™ fitting system which replaces the archaic specifications of frequency, kick point, and torque to give professional fitters and golfers alike a more detailed insight into the specifics of their current shaft and each shafts design. Miyazaki Shafts utilize the highest grade carbon-fiber materials available to produce innovative bending and torsional profiles geared toward specific player types. Each shaft is precisely constructed to some of the industry's tightest tolerances to ensure consistent delivery characteristics on each and every shaft.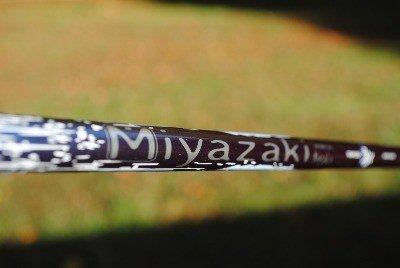 LOOKS
To say I was excited about seeing the Indigo series in person is a massive understatement. Personally, I am a big fan of the Kusala artwork that I had seen in the past, so I was excited in seeing what was in store for the Indigo series. Immediately I was drawn to the actual shaft color and not the Kusala art work. The Indigo color of the shaft was polarizing for me. It offers a level of depth and intrigue that is really difficult to explain. The color itself is so subtle, yet so beautifully deep, it really is hard to convey exactly what it looks like. Something I read during some of my research stuck out to me and it needs to be mentioned here. To me, it sums up what SRI is embracing with their Miyazaki shafts (aesthetically):
Miyazaki Shafts consider the golf swing one of the most artistic movements in all of sports.
What better way to truly embrace and enhance that mentality than to use these shafts as a canvas? I love it! Mostly because I completely agree with their statement. The golf swing is something that is personal, and every single one is different, and everyone is entitled to groom it, ignore it, improve it, disregard, or enhance it to whatever level they feel like. What I love about this series is that the originality of their designs is artistically expressed on the canvas of each series of shaft.
The Indigo seems to contain a combination of the inaugural series of designs to me. The Black, Silver, and Blue series Kusala's were thematically based on three phases of fluids (vapor/water/ice). To me, the Indigo Series artwork represents a "shattering" of one of those forms (ice). There is very intricate details of whites and silvers which add some dimension and life to the deep Indigo base color. It really appeals to me on so many levels, but more importantly, I think the design caters to exactly how the Indigo Series performs.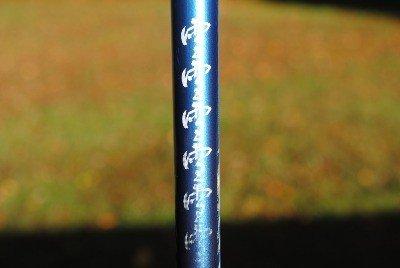 TESTING
My testing of the Kusala Indigo consisted of multiple range sessions and quite a few rounds of on course testing. I received the Miyazaki Indigo 56X and 61S for review. I paired the shafts with a Taylormade R9 460 driver (9.5*). Both Shafts were cut down to 45'' as that's my preferred length. The shafts come from Miyazaki at 47'' so tipping (.335'' tip dia) and butt trimming was required. One thing that immediately stuck out to me was how stout both felt when waggling the golf club. The 56X weighs in at 58 grams and has a constant International flex code of 7777, whereas the 61S weighs in at 62 grams and has a constant International flex code of 5555. It's nearly impossible to tell the difference between the two shafts when holding the golf club but when swinging them it was extremely easy to tell the difference between the two.
Miyazaki claims that the Indigo is a "constant flex code shaft that balances flex across the shaft." The Indigo series is a shaft that offers a low/mid ball flight and caters to an "aggressive swing." Well, that's precisely what these shafts gave me. The 56X definitely caters to the golfer who is pursuing a lower ball flight. I do believe that this shaft was a bit too stout for me, but for the right golfer there's no doubt that this shaft can be a game changer. For once, a golfer can put themselves into a Xstiff shaft without heading in the direction of a 70-80 gram shaft. I can assure you that the 56X is stable throughout the swing, but my problem was that I had a tough time loading and unloading it. This is not a knock on the shaft at all, but I felt like the 7777 flex code was a bit much for me.
Where the 56X was a bit out of my league, the 61S was fantastic for me. A 62gram shaft, a constant stiff flex, a low/mid ball flight, and that Kusala feel that I am so fond of makes this shaft such a completely fulfilling driver shaft for my golf game. I like to implement my one word descriptions in my shaft reviews and the word that kept coming to me with this shaft was: ROUTINE. I never feared a high ball, I never feared that odd pull hook, and I felt like I could routinely get after the golf ball with this shaft. The confidence this shaft inspired in my game off the tee helped me increase the amount of fairways I've hit in the last two months. Does is make me automatic with the driver? No. Does it allow me to be a bit more aggressive off the tee without certain fears? Absolutely!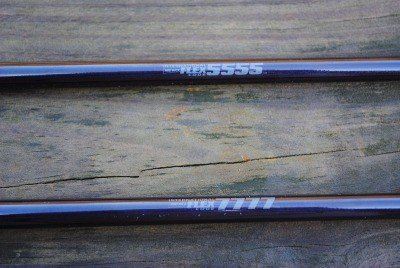 CONCLUSION
What a wonderful addition to the Kusala Series family of Miyazaki shafts. The Indigo Series is a stunning piece of art that not only enhances the aesthetic values of a driver shaft, but it enhances that "artistic movement" of a golf swing by providing golfers with a lower launching, lighter weight package, without sacrificing stability throughout the swing. Miyazaki's catalog of shafts is impressive to say the least. With the addition of the Indigo Series, Miyazaki is increasing the precision of their already elite fitting system. For more information on the Indigo Series or other Miyazaki shafts, please visit: www.miyazakigolfshafts.com
Until next time,
Lucas C.