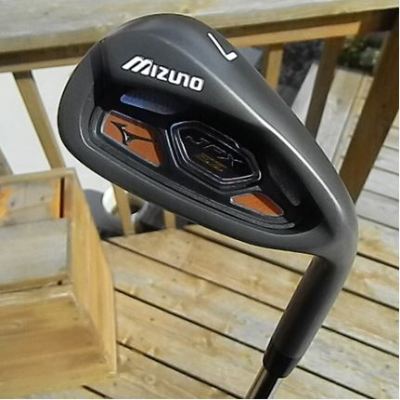 When I hear the name Mizuno Golf and the conversation is centered on irons I immediately think of the iconic chrome finished players irons that have been a mainstay in the bags of better golfers for years.  That is not entirely true however, especially in recent years.  Mizuno Golf is truly a company offering iron sets for just about every golfer.  The new JPX-EZ irons are a perfect example of that.
From Mizuno Golf
Combining Mizuno's HOT METAL face design and ultra-pocket cavity (4-7 iron) the JPX-EZ irons fire higher and longer with a predictable, tight dispersion. The Harmonic Impact Technology (H.I.T.) engineered cavity frame ensures that the JPX-EZ feels like every Mizuno iron should, but with forgiveness you can't imagine.
Tech Spec
Max Pocket Cavity (4-7): Massive sweet area, tightest dispersion, and effortless launch characteristics.
Deep pocket Cavity (8-GW): For increased accuracy and launch control.
HOT METAL FACE: Thin multi thickness design for maximum COR to deliver long, consistent distance.
Harmonic Impact Technology (H.I.T): Feel and sound tuned through cavity frame design.
Custom Set Make Ups: Available in mixed/ combo sets or with JPX FLI-HI long iron alternatives.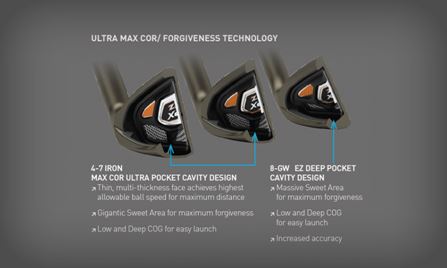 The minute you hold a JPX-EZ iron in your hand you notice the cavity of the iron right away, particularly the Max Pocket Cavity of the 4 thru 7 irons.  One important thing to note about this is that you don't really notice it at address, which was a great thing as far as I'm concerned.  What I liked about the JPX-EZ irons is that there was so much added forgiveness without making the irons look or feel overly bulky.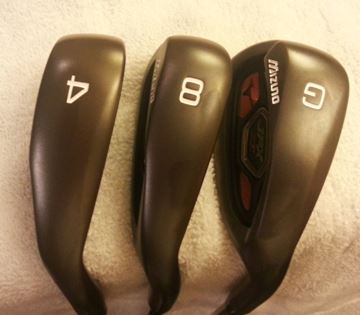 The Deep Pocket Cavity design in the scoring irons allows players to have a little more control over their shot shaping in the 8-GW.  This is helpful for controlling the trajectory of shots into the green.  The thing that impressed me about the design of the scoring irons was the cavity design allows for a thinner sole, which provided me with the feeling of added control before the shots.  Manipulating the ball flight was never an issue throughout my testing.
Playing the JPX-EZ irons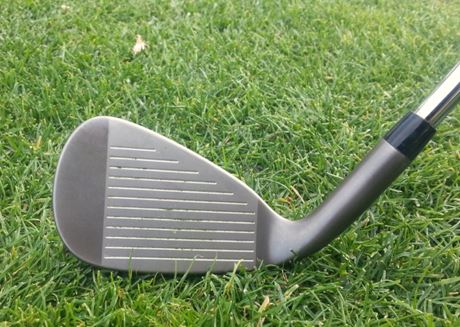 I have enjoyed the time I've spent with the JPX-EZ irons in the bag.  The transition from a player's cavity iron to these wasn't nearly as difficult as I expected it to be.  They are certainly different looking at address with the size and the amount of offset that is there, but good smooth swings almost always resulted in positive outcomes on the golf shot.  Prior to having these in play I typically wasn't seen hitting many irons off the tee on par 4s, but I found myself using the JPX-EZ 4 iron quite often to setup positioning on some tighter holes I played. 
I knew before I even hit a shot that these irons would hit the ball high and that they would hit the ball far – you can just tell by looking at them.  One thing that I really needed to see was how playable they were for various types of shots.  Fall in the Midwest is always windy, so I need to hit a lot of low boring shots.  I will say that (by default) low and boring aren't shots that immediately pour out of these, but with some effort and a little technique it can be done quite well.
Something else I enjoyed about these irons is the look.  The dark finish is almost a dark copper like finish that so far has seemed to stand up perfectly to a little bit of wear.  The finish eliminates all glare from the sun and is very pleasing to the eye.  From address I like how you don't see the deep cavity at all.  The top line is indeed thicker than many irons, but not to the point where it becomes unpleasing to the eye.  The design of the cavity also has a nice look to it, with the famous Mizuno badging on the perimeter and added colors inside the cavity both being quite attractive.  That is definitely something we've come to expect from Mizuno irons over the years.
Distance and Forgiveness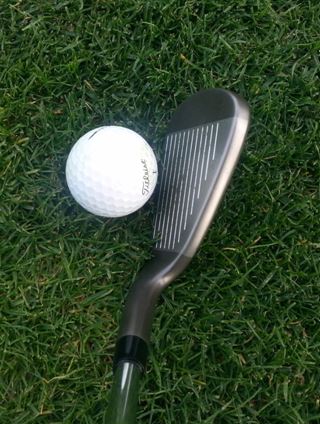 With the hot metal face of these irons I could feel the ball taking off at impact.  It reminded me of the way you can feel the ball off the face of a driver, fairway wood or hybrid.  The ball wants to explode high and far off the clubface.  I was easily a club to even a club and a half longer with the JPX-EZ irons.  Yes the lofts help that case, but when I can hit an 8 iron instead of a 6 iron from another set I am likely going to have more confidence to put it close.  

The forgiveness of the JPX-EZ was something that took me longer to adjust to than the increase in distance.  What I mean by that is on those times I knew I didn't hit the shot great I was continually surprised with the results.  Many times I would be calling for my golf ball to go only to see my shot wind up going long.  On the flip side, there is a slight lack of feedback for my liking.  I always knew when I hit the ball on the sweet spot, but several times I just simply couldn't tell exactly how well or even how poorly I hit a shot right at impact.  Comparing these to similarly designed game improvement irons I do see more distance and forgiveness, but it does come at the expense of some feedback in my experience. 
Shafts
The stock shaft offerings are the new True Temper XP105 (steel) and Fujikura Orochi (graphite).  For testing the set was equipped with the XP105 (S300), which is a new offering from True Temper that weighs in at 107.5g.  The light weight shaft really seemed to fit these irons great in terms of how they felt in hand and through the swing.  Throughout my testing I was impressed with my shot dispersion and the trajectory, both of which got a direct assist from these shafts.  
Closing Thoughts
From the time I opened the box I could tell that these irons would be among the longest irons I've ever hit.  As I mentioned earlier, I accurately predicted that they'd be long and hit the ball high.  What I was also interested in finding out was what they could offer me beyond that.  I found that particularly with the scoring irons in hand, they offered solid feel and a good deal of control.  The stock shaft offering is going to make a lot of people happy, as the XP105 seems to compliment the JPX-EZ very well.
I would have liked to get a little more feedback, but I realize that feedback isn't the first thing people are looking for when they go for an iron like these.  Overall, I think the JPX-EZ is a great design that a lot of golfers will enjoy a great deal.  They offer great distance, a great deal of forgiveness and that great look we've come to expect out of Mizuno irons.  The JPX-EZ irons are available now for $700 (steel) and $900 (graphite) 4-GW.   More information, including a list of authorized dealers, can be found at www.mizunousa.com.