For years, Mizuno has made a name in the golf industry by producing top-of-the-line forged player's irons. However, they also carry a substantial line of equipment geared towards those folks that are looking for more forgiveness and distance. They've ran with an interesting concept over the last couple years in what they call the Direct Long Iron Replacement (DLR). Basically, Mizuno is acknowledging what many of us know: long irons can be difficult to hit well with consistency. Many people struggle with ball flight, accuracy, and distance with their long irons and that's precisely why hybrids have become a staple in so many bags. The latest iteration of this concept from Mizuno is the JPX Fli-Hi line of hybrids (or DLR's). I had a chance to test out these clubs for THP and was able to get a good feel for what they bring to the table.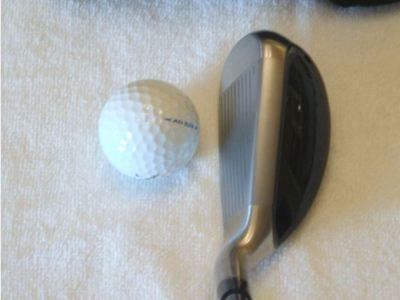 From Mizuno
The JPX Fli-Hi Hybrid DLR incorporates the same distance generating technologies as the JPX-800 and JPX-800 HD irons. These include a multi-thickness 'Hot Metal' face and MAX COR Pocket Cavity for increased ball speeds from anywhere on the face, as well as explosive distance. In addition to these technologies, Mizuno incorporated a wood type hybrid head shape to provide a massive sweet area and a lower, deeper Center of Gravity (COG). A Speed Bevel Sole Design provides maximum club head speed through the turf. The clubs also offer an optimal face bulge and roll, delivering shot correction on miss-hits.
• Available Right and Left Hand Lofts: #3-19°, #4-22°, #5-25°, #6-28°
• Shafts: Dynalite Gold XP (Steel), Fujikura Orochi (Graphite)
• Grip: Golf Pride M-21
• Other Options available through Mizuno's Custom Department.
• Suggested Retail Price: Steel – $87.50 Graphite – $112.50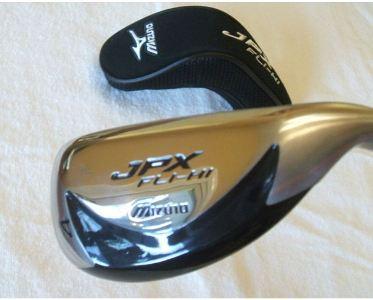 Looks and Initial Thoughts
When it comes to looks, the JPX Fli-Hi's are a bit of a departure from the hybrids I've typically played in the past. I've always gravitated to hybrids that resembled a fairway wood. The Fli-Hi's resemble an iron in many ways, which makes sense when you remember they are calling them Direct Long Iron Replacements. Still, it was a bit of surprise to see just how much they look like an iron from some angles. The sole, while much wider than a typical iron, doesn't appear to be quite as wide as many hybrids. The Fli-Hi's almost remind me of a Super Game Improvement iron when I look at the face and sole, but more like a hybrid when looking at the crown. At address, they set up like an iron. It was almost as if the back portion of the club disappeared from view when I was addressing the ball. I actually ended up liking that quite a bit. There is a healthy amount of offset in these clubs to further assist with getting the ball airborne.
The sound that the Fli-Hi's made at impact was something that caused me to pause at first. To my ear, they are incredibly muted with a bit of a high pitch tone on a well struck shot. The sound sort of carried over to the feel in that I perceived it to be pretty muted as well. It wasn't something I personally loved, but that's truly a matter of preference and I didn't necessarily dislike it. I tested the JPX Fli-Hi's with the Orochi graphite shaft, which is black with some modest artwork. It was nice to look at and seemed to feel true-to-flex for my swing. The grip itself was forgettable, which is never a bad thing. I didn't think about it once during testing and that's perfectly fine with me. Each Fli-Hi comes with a decent little head cover. It wasn't the easiest to get on, but it was fairly small and didn't crowd up my golf bag.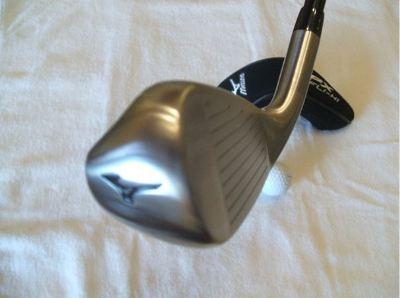 Performance
I tested the Fli-Hi hybrid on the range, the course, and a launch monitor. It really ended up growing on me over time. The first two times I took it out I wasn't incredibly impressed, but I'll admit that I think much of that is because I didn't love the appearance or sound. Over time, I did find that it was a reliable performer and worked as advertised. I was especially pleased with the results I saw from shots off the fairway. My ball-flight, while not extremely high, was still higher than what I'd see from a comparable long iron. Thanks to that ball flight, I was able to hit some shots from pretty far out and still hold the green. My stock shot with these was a very predictable fade and I was able to hit greens from some pretty tough spots with it.
The forgiveness of the Fli-Hi was definitely an improvement over my specific long irons, though no club is a magic wand. Missing out on the toe still left me short of the target, but I wasn't too far off considering the circumstances. The ball seemed to stay fairly straight with decent height on miss-hits. I didn't find the Fli-Hi to be particularly long, but it did really well at matching the distance gap it was made to fill. This is a good sign, since that's really the concept behind the DLR. Preventing gaps when matching an iron set with hybrids can be tough, but it appears that the Fli-Hi's will blend well with your typical game improvement irons.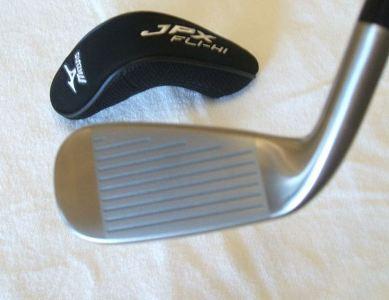 Final Thoughts
The JPX Fli-Hi was a bit of surprise to me. I ended up liking it more than I expected after my initial thoughts. I'm still not sold on the looks or sound, but it really seemed to be a solid performer. It does seem as if it would fit seamlessly into a game-improvement iron set-up. At a little over $100 each, I think the price is very attractive as well. Adding two Fli-Hi's could be a fairly economical way to add some forgiveness and consistency to the lower end of your bag. They are definitely worth trying out if you are looking for a hybrid in 2012. For more information, you can head over to www.mizunousa.com/golf or talk to our friends at Blind9 Golf. As always, I wish you the best of luck out on the course and thanks for reading.
Ryan H.