Finding wedges that properly fit your game in terms of performance, feel, look and cost is rarely an easy thing to accomplish. Walking into a golf store leaves row after row of wedges that look similar, have a similar cost and all say something about spin and feel. One thing rarely associated with wedges in terms of performance is forgiveness and with the launch of this new Mizuno wedge line, THP was eager to see just how much that could assist golfers in their scoring game.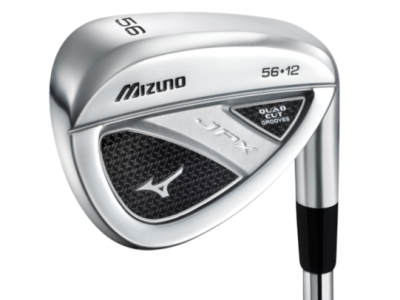 Features
Building upon the successful JPX iron line, Mizuno introduces the new JPX Series of high performance wedges. These JPX wedges feature Mizuno's Quad Cut Grooves and a CNC milled face for maximum spin, and serve as the perfect extension to any of Mizuno's JPX iron sets. The JPX wedges were specifically designed for the mid to high handicapper, featuring a cavity back design for increased forgiveness and a wider sole for more effective bounce, with a look that any golfer can appreciate. The JPX Series will deliver superior wedge performance for golfers of all abilities.
Quad Cut grooves for maximum spin and ball stopping control.
CNC Milled Face — increased surface roughness for improved spin on short range shots.
Triple cut sole design delivers ideal turf interaction and syncs perfectly with JPX iron models.
8620 steel construction for solid feel.
Two tone double nickel chrome finish.
High spin quad cut grooves milled to USGA limits.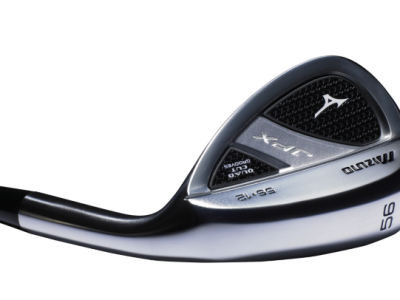 First Impressions
When the JPX wedges arrived at THP HQ for testing, the first thoughts were that they looked quite good. While not as classically elegant as many seem to believe wedges should be designed or as minimalistic as some wedges appear, the JPX line had a clean look to them that was slightly bigger overall than most wedges that have been tested as of late. One thing that stood out to all of the THP testers that put these in their hands was that while the club head has perimeter weighting, at setup, the club still appears rather sleek and "blade like" and that was comforting from more of a "that's what people are used to" kind of thing. Next to other wedges, you can get a sense of some extra weighting in certain areas, but on its own, on the golf course, our testing showed that most did not notice anything of the sort during use. The looks appealed to just about everybody these clubs were put in front of and testers were eager to put it in play. A company that prides and markets itself on a manufacturing process such as Mizuno with Grain Flow Forging and how it is supposed to be there to create a softer, better feeling club, our testers were surprised to see that the JPX line of wedges is produced using a casting process due to the nature of the design. More on that coming up shortly.
Testing Thoughts
The Mizuno JPX wedges were put in play for several months of use on the course as well as countless range sessions and it is safe to say that each time they were used, the positive impression they gave off grew even larger. With so many wedges being similar shaped and weighted nowadays and the powers that be mandating how grooves can be cut, a lot of choosing wedges comes down to subjective thoughts.
Looks – Since it was touched on above, we will not dwell on it again here, but suffice it to say that the group of golfers testing these wedges very much liked the looks both from the overall package stand point, and the fact that the company has packed perimeter weighting into a wedge without sacrificing too much in terms of classic looks during use.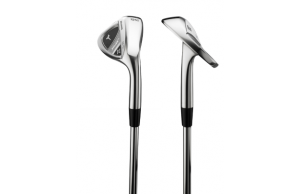 Feel – When a company positions itself over the years as having superior feeling golf equipment due to the manufacturing process, it is hard to move past that the one area of the game where feel is so wanted (wedges) you are to overlook that. The JPX wedges are not Grain Flow Forged like much of the Mizuno line, but done via a casting process and some Mizuno purists may shy away from the clubs because of that. THP is here to tell you that you will be making a mistake if you do. This wedge line has a fantastic feel and while that is a purely subjective trait, not a single person that tried these for us during this review process thought otherwise. Weighting, balance and shape combine to give us a nice impact tonal experience that translates nicely to the hands to give off a rather full feeling wedge that offers great feedback.
Shaft & Ball Flight – The JPX wedges come standard with the True Temper Dynalite Gold XP wedge shaft, however many custom options are available for golfers that have a different preference. During our testing, the shaft and club head worked quite well together to give off a nice high ball flight and traditional golf swings and still being stiff enough to maintain the touch needed around the greens for every shot needed.
Forgiveness – Not something that is normally associated with wedges due to the classic design that most are equipped with, the JPX line of wedges offers just enough mass in the right places to assist some user error. The two areas where the club head and weighting really assisted were high on the club face where once in a while the amateur golfer will catch one due to a thick lie and out on the toe of the club. Both of these spots saw the forgiveness of the JPX wedge shine and the extra mass in the perimeter weighting really helped golfers not suffer from extra strokes when slight mis-hits occurred.
Overall
The Mizuno JPX line of wedges was one of the biggest surprises our testers have come across so far this year. Great performance and solid forgiveness without much (if any) of a sacrifice in terms of feel and playability. The JPX wedges from Mizuno recently hit stores with a price tag of around $100 and can be found at a retailer near you and by checking out THP Approved online vendor Blind9Golf. For more information on this or any other Mizuno product, check out their website at www.mizunousa.com.
Till Next Time
Josh B.