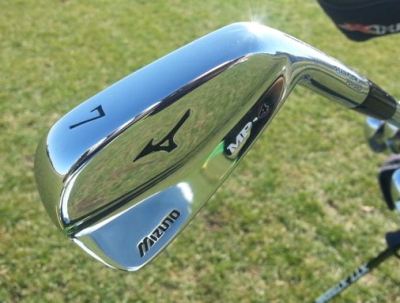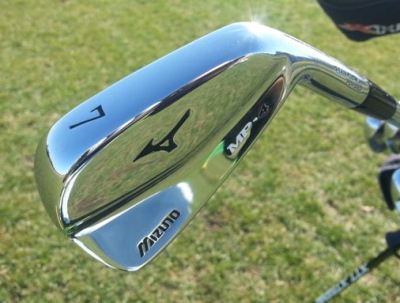 The Art of Shotmaking. 
That's what you read when you look at Mizuno's description of their new MP-4 irons.  Mizuno Golf has a reputation of putting out some of the best looking irons on the market year after year.  Some people would go as far as to call some of them works of art.  There is no question about how pretty the MP-4 irons are to look at.  Mizuno has gone further than skin deep to make them playable as well and THP received a set to see how they stack up.
Design Details
The MP-4 is the purest of forged muscle backs for shot-makers seeking the ultimate control over their ball flight.
A longer, softer sense of impact results from Mizuno's patented grain Flow Forging process and bulging muscle design that extends higher up the clubface.  The muscle bulge is most prominent in the scoring irons and reduces down through to the slender long irons- where design emphasis is place on creating a quick launch and steeper landing angle to knock down flags. 
Tech Spec
Pure Muscle Design: Bulging muscle ensures thickness behind impact for solid feel.
Shotmaker's profile: Thin top line & reduced offset helps manipulate ball flight.
Variable Muscle Bulge: More bulge in the short irons for trajectory control.
New profile 8-PW: More compact than previous MP irons,
Grain Flow Forged: From a single 1025E Pure Select mild carbon steel billet for enhanced feel.
Custom Set Make Ups: Available in mixed sets or with MP-H4 long iron alternative.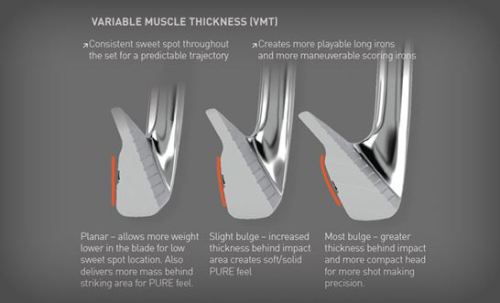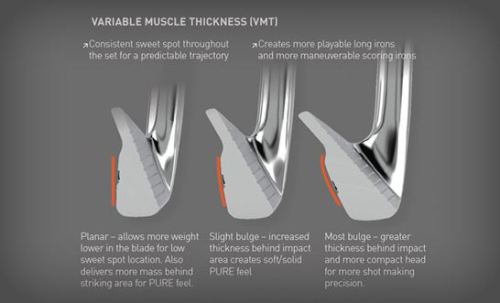 First impressions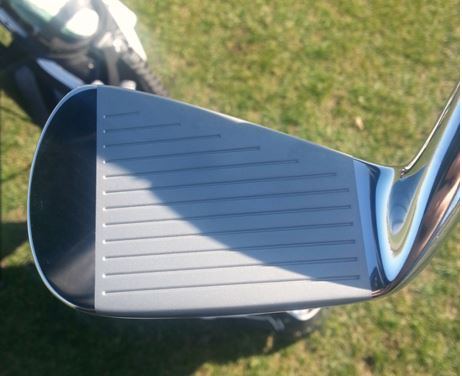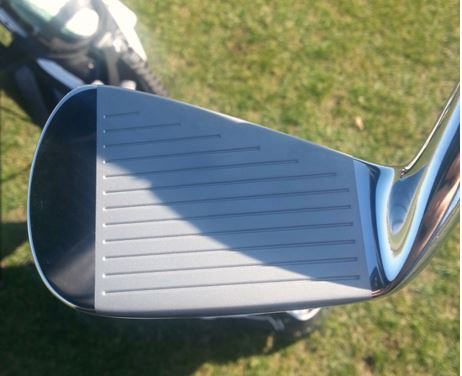 Seeing all this technology packed into such a sleek blade like this surprised me.  This isn't the first time I've seen similar concepts in an iron set, but it is the first time I've seen this in a muscle back.  At first glance these irons can come off as a bit intimidating. I couldn't help but think that I'd have to execute a near perfect golf swing in order to take advantage of what they offer. 
Getting started with my testing it didn't take long for me to realize that the MP-4 irons were not nearly difficult to hit as I expected.  In fact, I began to get into a good groove with them after just a few shots and my confidence began to increase with each shot that came off as planned.  I immediately took notice of the sublime feel of a well struck shot. Even on a fairly cool fall day here in the Midwest the soft feel of the golf ball melting onto the clubface at impact was addicting.  If you thin a shot or catch one a bit heavy you certainly know it, but there isn't a more pure feeling than a solid struck shot with the Mizuno MP-4.
Traditional lofts throughout the set made for a quick transition in terms of distance control.  The stock shaft and shaft tested is the True Temper DG S300, which is a lower launching iron shaft.  I found that to be true in most cases when installed in the MP-4 head, however I was able to manipulate the trajectory of my shots easier than any iron I've used previously.  And with added technology I'll cover a bit later, I had no issues hitting nice high shots, particularly with the scoring irons.


Playing the MP-4
My first trip to the golf course with these in the bag came on a gorgeous yet chilly fall day.  I would go on to enjoy the best ball striking day of my life.  Every shot was hit solid and directly on or extremely close to the center of the club face.  Distance was outstanding on this day. I was hitting the ball further than the player's cavity set that I had been playing since the beginning of this season.  As the round went on my confidence continued to increase and I went on to have one of the best rounds of my life tying a personal best with 5 birdies on the day.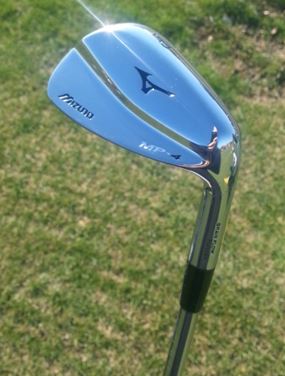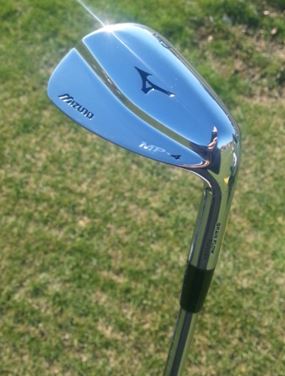 This round told me something loud and clear.  When my game is on, I was absolutely a good enough player to have these blades in my bag.  That's great, but I needed to know what happened when my ball striking wasn't at its best and as it usually works out, the very next time out I got to see exactly what happens when my swing isn't 100%.  As expected, I found myself short when I didn't hit the ball solidly – about a full club to sometimes two depending on the severity of the miss.  The feel of a solid iron shot is great, but feedback you get from a marginally hit shot certainly lets you know that you missed it a touch.  I found that I didn't have to be perfect to get good results, but it is best not to be too far off if at all possible.  I said it multiple times throughout my testing – the Mizuno MP-4 irons are a lot more playable than I expected them to be.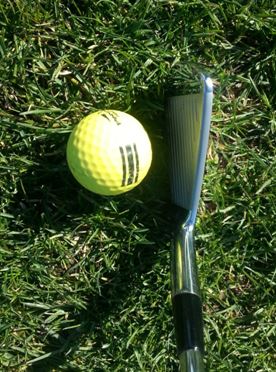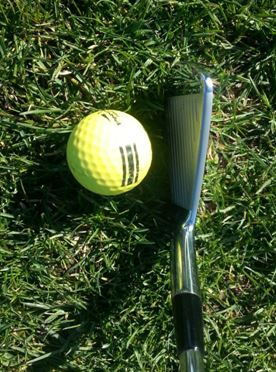 The Variable Muscle Thickness technology present in the MP-4 changed my thoughts on these irons completely.  Being able to hit high solidly struck long iron shots with these irons really never got old.  With VMT technology it always seems like the right amount of mass is exactly where it needs to be.  Even with a lower launching shaft I was hitting some towering shots with the scoring irons.  The lower sweet spot location of the long irons helps get the ball up in the air and deliver consistent golf shots. 
 Final Thoughts
 The art of shotmaking began to take on a new meaning for me as I went through my testing.  The control, playability and consistency of the Mizuno MP-4 irons set them apart as some of the best irons I've personally tested.  The technology and performance back up that great look to perfection.  I was happy to see the VMT technology and I feel as if this takes an iron that used to only fit a small percentage of golfers and makes them playable for a lot of us.  I am not saying that they are a forgiving set of irons that would improve the golf game of a mid to high handicapper.  I will say that if you're a solid player with some better than average ball striking you really need to do yourself a favor and demo these irons next time you're in the market.  I'm guessing you'll be pleasantly surprised.  Throughout my testing everyone took notice of the gorgeous irons I had in my bag. Many of my golf buddies tried them and I heard the same thing almost every time, "Wow!"  Mizuno Golf continues to build on their solid reputation of having gorgeous looking and solid performing irons with the MP-4.
 The Mizuno MP-4 irons are available now for $999 (3-PW).  Learn more by visiting their website at http://www.mizunousa.com/golf.