When it comes to classically good looking irons that have a throwback feel to them, few companies put out more than Mizuno. What used to be a choice of blade or cavity back has now grown into several categories of irons with each offering more and more every year. One category that seems tailor made for Mizuno is the "game enhancement" category, or an iron that is normally smaller in overall profile, and is used to assist in shaping shots and offering maximum feedback with each strike of the ball. The iconic MP line of clubs that Mizuno puts out each year fall into this category and the MP-59 and MP-69 are no exception.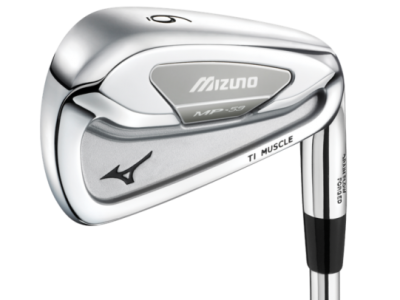 From the Company – MP-59
The MP-59, the next generation of our award winning Ti Muscle™ Technology, delivers full cavity forgiveness in a player's half cavity design. During the elaborate Grain Flow Forging process, the pure Titanium material is forged into the muscle of the MP-59 to deliver a 5% larger Sweet Area compared to the MP-58, the iron that debuted Ti Muscle Technology. The lightweight characteristics of the pure titanium allows for the ideal amount of thickness behind the impact area to deliver consistent solid feel while simultaneously providing a dramatic increase in perimeter weighting for enhanced playability. To date, only Mizuno's patented Grain Flow Forging process can deliver this technological advancement that produces these amazing gains in forgiveness, all within a compact, traditional head shape.
Forged Ti Muscle Technology delivers increased forgiveness and solid feel in a player's head shape.
Scientifically designed to optimize sound and feel at impact utilizing modal analysis and Harmonic Impact Technology (H.I.T.).
Patented Grain Flow Forged 1025E "Pure Select" mild carbon steel and pure titanium combine to provide the ultimate soft, solid, and consistent feel.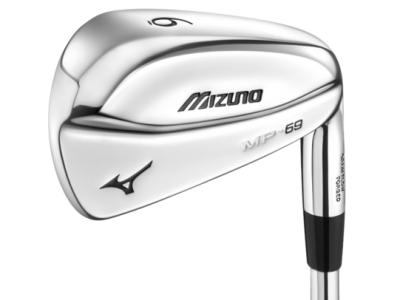 From the Company – MP-69
The new MP-69, the next iconic Mizuno Muscle Back iron, was created by blending our PGA Tour Staff input with the latest state of the art design and simulation tools. This iron is the perfect balance of Grain Flow Forged feel and unmatched workability. The MP-69 irons feature our newly developed 4D Muscle design. A strategic weighting strategy from 3 iron through PW ensures ideal COG placement in every iron throughout the set to deliver total ball control and a predictable trajectory.
4D Muscle design delivers unmatched ball and trajectory control by maintaining the perfect COG design in each clubhead.
Scientifically designed to optimize sound and feel at impact utilizing modal analysis and Harmonic Impact Technology (H.I.T.).
Strategically placed trailing edge bevel delivers tour confirmed performance and increased versatility.
Patented Grain Flow Forged 1025E "Pure Select" mild carbon steel provides the ultimate soft, solid, and consistent feel.
Modified U-grooves, which conform to the condition of competition, produce the ideal spin rate for maximum playability in all conditions.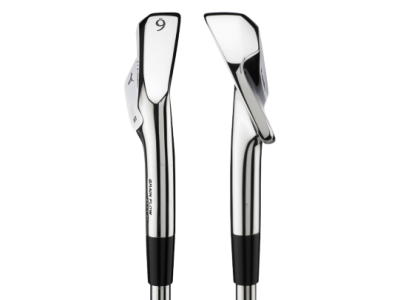 Testing
Testing both sets for multiple rounds of golf and countless range sessions two things became clear. First, these truly are an iron that offers a large amount of feedback after each shot and can be "worked" around the course depending on the shot shape one desires. Second, if you are looking for an iron with a high dose of perimeter forgiveness on those shots that you hit out on the toe or high on the club face, these may not work for you. Mizuno lists a handicap range on their website for who they feel will most benefit from a set such as these and they do keep that number pretty low. For the MP-59 set it is up to a 13 index and for the MP-69 set, it is up to a 7. I normally do not put much stock into a handicap deciding what iron one should play, but feel as though after testing these, the Mizuno guide is fairly close if we are basing it on handicap equals ball striking. Not always the case of course, but for a general guideline, THP thinks they are fair numbers.
On the course, the Mizuno irons performed beautifully. Both sets offer a penetrating mid ball flight that works extremely well in almost all conditions with the MP-69s flying just a bit lower than that of their slightly more forgiving counterparts. The leading edge of both sets offer just enough roundness as to not come in too sharp and be prone for digging and combine that with the versatility it offers to hit large varieties of shots in any condition.
The major differences between the two sets, performance wise, is the amount of feedback found on shots that miss the sweet spot. The MP-59 line offers some perimeter weighting and that overall mass in areas other than the balance point will in fact assist you when your shot strikes the heel or toe as well as higher up on the club face. Both irons had wonderful feel and elegant good looks that seem to stick in your mind and the chrome finish is divine, however, we did get blinded in the FL sun a couple of times with both sets from the sheer shine that these produce.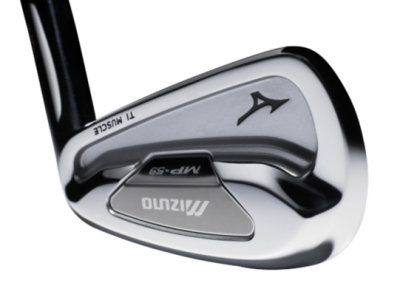 Overall
If you are looking for a set of irons with classic good looks than Mizuno might just have the iron for you. Their MP line is nearing iconic status and continues to deliver year after year with irons that offer maximum performance and are aesthetically pleasing. For more information on this or any other product, check out their website at www.mizunousa.com.
Till Next Time
Josh B.