When a company like Mizuno Golf decides to use the tag line "History in the Making" for their newest MP iron designs, it goes without saying that the golfing world collectively stops to pay attention.
For those unaware, MP has and always will stand for "Mizuno Pro". For whatever reason, stateside we seem to either overlook that fact or just not know it at all. Perhaps part of that is the changes that typically take place from an engraving perspective when the previous models have made it here, you see, overseas they have maintained the "Mizuno Pro" script on the irons while here that has typically been absent come U.S. release time. 
Well, that changes with the new Mizuno Pro 221, 223, and 225 iron releases. However, that most definitely isn't the only thing changing.

"Mizuno Pro"
Ask an avid golfer to tell you the first thing that pops into their minds when you say Mizuno MP irons. I would bet copious amounts of money I don't have that the words "classic", "tradition", "art", "sleek", "clean", and even "buttery" would be said. Therein lies the misunderstanding of just what the Mizuno Pro line actually is for the company.
Several THP'ers, myself included, have been able to sit down with Chris Voshall, Mizuno Golf's Product Manager, many times in 2021 and there has been one constant to his message with this coming release, that the overall concept of the Mizuno Pro is oft misunderstood.
You see, this line has always been cutting edge as far as pushing the boundaries of what irons can be, yet it is the JPX that often gets that attention. The Pro releases instead get hit with the idea of being functioning pieces of art and beauty above all else for most consumers. The thing is, they just hide the technology incredibly well, so people at times have overlooked it. Make no mistake though, the Mizuno Pro iron releases are about evolving and advancing, as Chris Voshall describes it, "The true essence has always been to make history, not be stuck in it."
So, with all that in mind, the new Mizuno Pro irons are coming, lets take a closer look at the 221, 223, and 225 irons, shall we?
Mizuno Pro 221
"The Ultimate Muscleback" is what Mizuno Golf is calling the new 221 irons, and it's hard to argue with them when it comes to MB's as they have pretty much been the standard for decades now. The 221's come from looking at all the company has done in this style of iron before and evolving them both visually and in terms of overall playability.

There is an overall beveling in play here that has allowed for Mizuno to make the 221's look even more compact in practically all regards, best part is this beveling technique meant no loss of weight/mass in the upper part of the iron heads. They have also taken feedback from Tour and beyond to heart with the decision to have the 221's get progressively more compact into the scoring irons.
These remain a Grain Flow Forged iron from Hiroshima, Japan and the copper underlay is alive and well with the 221's which should make many rejoice. As always, these beautiful blades are aimed at the shot makers of the world who demand both precision and workability without sacrificing feel and feedback. Another nice touch is the combination polished chrome on the body of the iron with satin finish on the face to offer the best of both worlds visually.
The Mizuno Pro 221 irons will be available in 3-PW in RH only. They will be paired with ProjectX LS shafts and Golf Pride Z-Grip full cords as stock options. Pricing will come in at $1,499.95 USD.
Mizuno Pro 223
The 223's are the irons which have taken the biggest leap in the coming release. These are being called an "Elite Players Cavity" by the company and the premise here is that these irons present everything that the best ball strikers in the world need to compete on modern layouts, but they never thought to ask for. If that doesn't perk your ears up, I don't know what will.
Mizuno Golf's Director of R&D, David Llewellyn has this to say about the 223's:
"The good way to look at the new Mizuno Pro 223 is that we shrunk the HMB technology platform to the profile of one of our small player's cavities – comparable to the MP-62, MP-64 or MP-18SC."

That is some big talk for sure, and exciting might be an understatement. The 223's are the shape and frame of a classic players cavity iron but with massive, new technology hidden internally, particularly in the 4-7 irons. While the 8-PW remain Grain Flow Forged 1025E Carbon for absolute precision, the 4-7 are Forged Chromolly with a hidden Microslot making the faces even thinner than what the JPX921 Forged were, but in an even more player driven profile.
Mizuno Golf considers the 223's a distance creating iron that is a true Tour sizing, in fact, even with all this new tech the 223 is smaller than MP-20 MMC irons were. This was done knowing if they were to get them into hands and in bags on Tour, they had to have the right size. These are finished in the sleek Mizuno satin and do possess the soft copper underlay as well.
The Mizuno Pro 223 will be available in 4-GW and as stock paired with Nippon MODUS shafts and Golf Pride MCC Teams grips. The 223 will be available in both RH and LH with a price of $1,499.95 USD.
Mizuno Pro 225
Following up what might still be the most eye-opening hollow body iron design on the market is not an easy task, but Mizuno Golf truly believes they have evolved that design into something even more enjoyable. This is the next Hot Metal Blade and will be the most playable iron for the widest segment of golfers in the new MP offerings.

The biggest thing is that these aren't as big anymore, in fact, they are smaller in profile than the previous version and the CORTECH face is now allowing for even faster ball speed potential. The irons are Grain Flow Forged in Hiroshima, Japan like the rest of the Mizuno Pro offerings and have that soft copper underlay as well. Although these are smaller, the company is adamant that these are still about ball speed and playability for low to mid handicaps, but still in that MB style appearance so many loved. Not to mention, the satin finish looks stunning.
These aim to stand alone as a full 4-GW set, or as long iron replacements. The stock setup for the 225's will be ProjectX IO shafts and Lamkin ST Hybrid grips. Pricing will come in at $1,499.95 USD.
Mizuno Pro Fli-Hi
Yes, you read that right, the Fli-Hi in its driving iron type design is back and my how things have changed. The name of the game? Ball speed.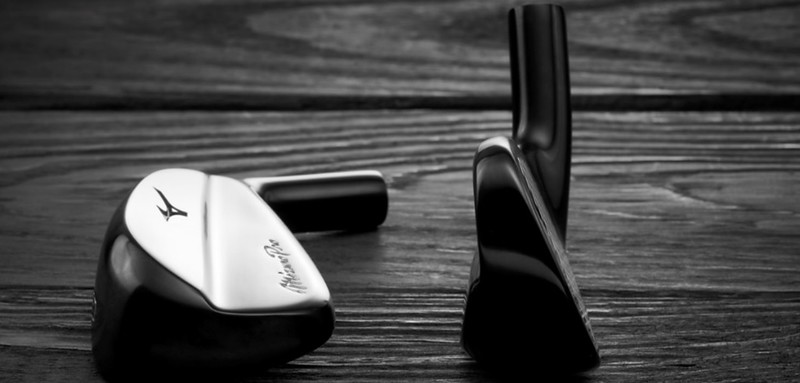 The new Fli-Hi is designed specifically to be played with a graphite shaft, this is a big aspect to the design because it allowed Mizuno Golf to treat it as a standalone entity as opposed to being tied to having to flow into the three iron sets. There is little doubt that the creation of the HMB design has helped create this design change as those flow into the iron sets seamlessly.
With this iteration, there is a longer heel-to-toe length, slightly increased offset, and a wider sole than what the 225's have. All of these add up to more perimeter weighting, more stability, and more overall playability into these low lofts than a traditional shaped iron. The biggest story, however, is the integration of MAS1C into an iron face, this is a metal typically only used in fairway woods. What does that mean? Speed. A lot of speed.
These are presented in a "blackout" ION plated finish and have gone through Mizuno's H.I.T. (Harmonic Impact Technology) to ensure the sound is satisfying and in line with expectations consumers have for Mizuno. The Pro Fli-Hi will be offered in 2-4 iron (16.5°, 19°, 21°) with either a Project X U (110g) or ProjectX Smoke Black RDX HY (80g) shaft and Golf Pride MCC Team grips. Pricing will be $224.95 USD.
The Mizuno Pro's are Coming
The new Mizuno Pro lineup will be available at retail on February 3, 2022. Feedback is sure to come flying in as soon as people begin getting them in hand. Be sure to keep an eye on the THP Community as a handful of our members will have the sets in hand as well. Do the new Mizuno Pro irons catch your attention? What do you think? Jump into the conversation below and on the community to let us know!