Let's face it; the vast majority of us have become more and more dependent on our cell phones. It's simply a sign of the times. That dependence naturally comes in part thanks to the technology that has been packed into these devices and what they can do for us on a daily basis. Look no further than the boom we have seen in golf apps and programs that have become more and more complex, from GPS to scoring and even full swing analysis. However, such apps and programs, particularly if used on the course, do come at the cost of battery drain. An obvious option to help with the frustrating battery drain is through a battery extender. Although such products were once clunky accessories that were a pain to lug around and use, the times have definitely changed.    
For example, look no further than Mophie and their "Juice Pack Air" for the iPhone 5.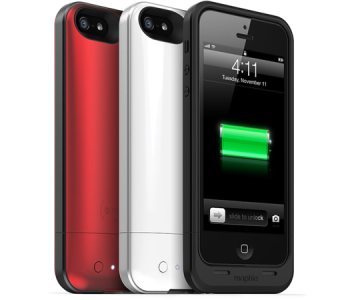 The Juice Pack Air® for iPhone® 5
The ideal case for the everyday 9-5er and for those whose day doesn't always end when they leave the office. Lighter and thinner than previous generations, but packed with more power to make sure your phone can keep up with your busy lifestyle.
Double your power.


Up to 100% extra battery with the flip of a switch. Turn on the case when your battery runs low to stay fully charged through the late nights.
Reimagined for the iPhone 5.


The refined outer band and smooth finish makes for a comfortable all-day hold while defending from everyday wear and tear. Integrated, pass-through buttons and proprietary mute switch seamlessly blend the design of the case with your iPhone. Recharge both devices together with the included micro-USB cable to make sure you always head out with two fully charged batteries.
Whatever the day brings, Do More.
From the dawn patrollers to the parents rushing to get the kids off to school. From the busy day filled with meetings and presentations to the day off filled with errands and friends. The juice pack air ensures you have more than enough power packed into a streamlined, protective case so you're ready to take on the day.
Dimensions: 
2.60 in x 5.54 in x 0.63 in
Weight: 
Talk Time:
Up to additional 8 hours on 3G
Internet Use:
Up to additional 8 hours on 3G

Up to additional 8 hours on LTE

Up to additional 10 hours on WiFi
Audio Playback:
Video Playback: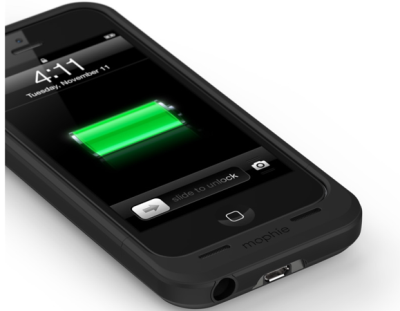 I'm an avid iPhone user and I also review a lot of apps and Bluetooth devices that take a major toll on my battery life while putting in work at the course.  This one has been a very pleasant addition for me in that regard. Not only is it easy to use (just slide your iPhone into its two piece design,) it's also a pretty solid case if you choose to use it as your everyday one. When you're ready to access the battery you just flip a switch on the back and with the push of a button the four LED lights indicate how much power you have left in the Juice Pack Air. After use, just plug the USB cable in and recharge the unit quickly and easily. The best part for me though is that it's not clunky like the battery packs of old, this is an aesthetically pleasing design in the hand and the pocket.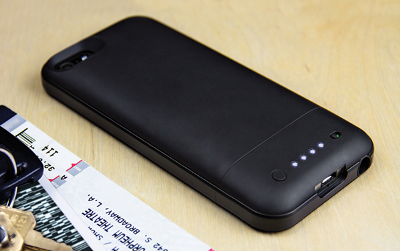 MSRP – $99.95
Where – www.mophie.com
The Juice Pack Air is available in red, white, and black. In addition to the iPhone 5, Mophie also produces cases for all other iOS devices AND the Galaxy SIII.
Definitely well worth checking out if you use your smartphone a lot without easy access to an outlet.