It may be warm out right now, but in certain areas of the country, golfers know that days of cool mornings aren't that far away. While everyone has their own tolerances for playing in the cold conditions, Mr. Heater offers up a portable propane heater which can be easily placed in a golf cart to help make the unbearable conditions a little more tolerable.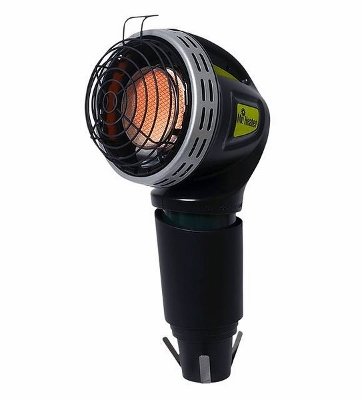 This patented 4,000 BTU liquid propane heater connects directly to a 1 lb. LP cylinder and is the perfect solution for heating in a golf cart. The unit features a wind resistant burner and pilot system for optimal heat output in windy conditions and when the golf cart is moving. It also features a unique safety tip over switch that minimizes nuisance shut-offs when driving on bumpy cart paths. The integrated handle and cup holder adapter make this unit easy to transport and compatible with most golf cart cup holders. To light the unit push then hold the ignition button and the integrated Piezo sparking mechanism will take care of the rest. With the oxygen depletion sensor (ODS) you can be sure that you will enjoy years of comfortable safe heat. Features: One button push ignition/on function 4,000 BTU wind resistant burner and pilot system Cup holder adapter Automatic low oxygen shut-off system Connects directly to a 1lb. disposable cylinder 90 degree tip-over safety switch reduces nuisance shut-offs in golf carts Playing in cold conditions is certainly not at the top of every golfer's must-do list, however for many, it's the difference in playing an extra monthortwo versus forcing the clubs into hibernation mode until the following season. Mr. Heater allows golfers to take a one-pound propane canister, which can often be found in a local sporting goods store, and use that propane to power up a 4,000 BTU heater.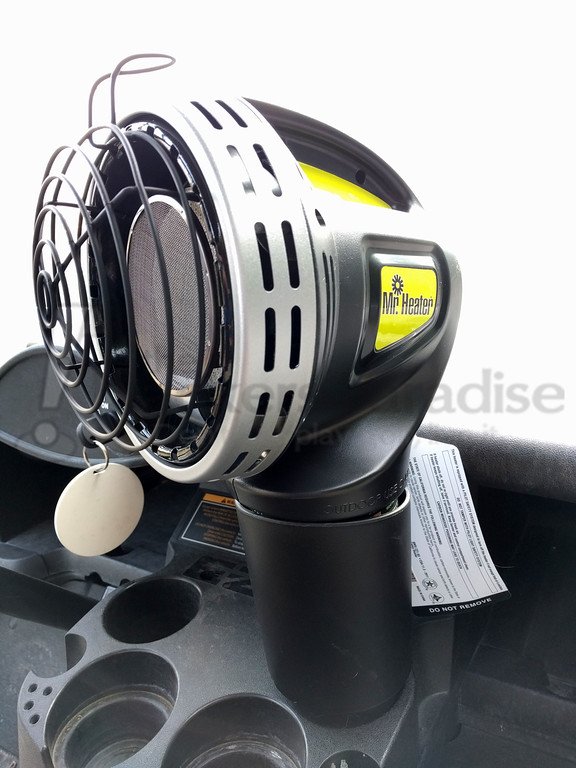 The beauty of utilizing such a small, and easily acquired, fuel source is that it allows the adapter to sit in practically every golf cart cup holder. Unlike what has been seen with some other cart accessories, this unit consists of a one-size-fits-all design. At the base are three prongs that help apply pressure to the surrounding walls of the cup holder which should help keep the heater sturdy when driving around the course. However, with a design that tends to be somewhat top-heavy, it's recommended to drive cautiously to reduce any chances of the heater tipping over. Igniting the heater is as simple as lighting a gas grill, thanks to its push button ignition switch. Without the use of a strong fan blower, the warmth might be hard to immediately feel when riding in a cart. To maximize the results on those really cold days, a golf cart cover would be a well accompanied purchase. Combining a cart cover with this portable heater can help transform a cold ride through the links into a personal sauna on wheels.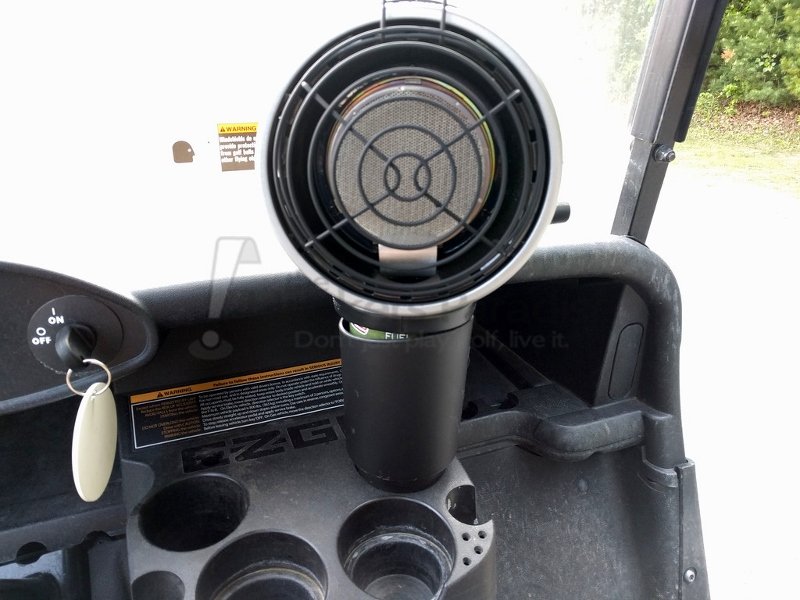 Coming in at a price tag of $119.99, the Golf Cart Heater offers up a way to help extend the golf season for those whose season is not long enough. On the days when the weather is doing anything but cooperating, this product might be the difference between that one more round and packing the clubs away until spring. More information on this product, and the other variety of products offered, can be found at www.mrheater.com.