In the time that I've been playing golf I have seen some pretty interesting training aids that promise results that are just about as outrageous as the positions these devices try to get your body into. Now I don't play any other sport regularly so I honestly don't know for sure, but golfers have to be about the only people willing to shell out hundreds of dollars in an effort to perfect their swing. A company called MVP Sport has sent over a couple of training aids for THP to get a closer look at. Neither device is outrageous nor do they try to twist the user into any kind of strange positions, in fact at first glance they both appear to be quite simple in design and also seem like they'll be quite effective.
Straight Trax
First up is a putting aid called Straight Trax. This is a device made up of five rods and two polycarbonate guides that is designed to aid in several different elements of the putting stroke. Product Specifications from the company:
Includes five, 30″ alignment rods, two crystal clear polycarbonate guides, and two adjustable rubber sliders.

Stores easily in your golf bag

Easy to use and assembles in seconds

Compatible with EZ Rule for enhanced training.

For added length use MorodZ Golf Alignment Rods

Durable Fiberglass and Polycarbonate design.
In testing the Straight Trax the first thing that I thought about was that it was truly easy to use and setup was a breeze. Everything fits together perfectly and within a matter of a minute or so you're able to have it setup and start rolling some putts. There are several different configurations that you can use to get the Straight Trax setup for the type of putter and putting stroke you're looking to improve with. This aid is probably more designed for golfers who utilize a straight back/straight through (SBST) stroke. I however have a strong arc to my putting stroke so I found it to be a little less helpful than it would be for someone whose natural stroke is that SBST. I did still get some use out of the Straight Trax to help me with my alignment and on some shorter putts where my putter typically stays pretty close to straight back rather than having the strong arc of a longer stroke.
Overall I found the Straight Trax to be very easy to setup and take down after use. I definitely think that someone who normally putts with a SBST stroke would find this aid to be very valuable. One thing I was looking forward to was the drills that were said to be available on the company's website but as today they still say "coming soon". I will definitely be checking back often as I'd love to pick up on some new drills I can use to improve my putting. Straight Trax is available from the company's website www.gomvpsport.com for $29.95.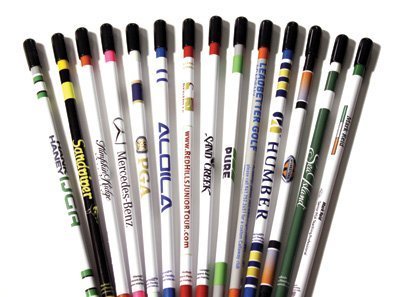 MorodZ
The next product from MVP Sport is probably the single most used training aid in the sport of golf. The alignment rod. It seems like every golfer has a set of alignment sticks that they use on the driving range.
Product Specifications from the company:
 Two durable, high quality fiberglass rods measuring 5/16″ x 44″ (length of a driver)

1 Inch long rubber caps designed to protect your equipment

Instructional Booklet with multiple drills included

Portable and lightweight storage tube included

Stores easily in a golf bag

Custom rods are available

UV-coated to prevent fading

Available in 10 stylish colors and 30+ decal options

Made in the USA
Testing the MorodZ was both fun and very helpful. What made it fun was the fact that through the drills shown on the booklet included I was able to get much more use out of these than the old orange boundary marker alignment aid I've been using for the past several years. MorodZ are available in many colors and styles to stand out from the boring alignment aids that you typically see. Other than the great tips I learned from the booklet and the better looks there really wasn't much about MorodZ that I didn't get from the rod I picked up at my local hardware store years ago. I will say that the alignment stick is probably the most effective golf training aid I've ever used; using it along with the new techniques I picked up from MVP Sport will definitely allow me to get even more out of such a simple device.
MorodZ alignment rods are available in 10 colors but beyond that they are also licensed with the NCAA and Loudmouth Golf to offer you the most unique alignment rods on the range. On the company's website they list close to 30 drills to make MorodZ even more valuable but I had trouble with the links and was not able to get these to come up, here again I will be keeping a close eye for those to become available in the near future. MorodZ are available directly from the company at www.gomvpsport.com at a cost of $14.95 for a 2 pack or $6.95 for a single rod. Custom colors will run $17.95 a pair.
Both the Straight Trax and MorodZ alignment rods that I reviewed were amazingly easy to use, very durable and setup in seconds. I definitely see a lot of benefits to both of these products for people for a fraction of what some other training aids can cost. I had a couple of issues with the putting stroke that Straight Trax forces you into but for someone with a SBST stroke they would have no issues at all. While I didn't see any added benefit of MorodZ over my old orange alignment rods other than the better looks I can definitely see how people would like to go this route to add a little creativity and color to set them apart from everyone else. I do wish the drills section of the website was up to date and functioning better for me because I see some real value in the drills they have listed. Overall I thought the devices from MVP Sport functioned as advertised and available at a cost that won't break the green fees bank. That to me is a very good thing.