One of the weaker features of electronic devices nowadays often falls under the category of battery life.  As golfers, we utilize various GPS devices, as well as our cell phones to communicate with the outside world while we play this great game.  Rather than limiting our activities to the life of the unit, MyCharge offers the RazorMax.  A 6000mAh portable charging device that gives golfers (or electronics enthusiasts) the freedom of enjoying their devices without the connection to a wall charger.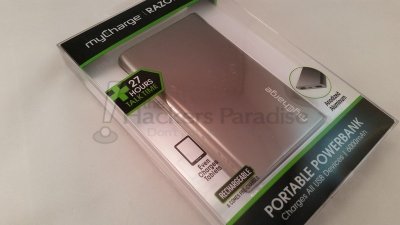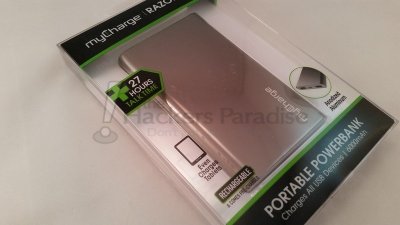 From MyCharge
–          $69.99
–          Free U.S. Shipping for orders over $10
–          Available in U.S. and Canada
–          Rechargeable 6000mAh battery
Crafted from anodized aluminum, the 6000mAh RazorMax delivers an extra 27 hours talk time for your smartphone. This powerbank comes equipped with 2 USB ports and is perfect for charging two devices at once. With a 2.4A output, the RazorMax portable charger is great for charging tablets and other power thirsty devices.
OVERVIEW
–          27 hours of talk time
–          Crafted from Anodized Aluminum
–          Four-light LED battery indicator, shake to check battery level
TECHNOLOGY
–          Smart-sense: ensures complete device compatibility
–          Max-power: maximum power transfer from powerbank to device
–          Power-stay: maintains battery power for up to 1 year
–          High-density battery: the smallest and lightest powerbank
–          Safe-cell: provides the highest level of battery safety
–          Pass Through Charging: will charge the powerbank and connected device simultaneously
SPECS
–          Battery: 6000mAh Lithium Polymer
–          2 built-in USB ports deliver a combined 2.4A output
–          Product Dimensions: 4.4 in x 2.6 in x 0.5 in
–          Product Weight: 0.38 lbs.
INCLUDED
–          Recharge cable
–          Quick Start Guide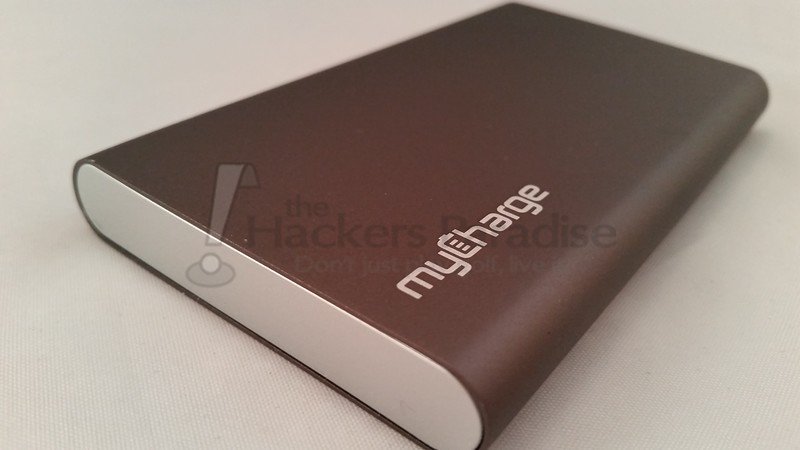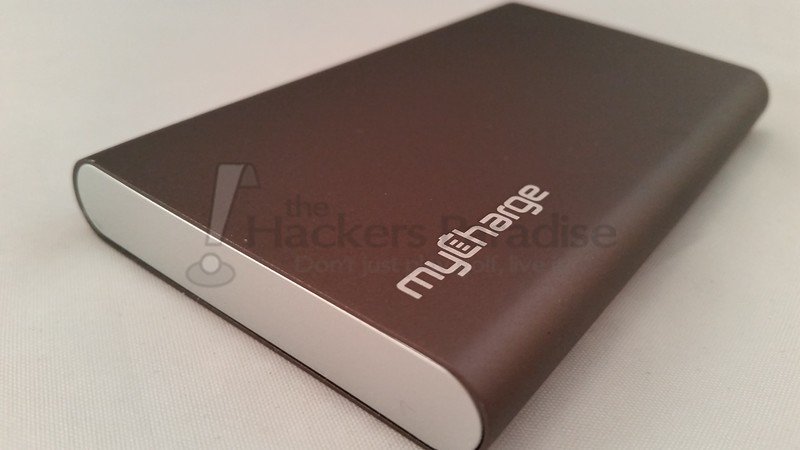 Out of the Package
The relatively sharp lines of the RazorMax jump out instantly as the device is separated from the package.  Fairly similar to the framing of an aluminum framed laptop, the edges are sharp enough to shave the surface of a finger nail.  This gives off the presence of a unit that is well built and certainly durable to the potential beating that a secondary device like this would take.  Aside from the dark grey coloration, the overall appearance of the unit would suggest it is all business.  Get the charge without the nonsense or flash, and enjoy many extra hours of battery life.
Unique Features
There are a number of handy features to the RazorMax.  First, they opted for two USB ports, allowing the ability to charge multiple devices at a time.  As a golfer who utilizes GPS, phone, iPad, and shot tracking devices depending on situation, this feature became extremely handy and reduced the time needed with the device and cables.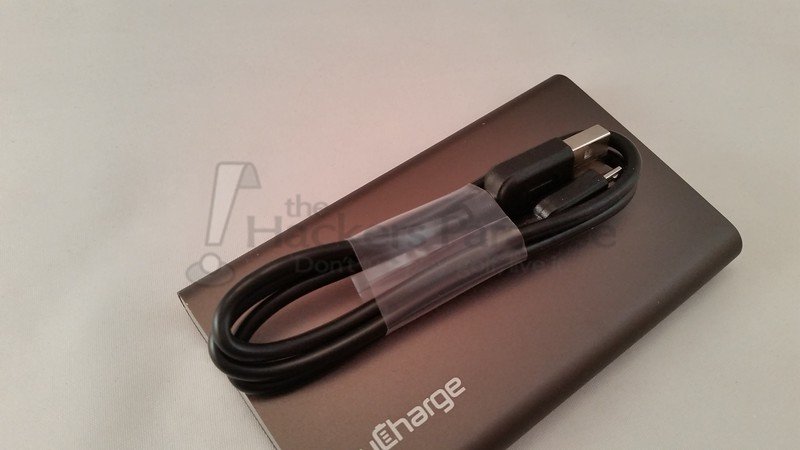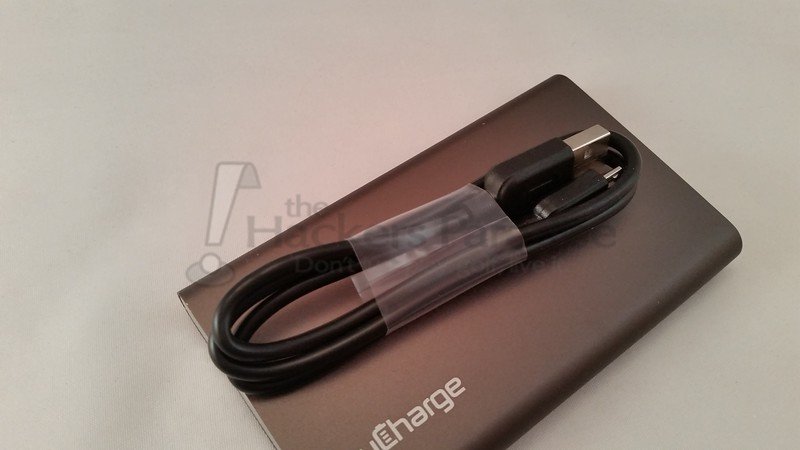 The second useful and unique feature on the RazorMax is the battery level meter.  Rather than having a button present, users can simply shake the device, which activates LED lights (a total of four) that represent charge level of the RazorMax.  It keeps the LED activity limited, and doesn't add a button to the device.
Expected Battery Life
While testing the RazorMax, it was very interesting to see just how effective the unit could be, and for what timeframe.  Accompanying the review was a Galaxy S5 phone with a 2,800mAh battery.  With the RazorMax being 6,000mAh in total, reasonable expectations were confirmed when a total of two full charges were achieved without having to plug the MyCharge into the wall.  This is a reasonable amount of charge time, and would certainly accommodate someone traveling for a weekend without a phone charger.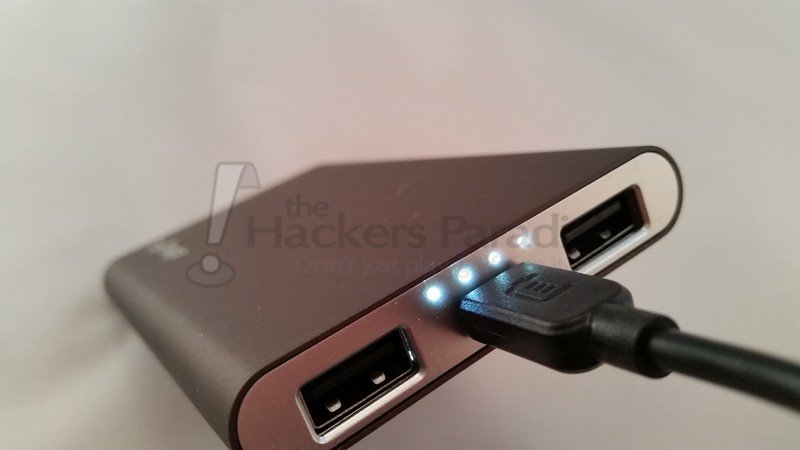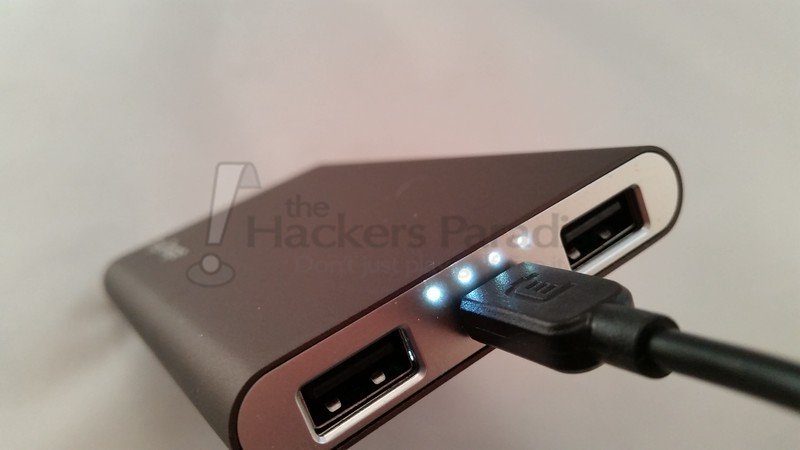 The rate of charge was not exactly tracked, however, it did not seem to take very long for the RazorMax to apply power to a phone or device.  Allowing the phone to sit without being operated produced surprising charge jumps after 10 minutes.  This includes portable launch monitors and GPS devices as well as cell phones.  Having the additional USB came in extremely handy when previous night laziness left numerous devices uncharged.
Portability
As the MyCharge RazorMax is around the size of a typical 2015 cell phone, portability isn't a major issue, however it's not the sleekest offering produced by MyCharge.  The weight is slightly heavier than a typical cell phone, which can make it somewhat annoying to have in the back pocket of thin golf clothing material.  That in mind, housing the RazorMax in the back pocket of a pair of jeans did not introduce any greater nuisance than a typical wallet would.
While traveling with the RazorMax, the inclination was to house it in a backpack separate of other electronics when not in use.  This reduced any potential scuffing of other electronic devices (the RazorMax matte finish reduces any chance of the casing scuffing.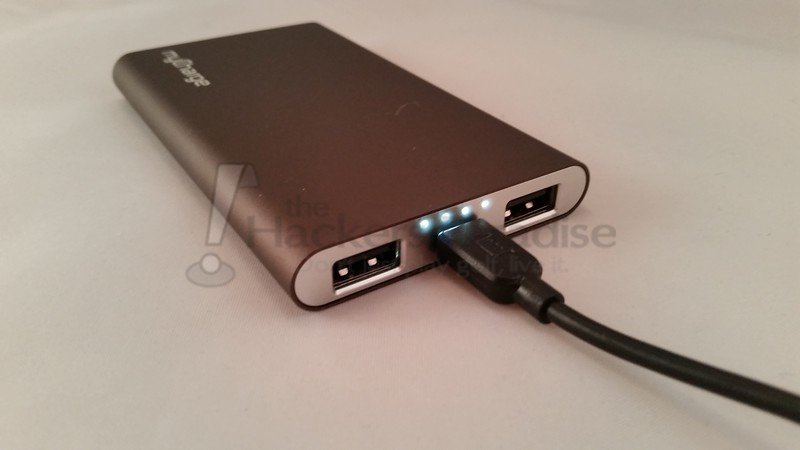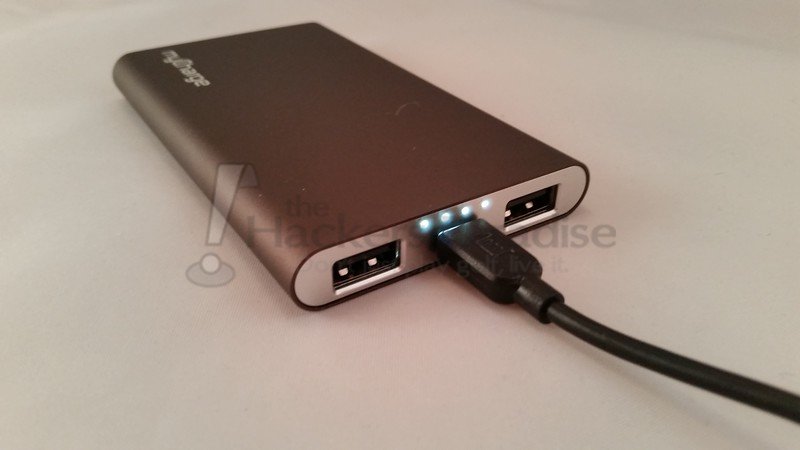 Durability
From presentation alone, the RazorMax looks as though it could take a serious blow and continue charging devices.  Likely stemming from the aluminum framing, at no point during testing did the device appear to be in danger of malfunctioning or breaking thanks to drops or having other goods rest on top of the RazorMax.  As this can often appear to be a secondary device for users, it seems like durability should be highly valued when acquiring an external battery source.  With that in mind, it would seem to be quite beneficial to have some kind of sleeve to house the device to not only reduce potential damage to the unit, but also to other electronic devices.
Parting Thoughts
For golfers and electronics enthusiasts seeking effective recharging units at a reasonable price, look no further than the MyCharge RazorMax.  Built into a sturdy frame with limited likelihood of damaging in most circumstances, buyers can have confidence in throwing this into the golf bag, backpack, or pocket and going on their way.  For more information on the MyCharge RazorMax, visit www.mycharge.com.