Each year more and more shoe lines are coming to market and the choices are endless. One brand that has been a constant in non-golf shoes is New Balance and they have now entered this wonderful game with some unique lines that many golfers are excited about.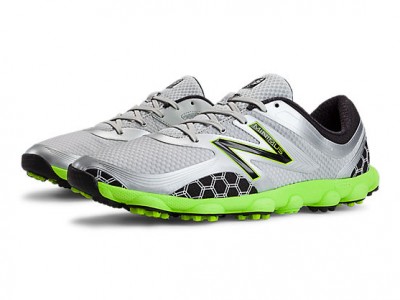 The Minimus Sport
From the company
The New Balance Minimus Sport Golf Shoe was born from minimal running but built for the course. Modern in water-resistant mesh, this men's golf shoe gets you lower to the ground for a more natural fit and feel. A signature New Balance REVlite midsole cushions and supports your feet, while a spikeless rubber outsole provides great traction when you swing.
TYPE:Minimal
WEIGHT:204.1 Grams (7.2 oz)
Features
4mm drop
Dual density 2 color spikeless rubber outsole
Mesh upper
Water-resistant upper
Welded TPU stability cage
Price $119
Comfort & Look
The first thing you will notice about the Minimus Sport golf shoe is that it is quite the departure from most in the marketplace. Running shoe in appearance from a distance the thicker sole (in looks) tells you there is more underneath. The silver, black and lime green work well together and add a distinct look that is both bold and fitting, based on the technology in the shoe. The shoe is also available in black with silver version that eliminates the lime green from the shoe and features an almost all black look.
The first time the shoe was picked up, it was as if it was a joke of some sort because of how light it felt in the hand and that does not change on the foot. New Balance has created a shoe that is incredibly soft and light and almost nonexistent without a huge sacrifice in stability. When slipping on the Minimus Sport, the first feeling was snug, but less like a shoe that is too tight and more like the first time you slip on a new golf glove. Form fitting and comfortable without any excess weight makes the first steps awkward and then from there as if no golf shoes are being worn at all.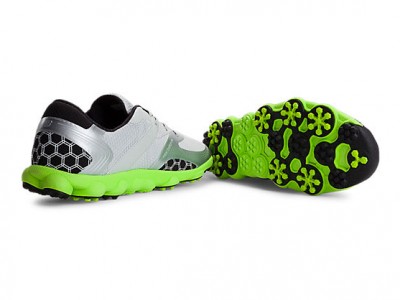 The Fit & Sizing
The fit is snug like a running shoe, but that should not be confused with tight as it fits the foot rather well. New Balance says the sizing runs true to size and to order the same you would in your athletic shoes. This reviewer normally wears a size 11 with medium width and in that size the the Minimus fit well. The toe bed does not offer a ton of depth, and fits snug, but the material is so soft and light weight it was never a bother or uncomfortable. As with all golf shoes, THP strongly urges trying them on first to make sure sizing matches up with your feet. The good news here is that if your local store does not have these in stock to try on, you are able to test out the athletic shoes and see how sizing and fit works for you.
Overall
New Balance has entered the golf market with something unique and different than the norm. It will not be for everybody in terms of look or comfort, but for those that love the minimal athletic shoes that are quite popular right now, these deserve a strong look. Let us know what you think of the new line of shoes in the comments section below, or by joining thousands of golfers in the THP Forum.