When New Balance entered the golf shoe market there was an immediate curiosity of if they could deliver the comfort and durability they have become synonymous for in running shoes to golf. As we saw early on, some of the aesthetic choices were a bit outside the box, particularly from a company that was just trying to break-in. As time has gone on however, they have continued to evolve and implement technology which they know works. This year they are releasing their new "Tour Level" offering, the NBG3001, which will turn many preconceived notions about a New Balance golf shoe, upside down.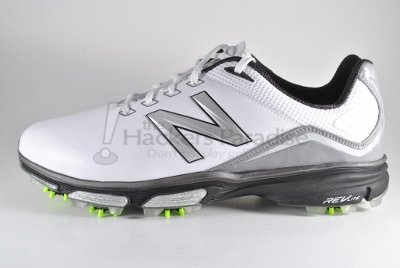 Information from New Balance on their NBG3001:
Challenge the greens with ease and style in the men's 3001 golf shoe. Designed with a waterproof microfiber leather upper to keep your feet dry and a REVlite midsole for excellent responsiveness, this premium shoe offers the weather protection you need and the cushioning you want to tackle even the toughest courses in comfort. Featuring Champ Slim-Lok Zarma Tour® replaceable cleats.
Style:
The NBG3001 are a contrast to the rest of the New Balance golf lineup aesthetically. As the companies "Tour" level offering, the looks and color selection are much more of what this reviewer would consider a "neo-traditionalist" design. Very much along the lines with what the leaders in golf shoes have been doing with at least a segment of their lines. The 3001 blends a full functioning spiked shoe focused on stability and comfort with sneaker like aesthetics. These are certainly not a minimalist design like we are seeing so many companies go to, but there is much more tech here than meets the eye.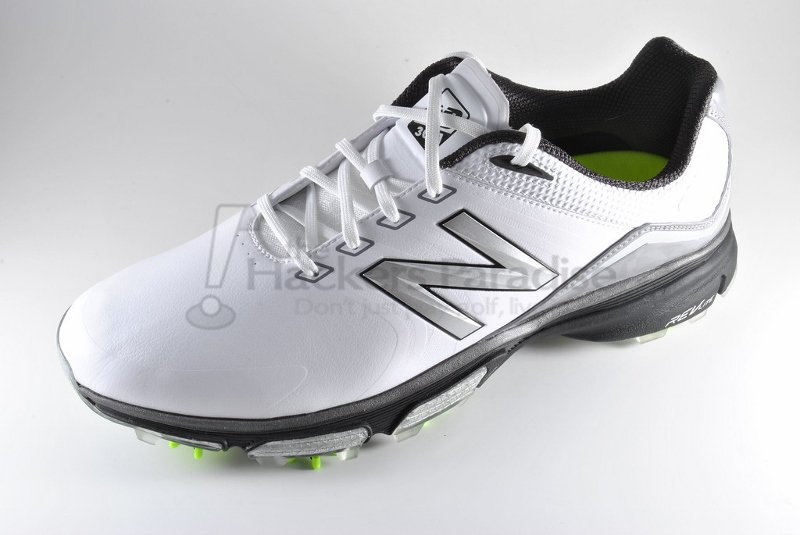 The white upper accented with silver combined with the black REV-Lite sole makes for a shoe that easily goes with any wardrobe styling from bright to neutral, pants or shorts. Additionally, the decision to utilize a high quality spike system like the Champ Zarma not only add performance, but the bright color adds a nice little splash to the looks in-hand. During review it has been commented on by some that they do not care for the large "N" branding on the sides from New Balance, which is interesting to this reviewer as it certainly isn't any different than what we have been and are seeing from shoe companies forever now. No doubt, style is subjective to the individual, but New Balance has created a shoe that will surprise most anyone who gets to see them in hand with their cleanliness and versatility.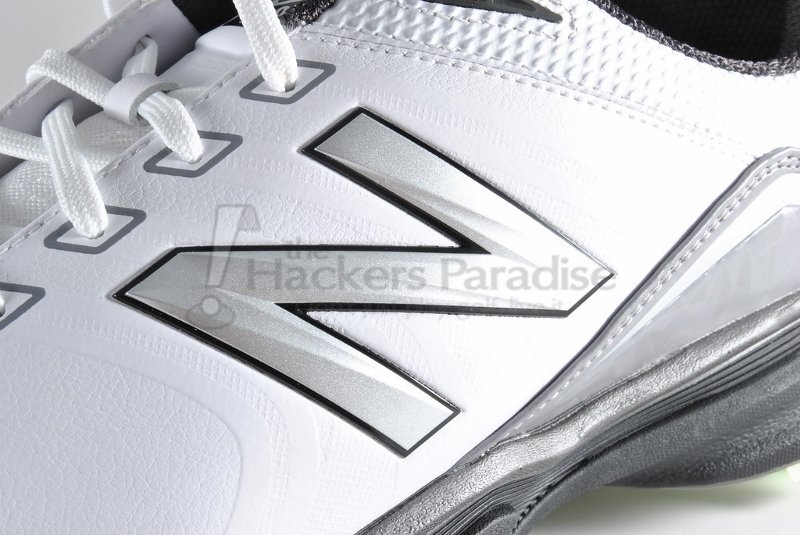 Fit & Stability:
Time spent with the New Balance 3001's over 150+ holes and multiple range sessions showed them to be one of the most surprisingly comfortable designs out there. The 3001 actually weighs in at 15.2 ounces per shoe, 4 ounces lighter than this reviewers "go-to" spikes and within 1 to 2 ounces of most spikeless shoes in overall weight. Because of this, time spent with the 3001's was a bit revelatory as weight matters in terms of comfort and foot fatigue. Much credit here can be given to the REV-Lite material the company has utilized in the sole which maintains the same durability of their standard soles, but with a savings of 30% weight.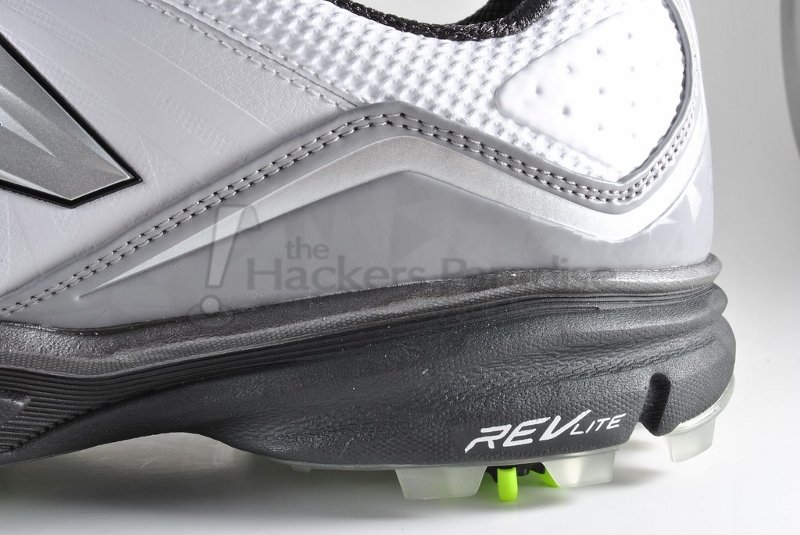 Where fit is concerned, just as with their running shoes, New Balance has created a shoe that can be described as fitting "true to size" and they do offer them in "Wide" as well. The NBG3001 do have some room in the heel which was remedied by tightening the shoes a bit more, but it needs to be clarified this room is not at all to the point of slipping, but it is worth noting. More importantly, there is room to "breathe" in the toe-box providing ample comfort while not sacrificing stability. The "Fantom Fit" technology which basically fuses two materials together to let the upper portion of the shoe keep stability adds noticeable comfort in the fit and keeps a nice balance of rigidity and give that most would expect instead from a full leather design, but without the added weight.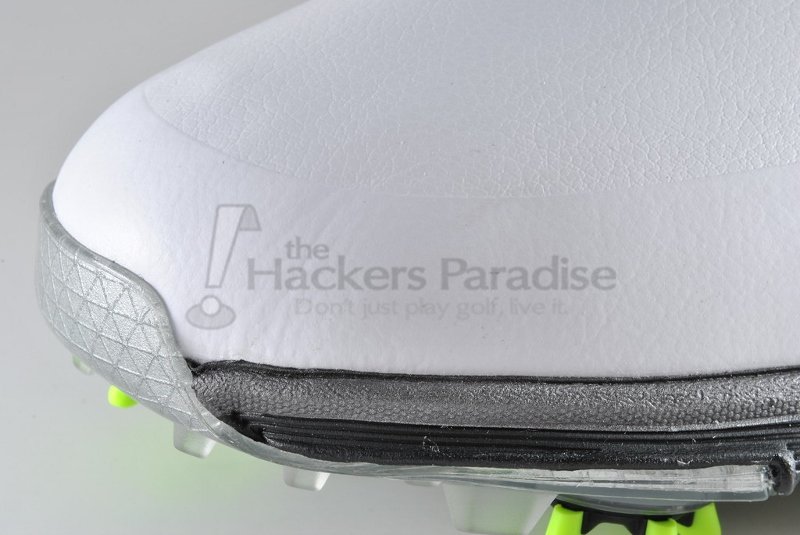 During review there was also a premium put on trying to put the shoes into awkward stances and/or lies to really push the stability to the limits. No matter what was thrown at the 3001's, there were zero slip issues. Beyond that, they manage to avoid a pitfall many spiked shoes who focus on weight don't, at no point in time could the user feel the pressure points of where the spikes install into the shoe sole, even on days of walking more than 36 holes of golf.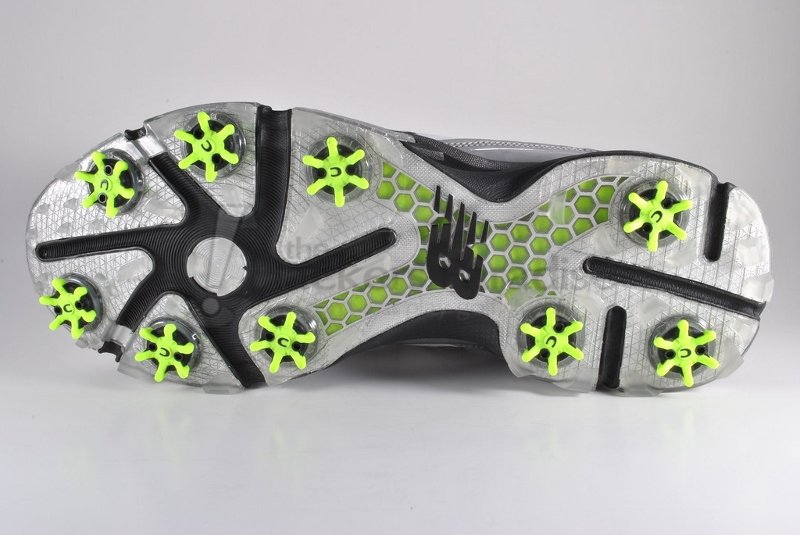 Durability:
With a $169.99 price point, looks and comfort don't matter if the durability isn't there. Fortunately, as is the case with most New Balance offerings, they will take a beating and keep on going. As noted earlier, the pair received in for review was put through as significant of a test on wear and durability as this reviewer could muster, and they came through with flying colors. There were no wear issues with the spikes, the soles, nor the material of the uppers during the review, and there was no discomfort created by the heel section as wear went on. Additionally, they clean up easily as even in muddy or extremely dusty conditions all it has taken to maintain the shoes is a wipe down with a wet cloth leaving them looking good again.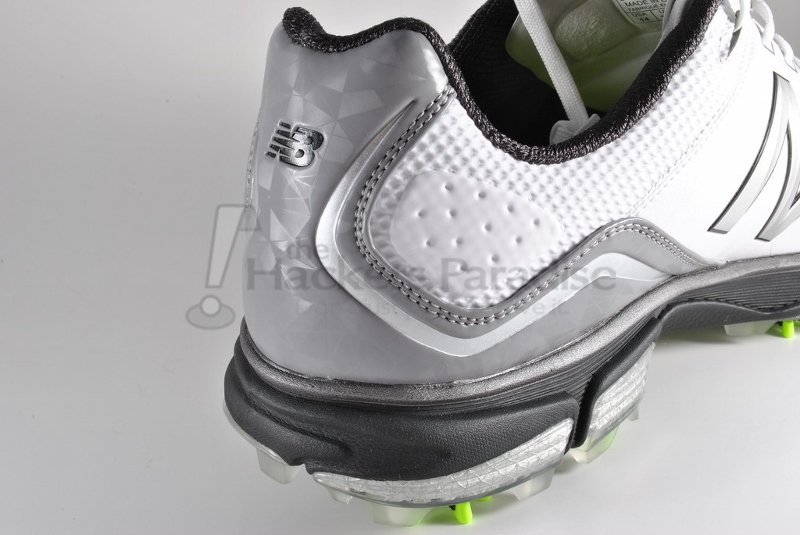 Parting Thoughts:
The bottom line is that, the NBG3001 golf shoes are the first serious competitor that we have seen from New Balance at this point. The looks will appeal to a broad segment, comfort is in line with what one expects from New Balance, and they are capable of withstanding strenuous wear easing the potential concern created with their $169.99 price point. They are a shoe that needs to be seen in-hand and tried on-foot to really get a full understanding of what is at play here, which ultimately creates the largest concern about the 3001's, finding them to try before buying. It will be interesting to see how it all plays out, as by all intents and purposes these could be the foundation to the future that many have hoped to see from New Balance since entering the golf market.
More information on the NBG 3001's as well as all of their other golf offerings can be found at www.NewBalance.com.