PING Golf has a brand new lineup of equipment coming out for 2013 and you can read all about them right here. Stay tuned because THP will have a full review of this new equipment coming up in the future.
Also stay tuned to the THP Forums tonight for a special Live Chat with PING on this new lineup of clubs. Here is all the info:
What: "Delivering The Anser" Chat LIVE with PING engineers.
When: Wednesday, July 25th starting at 3:15pm (PT)
Where: TheHackersParadise.com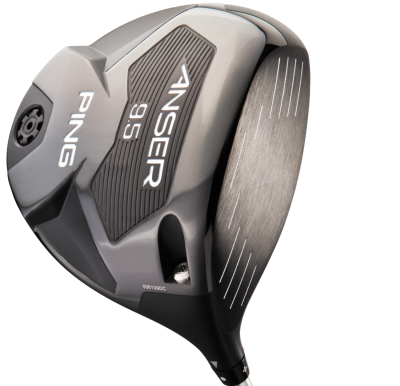 Anser® Driver
The Anser adjustable driver enables golfers to fine-tune trajectory through a combination of loft adjustment and shaft selection. The players can add or subtract ½ degree of loft and also choose one of four high performance shafts to fit their swing profile — a process called Trajectory Tuning™. The shafts are the PING TFC 800D, Aldila Phenom, Fujikura Blur Red, and the Mitsubishi Diamana 'ahina. They vary in weight, stiffness profile, and the trajectory they deliver.A PING torque wrench is used to add or subtract 1/2° of loft beyond the standard settings of 8.5°, 9.5°, 10.5°, and 12°. The adjustable hosel is lightweight and small in diameter to maintain the size and look of PING's traditional fixed hosel. With its low-spin head, the Anser driver represents a fully optimized design solution that generates ideal trajectories for maximizing distance and accuracy. A straight bias head rotation promotes square impact, and its low-spin design minimizes sidespin for improved accuracy. The 460cc head is made of Ti 8-1-1, a light, low-density alloy, and has a non-glare matte-black finish.
– Drivers available in 8.5º, 9.5º, 10.5º, 12º with plus or minus ½ degree of loft adjustment.
Shaft options:
– TFC 800D graphite shaft (Soft R, R, S and X)
– Aldila Phenom 50 graphite shaft (R, S)
– Fujikura Blur Red 005 graphite shaft (R, S & X)
– Mitsubishi Diamana 'ahina 70 graphite shaft (S, X)
– U.S. MSRP: $440.00 per club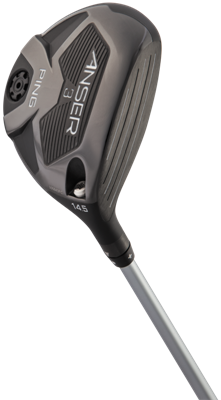 Anser Fairway Woods
The Anser adjustable fairway wood features Trajectory Tuning for adding or subtracting ½ degree of loft to the standard setting. To maximize distance and accuracy, the 17-4 stainless steel head has more surface area low on the clubface to make sure the ball contacts the club properly on the face. A rear sole weight optimizes the CG to promote a slightly lower, more penetrating ball flight with low spin, which adds distance and elevates the MOI across the face. The back of the sole is tapered to provide extra relief and ensure clean contact, even from tight lies, uneven lies, and light rough. A traditional shape and a straight lead edge inspire confidence and make aiming easy. A dark non-glare, matte finish reduces distractions.
– Fairway woods available: 3-wood (14.5º), 4-wood (16.5º), 5-wood (18.5º) with plus or minus ½ degree of loft adjustment
– Shaft: TFC 800F graphite (Soft R, R, S, X)
– U.S. MSRP: $275.00 per club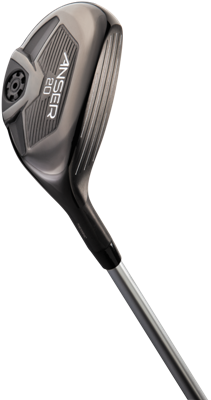 Anser Hybrids
Progressive CG locations in the 17-4 stainless steel Anser hybrids promote high launch and improved accuracy so players of all abilities can gain added distance and control. Through internal and external weighting, CG positions vary in the four loft options to produce the desired trajectory for extra distance and improved accuracy. In the lower-lofted hybrids, the CG is slightly lower and farther back for higher launch and optimal spin. The higher-lofted hybrids have a more forward CG position to optimize launch conditions. The traditionally shaped head is larger to increase MOI and inspire confidence. The lowest portion of the clubface is wider, most importantly in the heel and toe, for improved alignment and to ensure clean contact for more forgiveness and optimal spin. A dark, non-glare, matte finish eliminates distractions.
– Hybrids available: 17°, 20°, 23°, and 27°.
– Shaft: TFC 800H graphite (Soft R, R, S, X)
– U.S. MSRP: $255.00 per club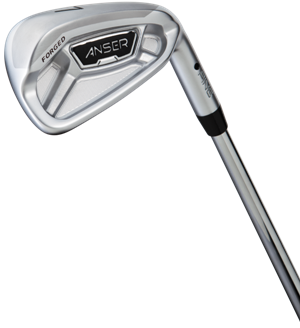 Anser Forged Irons
An 8620 steel body combines with a dense tungsten weight and internal cavity above the sole positioned close to the face to optimize the CG and elevate MOI. Predictable ball flights are achieved through progressive stabilizing bar technology. In the long irons, the bars angle out wider and are thinner, lowering the CG to launch the ball high. The bars get increasingly vertical and thicker through the shorter irons for more controlled, penetrating trajectories with high spin. A progressive set design makes it easy to launch the ball higher with the long irons and lower with the short irons for precise, consistent shot making. Larger long irons promote forgiveness and higher launch; heads progress to smaller short irons for more control. Machined face and grooves.
– Irons available: 3-PW
-Shaft options: Project X (5.0, 5.5, 6.0, 6.5) or TFC 800i (Soft R, R, and S)
– U.S. MSRP: $200.00 per club, steel or graphite shaft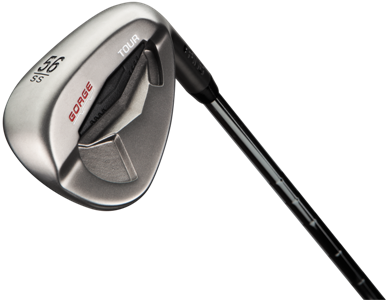 Tour Wedges
Gorge™ Groove Technology and multiple sole-width options maximize control and consistency. The grooves are milled at PING's facility in Phoenix, Arizona, to hold extremely tight tolerances that ensure a groove size and shape that provides golfers maximum spin. The 17-4 stainless steel wedges are available in three sole widths: thin sole (TS), for tight lies, firm conditions and shallower swings; wide sole (WS), for soft conditions, from bunkers, and steeper angle of attack and the standard sole (SS), for most turf conditions. All three sole options offer the versatility to open or close the clubface to play most any shot. The traditional head shape features a custom tuning port in the cavity, which increases MOI and contributes to a solid feel across the clubface.
-Wedges available: 47º (SS), 50º (SS), 52º (SS), 54º (SS, WS), 56º (SS, WS), 58º (SS, WS, TS), and 60º (SS, WS, TS).
-Steel shaft: CFS (Soft R, R, S, and X)
-Graphite shaft: TFC 169i (L, Soft R, R and S)
-U.S. MSRP: $140.00 per club w/steel shaft; $167.50 per club w/graphite shaft.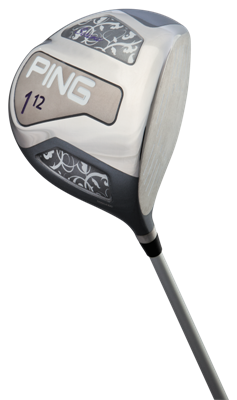 Serene™ Women's Driver
The Serene's large, forgiving head, expansive hitting surface, and high-balance-point shaft (lengthened ½" to 45" as standard) offer women longer, more accurate tee shots. Ultra-thin-crown technology in the wide-profile 460cc head utilizes Ti 3-1-1-1 to create discretionary weight that was used to optimize the CG and elevate forgiveness. The lowest portion of the clubface is wide to ensure solid contact and maintain distance and accuracy, even on mis-hits. Two PING ULT 210D high-balance-point shafts, a Lite and Ultra Lite, have a CG closer to the grip end, allowing the golfer to swing a clubhead with more mass at the same speed, generating faster ball speeds and longer tee shots. Using a high-balance-point shaft allowed the shaft to be lengthened, without increasing swing weight, for added distance.
Serene Drivers
– Drivers available: 10.5°, 12° and 14°
– Shaft options: PING ULT 210D Ladies graphite, Lite (49g), Ultra Lite (42g)
– U.S. MSRP: $310.00 per club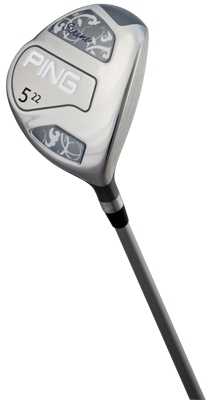 Serene™ Women's Fairway Woods
With the optimized CG and spin rate provided by the Serene 17-4 stainless steel fairway woods, women will be more confident – and longer – off the tee and off the ground. An external weight pad in the wide-profile head positions the CG back and slightly lower to produce high launch and increase the MOI in both axes. Keeping the CG from being too low helps produce moderate spin, which increases carry distance and roll for slower swing speeds. The clubface is slightly shallower to inspire confidence at address, and additional hitting surface low in the face ensures the ball will launch cleanly from a variety of lies.
Serene Fairway Woods
– Fairway woods available: 3 (18°), 5 (22°), and 7 (26°)
– Shaft options: PING ULT 210F Ladies graphite, Lite (47g), Ultra Lite (40g)
– U.S. MSRP: $220.00 per club
Serene™ Women's Irons/Hybrids
In the Serene iron/hybrid sets, women can blend 4H (22°), 5H (26°) and 6H (30°) hybrids with perimeter-weighted 17-4 stainless steel irons to launch the ball higher for longer results throughout the set while ensuring optimal distance gaps. In the irons, a deep CG and perimeter weighting increase the launch angle and elevate the MOI. The iron's wide sole carves easily through the grass to launch the ball high and straight, even from the toughest lies. The traditionally shaped hybrids are larger and the CG is back and lower to achieve high launch with moderate spin to maximize distance in slower swing speeds. Camber and sole relief ensure playability from all lies.
Serene Irons/Hybrids
– Irons/hybrids available: 5-9, PW, SW & LW
– Shaft options: PING ULT 210i Ladies graphite, Lite (51g), Ultra Lite (44g)
– U.S. MSRP: $117.50 per club
– Hybrids sold separately: 4H, 5H & 6H
– Shaft options: PING ULT 210H Ladies graphite, Lite (58g), Ultra Lite (50g)
– U.S. MSRP: $185 per club
Serene™ Women's Putters
The Serene putters feature variable-depth groove technology. PING's extensive studies show a significant increase in ball-speed consistency when measured at nine points across the face insert. The grooves are deepest in the center and get gradually shallower out to the perimeter of the insert to ensure predictable distances and accuracy, even when the ball is struck toward the heel or toe. The insert is made of 6061-T6 aluminum to provide a crisp feel and sound similar to a traditional steel face. Perimeter weighting in the 17-4 stainless steel heads and a well-balanced geometry add to forgiveness.
Available in Anser 2 (Slight Arc), B60 (Slight Arc), Shea (Slight Arc) and Craz-E Too (Straight) models.
-U.S. MSRP: Anser® 2, B60, Shea® $162.50
-U.S. MSRP: Craze-E® Too $192.50
Nome® 500 Long Putter
The Nome 500-gram Long Putter features an adjustable shaft that allows the golfer to modify the length from 44.5" to 54.5" using a PING wrench. The USGA/R&A-conforming telescoping shaft consists of a steel lower portion, a graphite grip portion and lightweight stainless steel locking ring. By unlocking the shaft, golfers can optimize length to fit their body characteristics, stroke type, and posture. A black alignment bar and white contrasting sightline on the head make aiming easy. The Nome is face-balanced and fits golfers who have a Straight putting stroke. It is precision-milled from high-grade aircraft aluminum and finished with a durable nano-nickel coating. The lightweight frame features tungsten sole weighting to optimize the CG and elevate the MOI.
-Long putter telescoping shaft self-adjusts from 44.5 to 54.5 inches
-WINN AVS 2-Piece grip standard
-U.S. MSRP: $380.00 each