Recently, Nike unveiled the newest addition to their golf apparel arsenal they are calling the "Nike Club Collection". The goal here is a mix of styles that can be worn on the course as well as off of it in day-to-day activities (not just at the office). The designs have an obvious Euro flair to them and were done with feedback from several of their tour staffers. Beyond that, there are some very sharp opinions from Nike as it pertains to "traditional" golf apparel and embracing a more "contemporary" look. With this, it bears mentioning that this is not replacing the rest of their golf lineup, but supplementing it.
Nike on the "Club Collection" Line of Apparel:
This is not the country club. This is the Nike Golf Club. A club for athletes who put the game first. Who know their best rounds are still ahead of them, waiting to be chased down, tomorrow, next tournament, or ten years from now.
NIKE GOLF LIFESTYLE COLLECTION DESIGNED TO WEAR ON AND OFF THE COURSE
Sport evolves. Nike evolves. That ethos is behind the new Nike Golf Club apparel collection for the modern golf athlete. Golfers lives have changed, and they need clothes that work as well on the links as they do everywhere else. If you wouldn't wear it to meet your friends, you won't find it here. "There's nothing wrong with all the wonderful traditions around golf, but for so long, we let rules dictate what people should wear," says Kelly Tweeden, VP/Category Creative Director of Golf.
PERFORMANCE AND PERSONAL STYLE GO HAND-IN-HAND


Golfers, just like other athletes who blend training and life, want to express themselves on and off the course. "The idea of putting on a costume to play golf is an old idea," Tweeden says. "You train in the gym, you go to the course, you practice, and then you come home and hang out. Why should you have to change five times?" The Nike Golf Club Collection is one in which performance and personal style go hand-in-hand.
THE CONTEMPORARY SPIRIT OF GOLF


A roster of Nike golf athletes, including Tiger Woods, Rory McIlroy, Thorbjorn Olesen, Michelle Wie and Cheyenne Woods, epitomize the contemporary spirit of golf in a new look book. "The style of golf has definitely changed over the past 20 years, when it was big baggy polo shirts and pants" McIlroy says, current World No. 1. "It's become much more relaxed, it's not as stuffy. I love having clothes that can work on the golf course but also off the golf course, especially when traveling all over the world."
LOOK GOOD, FEEL GOOD, PLAY WELL


Golfers are first and foremost athletes, and they require innovative apparel to meet their performance needs. The bulk of the Nike Golf Club apparel collection is made with Dri-FIT technology, to keep players cool on and off the course. "Innovation is the thing that always improves performance," says Tweeden. "Dri-FIT transfers moisture from the skin to the surface of the material, so it keeps you feeling drier than regular fabrics like cotton."
Pieces in for Review
For this review Nike sent five different pieces of the "Club Collection" line for review – the Nike Print Woven Shorts, Nike Graphic Bucket Hat, Nike AW84 Adjustable Hat, Nike AW77 Full-Zip Hoodie, and the new "Clapping Hands" T-shirt.
Nike Print Woven Shorts:
The Print Woven Shorts visually stand out for obvious reasons; the true green color combined with white stitched polka-dots throughout the design is unlike anything we have ever seen from Nike Golf when it comes to apparel. The intention is to be playful, and for many it may do just that, but they may simply be too much of a departure for some. Where the material and quality are concerned however, these are typical Nike quality – heavy stitching throughout the shorts (even the polka-dots) and also durable buttons and zipper. As far as fit goes, these are very much a Euro cut with a very non-American inseam length that may show more leg than some are accustomed to. It is interesting that the "Nike Golf" tabs actually have the lettering in Volt and definitely clash with the true green material of the shorts.  Nike was going for different here and they definitely accomplished that, for better or worse.
The Print Woven Shorts are also available in black and are priced at $80.00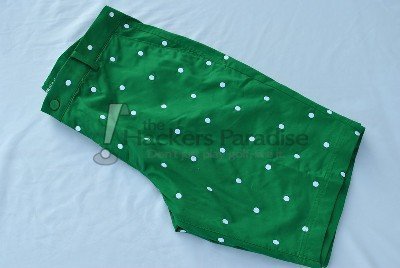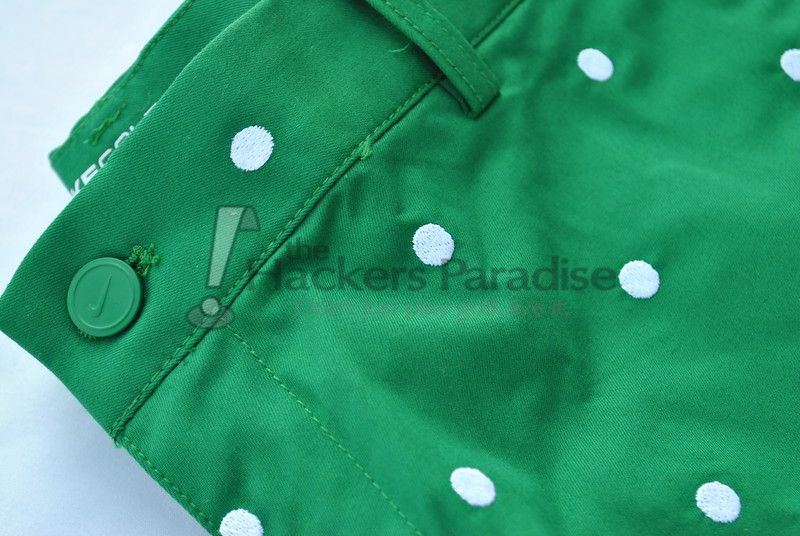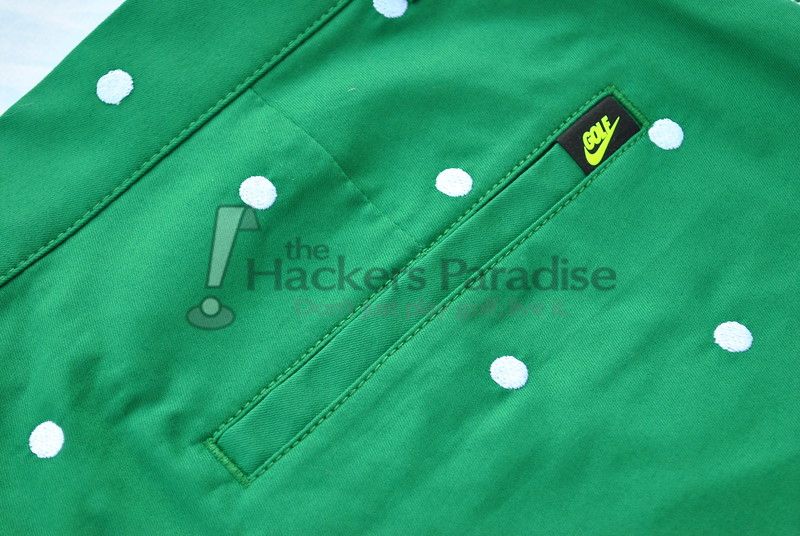 Nike Graphic Golf Bucket Hat and AW84 Adjustable Hat:
Two hats from the "Club Collection" line were also sent in for review. First is the Nike Graphic Golf Bucket Hat, which is a white material adorned with "Clapping Hands" graphics all over the design. The main design/body of the hat is solid. It's a well done bucket hat that fits true to size and when seen in hand will appeal to a fair amount of golfers who aren't afraid to wear a bucket hat on course. Stitching and the internal sweatband around the head are both quite heavy-duty, which was a pleasant surprise, though the thickness of the material could be interesting on an extremely warm day.
The Graphic Bucket Hat comes in green, white, volt and is priced at $32.00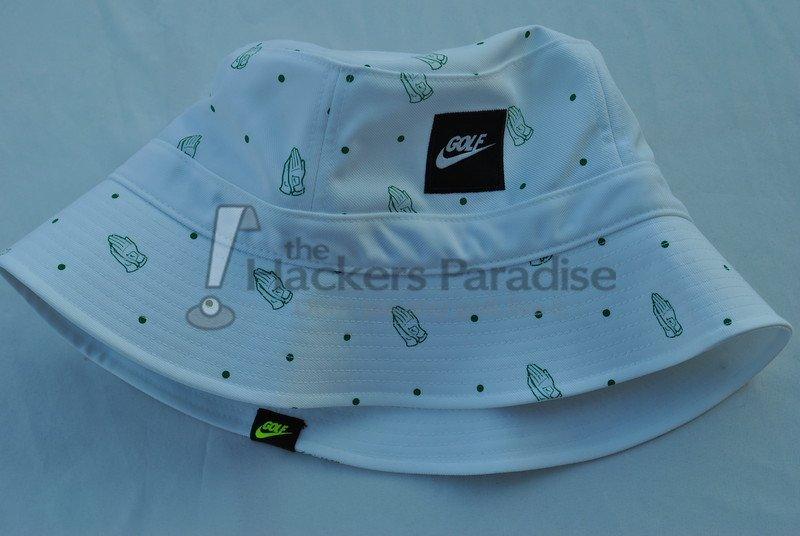 The second hat is the AW84 adjustable hat. It's debatable whether the color (Volt) or the design itself stands out more. Either way though, this is a Euro-style design that has no real structure to it outside of the bill. Despite being volt, it too is covered in green "Clapping Hands" logos and black polka dots that create a very confusing overall look. Material and stitching quality is there, but from a design point this is a massive departure from the trends on the American market. Honestly, it makes a flat-bill look normal.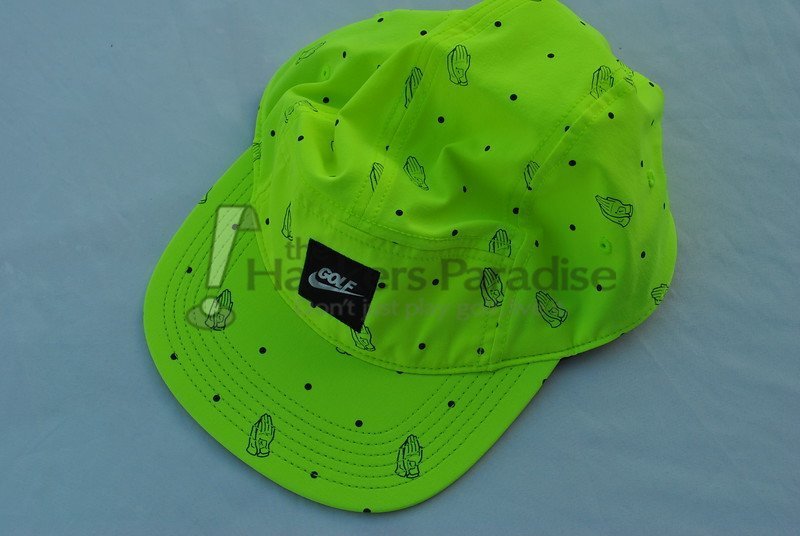 The AW84 adjustable hat comes in green and volt and is priced at $27.00
Nike AW77 Golf Full-Zip Men's Hoodie:
The AW77 Golf hoodie is without a doubt the standout piece from the collection. This is a full-zip design offered in three different colors (heather grey for review) designed to be able to be worn casually, while not impeding the swing on the course. The jacket is a really nice material with a "brushed" structure internally that is almost towel like in its nature and extremely comfortable. The fit is true to size and not the extremely tapered Euro cut expected when it was unboxed. The hoodie is tremendous quality throughout with all zippers being some of the heaviest this reviewer has seen on such a piece of apparel. Though some will undoubtedly shun the notion of a hoodie on the course, this reviewer wore it for a round and it was extremely comfortable with a full range of motion available. There is little doubt that of the collection this will be one of the pieces that translates the easiest to golfers both on and off the course.
The AW77 Hoodie comes in black, grey, heather and is priced at $80.00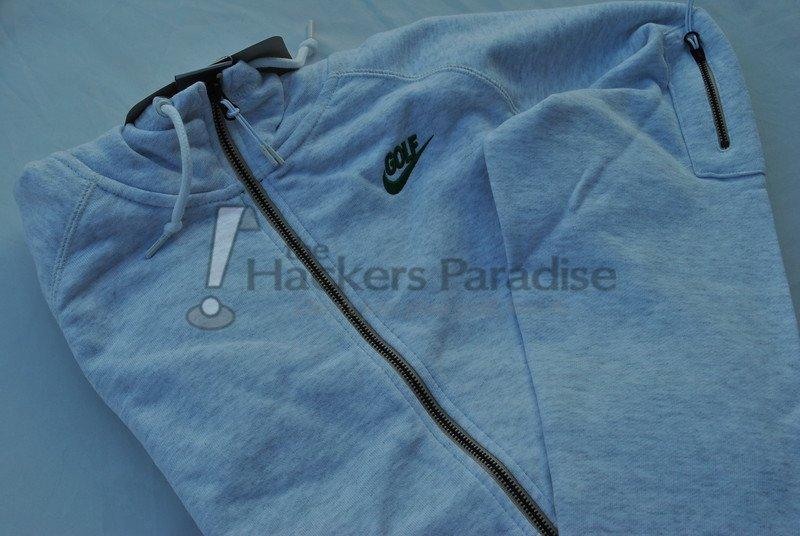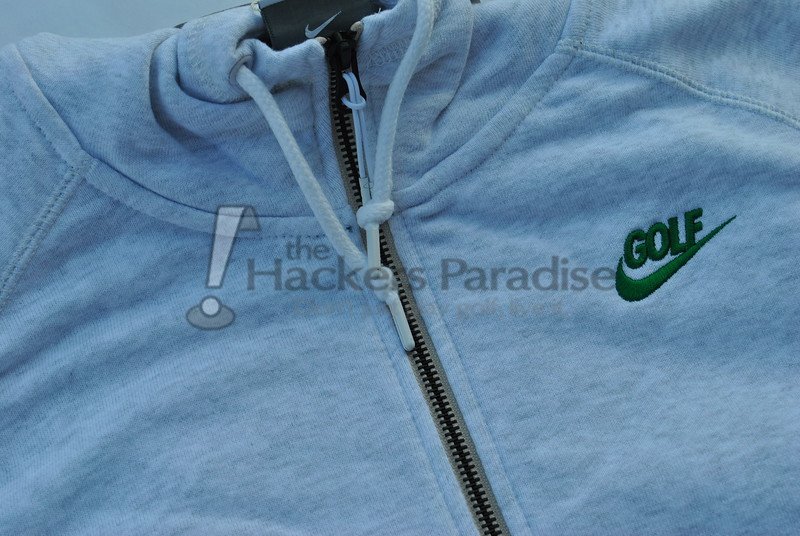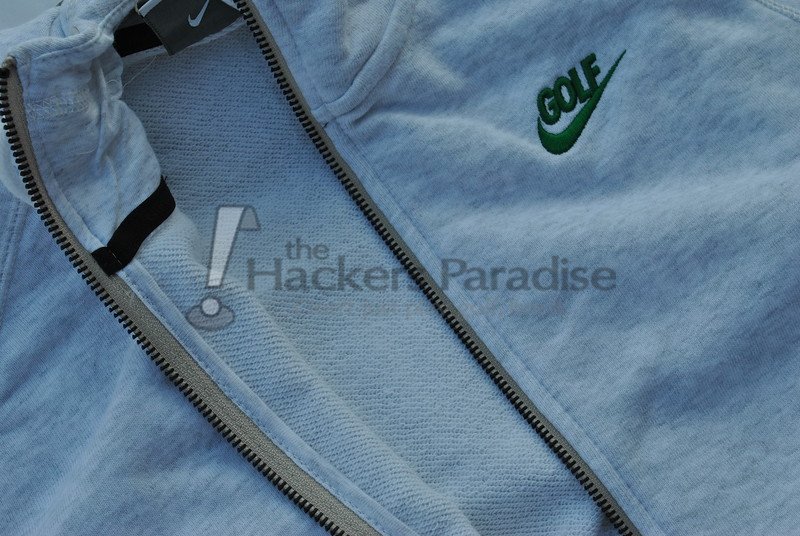 Nike Golf "Clapping Hands" T-Shirt:
Some of the more popular Nike Golf pieces as of late have been the graphic t-shirts. In recent years we have seen many different colors/patterns of the "Nike Golf" logo. However, the "Club Collection" shirt features the "Clapping Hands" that were mentioned on pieces earlier in the review and repeat throughout the line. In typical Nike fashion the T-Shirt is solid quality, fits true to size, and washes/wears quite well. It will all come back to how accepted the clapping logo is. It's a nice casual shirt though.
The "Clapping Hands" T-Shirt is priced at $35.00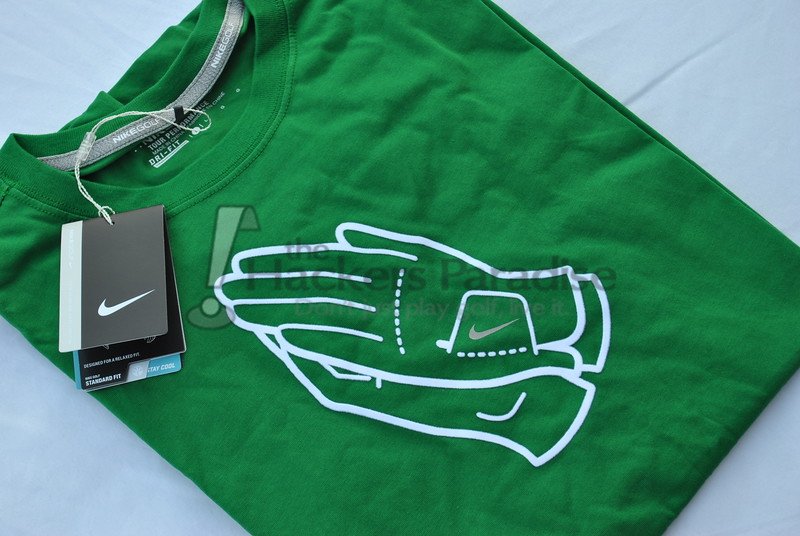 Parting Thoughts:
Calling this a bold departure for Nike really may not be strong enough words. Although it is a supplement to the overall golf apparel line and not in any way a replacement to it, it will be interesting to see how it is reacted to when golfers actually get to see the pieces in stores. Though the quality is there and there are some very cool parts to the line like the hoodie, much of it could get lost in translation.
For more info on the entirety of the "Club Collection" line of golf apparel from Nike, check out their website at www.nikegolf.com.