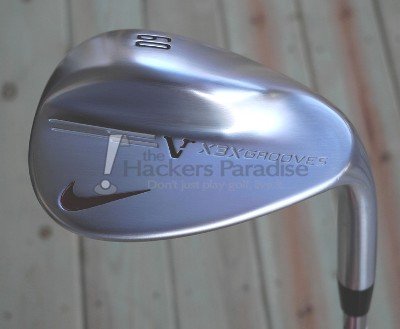 Never a company to shy away from introducing radically different designs, Nike Golf recently released their all new X3X Toe Sweep Wedge. It promises to provide exceptional performance from trouble spots like the sand and heavy rough.
Product Information and Key Technology from Nike Golf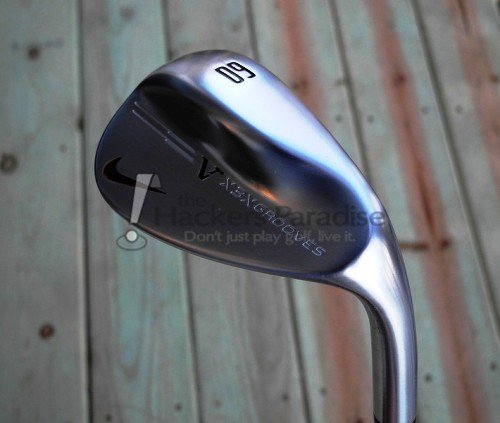 The Nike VR X3X Toe Sweep Wedge is made with high-frequency grooves for precision spin and length in the short game. A wide sole with a narrow heel allows for specialized wedge play in different conditions.
Over the course of five years, the Nike Golf team prototyped, analyzed and tested a range of functional sole configurations before landing on an innovative design that makes it significantly easier to hit out of the toughest lies from anywhere around the green. A wider sole area toward the toe and a relieved heel ensure versatility around the greens and make it easier for golfers to hit out of the bunker. Improved X3X groove technology delivers a more consistent shot in any condition, better ball flight and superior stopping power on the green.
HIGH-FREQUENCY X3X GROOVES
New, improved X3X grooves offer a stronger, more aggressive groove edge and deeper groove channels for ultimate stopping power and distance control.
TOE SWEEP GRIND
An extremely wide sole near the toe and a very narrow sole at the heel allow you to easily get the ball up out of the bunker and rough.
MORE BENEFITS
All satin chrome finish for a beautiful non-glare look at address
8620 carbon steel for a premium wedge feel
Nike Tour Velvet 360 2 grip for a soft performance feel
PRODUCT DETAILS
Length/Lie/Loft/Swing weight/Hand: 35.25″ / 64.0° / 56°, 58°, 60° / D4-D6
Available Jan 31, 2014
MSRP $109
Aesthetics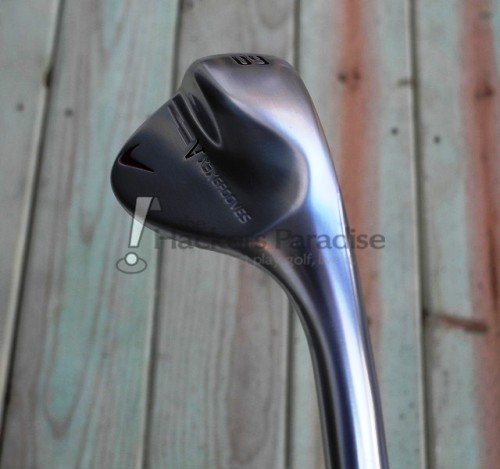 Nike Golf seems to excel at making clean looking, minimally adorned wedges, and they tend to have broad eye appeal with consumers. The Toe Sweep wedge maintains that same design philosophy in ways, though there is a very large elephant in the room that makes it extremely unique. Taking the idea of sole grinds to the max, the Toe Sweep really starts off like many wide-soled wedges at the toe, and then a dramatic amount of heel relief is incorporated that give it a decidedly funky shape. The lines, while like nothing we typically see, are still gracefully done. A soft satin finish and minimal paint fill helps what could be a very peculiar look retain some of its elegance.
Constructed out of 8620 carbon steel, the Toe Sweep wedge offers a solid, softer feel that most will enjoy and its balance in-hand and through the swing is right in line with other wedges on the market.
Performance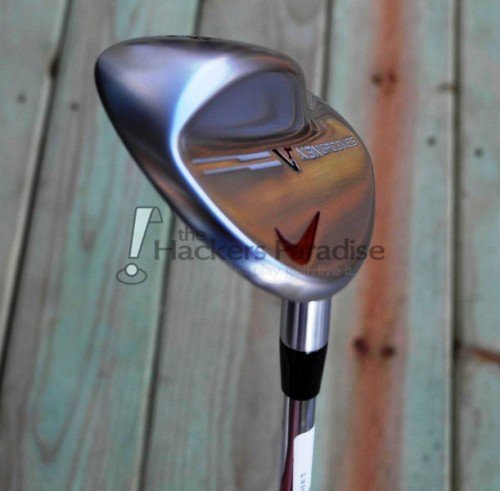 The Toe Sweep wedge was tested both indoors using a Vector X launch monitor and then outside on the course during a recent THP event in Texas. THP writer James Miles contributed his thoughts from outdoor testing. Outside of recording spin rates, testing distance control, and judging feel, it is obvious that indoor testing does little in the way of evaluating a wedge, which is why a two-tiered approach was taken.
Launch monitor testing showed that with a half swing, the Toe Sweep produced spin rates that were acceptable, though not the highest seen in 2014 wedges. Still, there was plenty of stopping power and differences were minimal. Distance control was also very good on those partial swings with center contact.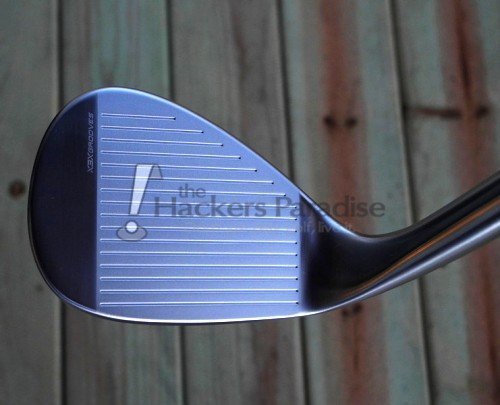 Marketed primarily as a club that will help players out of the sand and rough, testing showed that the Toe Sweep worked as advertised, with soft high shots easy to come by from the bunker. In the rough it was observed that the heel relief made the user want to subconsciously open the club at address, which is not surprising based on the amount of material that was removed from that area. Shots from the rough were equally easy to execute as those from the sand, with little twisting of the club at impact with the taller grass.
On fairway lies, the wide sole did present some difficulty with clean contact, both in full and partial swings. It was evident that one really had to commit to hitting down and through the ball to get optimal results. Feel at impact was described as 'loose' on tighter lies. Those players that are looking for a club to use primarily for sand and rough, especially with an open face, will likely find much to like, though those that incorporate a number of swings from tighter lies may struggle. In that regard, the Toe Sweep could make a very good specialty club for dicey situations.
Final Thoughts
At a price of $109, the Nike X3X Toe Sweep wedge allows consumers to utilize a unique grind that appears to offer the performance it advertises from sand and heavy rough. Testing showed that there may be better options for use on tighter lies, but as a specialty club it appears to do its job quite well. For more information, including ordering instructions, head to Nike Golf's website at www.nike.com.