Few companies have done as much of a sharp turn in the equipment industry as Nike Golf over the last few years and one only has to look as far as their designs to see such staggering differences. Gone are the black and yellow throughout the club line and now we are seeing very modern designs with clean lines that leave you craving for range time with them. Last week, THP took a look at the Nike VR_S irons here and this review will cover the VR_S Forged iron set that looks equally intriguing.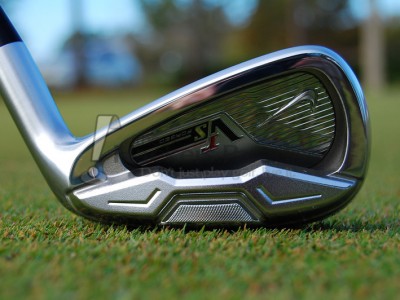 Technology
From the company
Our most technically advanced forged irons combine high-speed performance and meticulous craftsmanship for longershots and better feel. Our highest COR face in a forged iron, and a design that moves weight off the face, combined to optimize launch for higher, straighter shots and maximum carry. It's the iron that puts speed at a premium.
4-GW (SW also available)
Nippon NS Pro 950GH HT
Street Price – $999
First Impressions
One look upon opening the box and you are hooked as Nike has created a timeless iron that offers crisp clean lines with modern technology packed in every turn. From the shine of the chrome to the "grooved" badge of the cavity and Nike VR red in all the right places, the company has put out an iron that upon first inspection appears to have a plethora of forgiveness without the thought of a "transformer". The cavity offers a pocket behind the ball that seems to match up well with the overall looks and the sole and topline would be called "in the middle" of not too thick and not too thin for those looking at it from that point of view.
Who Are They For
THP is not big on classification such as GI (game improvment), SGI (super game improvement), GE (game enhancement), etc. Over the last 36 months, the lines have been blurred and the equipment coming out is better than ever. One area that irons in particular are shining is the ability through weight manipulation and shape, to offer more forgiveness in styles and processes that in the past simply was not able to be done. Nike has done that with the VR_S iron here and continued to blur the lines in an area that THP is quite fond of. Offering a club that has fantastic distance and forgiveness without the sacrifice of looks and feel that seems to come with the territory more often than not.
Ball Flight
The Nippon shaft that is paired with these irons is a lighter weight shaft that offers incredible stability. The result when partnered with the new Nike club head is a mid to high ball flight that is low enough to eliminate ballooning and high enough to give you the maximum distance you are seeking. Ball flight can be played right or left (draw or fade) without much issue and by manipulating the placement of the ball, our testers had little issue flighting the ball high or low either. However, the natural ball flight is mid to high and one that all of our golfers really enjoyed.
Testing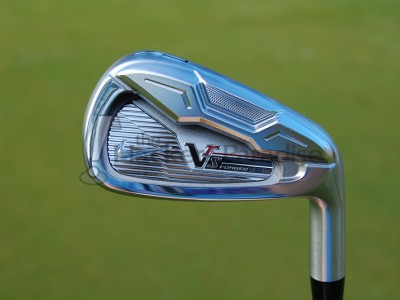 In the month long test conducted by THP, all the golfers that got a chance to put these irons in play came away extremely impressed with the performance of the new Nike VR_S Forged irons. Nike seems to have not left any rock unturned in their creation of this club and you can see that as you play them round after round. One thing to note here is the leading edge of the iron that leads to turf interaction. Too sharp and you can have some grabbing and digging and too rounded and you can have some bounce off the turf issues. The leading edge is not raised off the turf as much as some other irons that offer this much forgiveness and because of that, ball striking was crisp and fluid and as if the testing of a thinner soled club was taking place. Between the leading edge and the weighting balance of the club head, Nike Golf has found the perfect compliment between the two and because of that, the golfer gets great feedback and feel without the sacrifice of forgiveness around the perimeter of the club.
Overall
Nike Golf has really upped their portfolio with the VR_S Forged irons and offer an iron that shares so many characteristics with a thinner soled performance driven club head in a package that offers incredible distance and forgiveness. For more information on these or any other Nike Golf products, check out their website at www.nikegolf.com.
For more pictures of this iron from our testing, click here.
Till Next Time
Josh B.