The New Year is an exciting time for golfers. It always brings new equipment for us to lust over and Nike Golf has provided a very drool-worthy line of clubs with their 2012 VR_S series. In case you are wondering the 'S' appears to stand for 'Speed' and Nike is touting this line to be the longest and fastest they've produced. I was asked to review the VR_S irons for THP's readers and have spent a just over a month testing them. These irons are replacing 2011's Machspeed series and feature a fresh re-design. Nike boldly states, "Nike's fastest irons go farther than ever. The clubface produces greater energy return, powering higher, longer, straighter shots. In the competition to the green, other irons just can't keep up."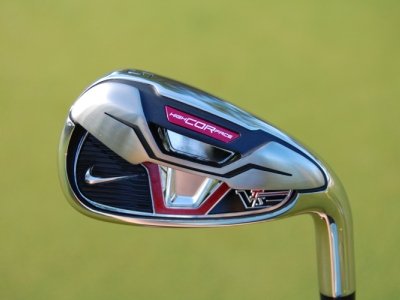 Looks and First Impressions
From an aesthetic standpoint, I'm very impressed with what Nike has done with their 2012 line of clubs. The VR_S irons, while on the larger side, still have a very attractive cavity with an eye-pleasing red/black color scheme. The grooved portion of the face has a nice satin finish that wraps over the thick topline to avoid glare, while the bordering areas are a very shiny chrome finish. I'd almost say that the face is my favorite looking portion of the club. Something about it is very nice to look at. The amount of offset is similar to other irons in the same class as the VR_S. These irons are gripped with Nike Tour Velvets and I had no complaints about them, though I did the bulk of my testing in chilly temperatures. Regardless, I didn't have any negative thoughts about them during this review. In hand, the VR_S irons felt a little head-heavy to me and that did translate through to when I swung them. In all, they are a very nice looking package and a definite improvement from the Machspeed line.
Technology and Performance
One of the reasons that the VR_S irons are able to deliver high ball speeds is they possess what many would describe as a 'hot' face. Basically, these irons are designed similarly to woods so the ball comes off the face with a trampoline effect. Nike describes it by saying, "Constructed of high-strength, ultra-thin stainless steel with NexCOR variable face-thickness, The VR_S clubface delivers a high COR face for more distance. The new face construction expands the maximum COR zone around the middle and lower area of the face where the majority of iron shots are struck." I was pleased with the distance I saw on full shots and I did find them to be pretty forgiving, especially towards the heel. There was a distance loss associate with mis-hits, but it wasn't too severe. Hitting the center of the face resulted in very long carry distances. The feel at impact was nice when I hit the sweet-spot and not harsh at all when I missed.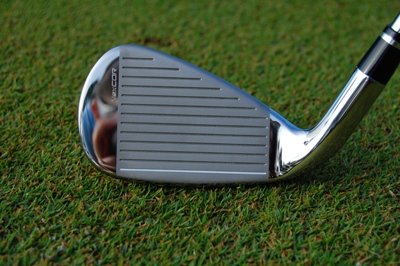 Aside from the NexCOR face, Nike has also placed their PowerBow technology on the VR_S irons. The PowerBow was also on the previous generation Machspeed irons and its purpose is described by Nike when they say, "By positioning weight off the face with an undercut construction, the Nike PowerBow technology produces a faster, higher launch for maximum carry, straighter ball flight and steeper descent to hold greens." Translated, that basically says that Nike moved weight lower and farther back so you can hit the ball higher and straighter. Coupled with the Dynalite shaft, I found the VR_S to deliver on that statement in the form of very high ball flight that carried a good distance. The PowerBow does add the appearance of width to the sole of the iron, but is actually pretty attractive in-itself and gives the VR_S irons a very distinct look. The only complaint I have about it is that the channel around it seems to collect a lot of dirt, so I'd recommend carrying around a wet towel if you can't stand dirty clubs.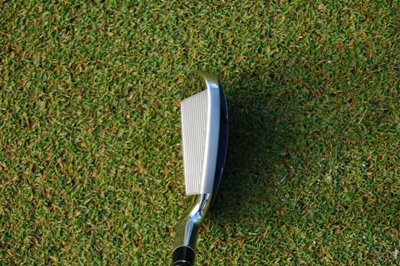 The VR_S irons that I tested were outfitted with the stock, True Temper Dynalite 90 shafts. Nike says, "At a mere 90 grams, Dynalite 90 steel shafts feature ultimate control even with increased swing speed." I will say that they definitely felt like I was generating some good speed and the numbers I saw on the launch monitor did confirm that. I got a sense that I could really whip these through the impact zone. I didn't feel terribly accurate with them, but that could have had as much to do with fitting as anything. In their stock configuration, the VR_S irons are set quite upright compared to what typically fits my swing the best and I did struggle at times with missing to the left. That's a perfect segue into a piece of advice I often give; if you are buying a new set of irons like these, take the time to get them fit.
Final Thoughts
These irons definitely deliver what they promise in the way of high, long shots. With the fresh redesign, I think Nike has a pretty nice offering for the golfer looking for more distance and height out of their irons. The Nike VR_S irons have an MSRP of $719.99 with steel shafts and $839.99 with graphite. They will be available February 1st, 2012. For full specs and more information on the VR_S irons, you can head to www.nikegolf.com. As always, thanks for reading and best of luck on the course this year.
Ryan H.