The smallest and most compact of Nikon's golf rangefinder options, the COOLSHOT 20 is a straight forward laser unit which aims not only for precise distance measurements on the course but also to hit a more affordable price point amidst a plethora of high priced options on the market.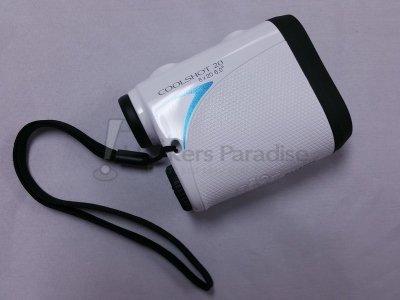 Information on the COOLSHOT 20 from Nikon:
Measurement range: 5-500m/6-550 yds.

First Target Priority mode is employed.

When measuring overlapping subjects, the distance of the closest subject is displayed — useful when golfing for measuring the distance to a flagstick on a green with woods in the background.

A single press of the POWER button provides 8-second continuous measurement, which enables measurement even with slight hand movement

Compact, lightweight (approx. 125g) and ergonomic design

Distance measurement display step is 1m/yd.

High-quality 6x monocular with multilayer coating for bright, clear images

Long eye relief design affords eyeglass wearers easy viewing

Dioptre adjustment function

Rainproof — JIS/IEC protection class 4 (IPX4) equivalent (under our testing conditions)

Wide temperature tolerance: -10°C to +50°C
Internal Display:
Distance

Unit of measure (m/yd.)

Target mark (-+-)

Laser irradiation (X)

Battery condition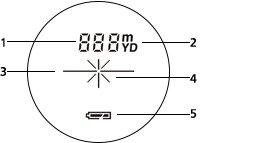 Aesthetics and Features:
The Nikon COOLSHOT 20 is a very clean and simple unit, although it does not have a ton of bells and whistles like we see among the highest priced units in the rangefinder market (slope, vibration, etc.) it also doesn't have the crazy price point that those units do. At $199.95, the COOLSHOT 20 has a laser setup which extends to 550 yards out and a 6x magnification which is pretty standard in almost all units out there today.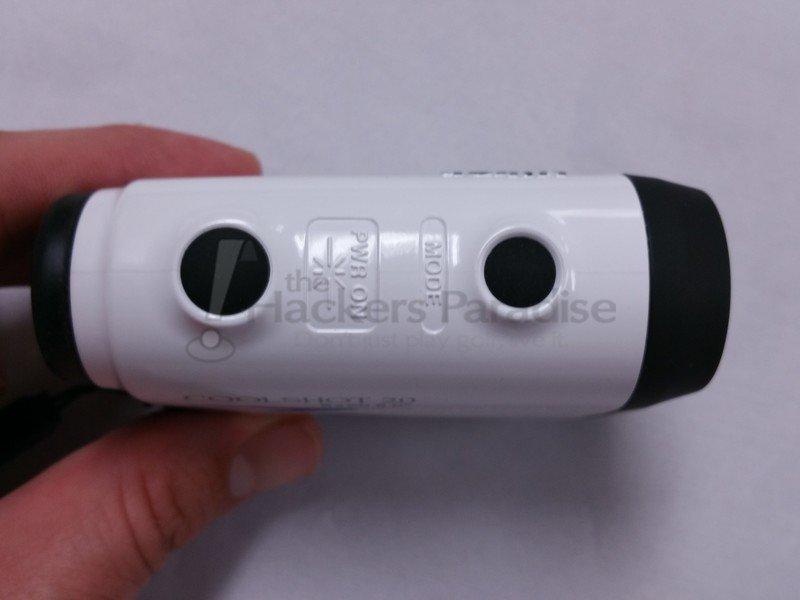 The unit itself is one of the most compact designs out there, it is all business not only in features, but also the ergonomics. The clean black and white color scheme, design and shape combined with an incredibly light 125g weight will fit comfortably into one hand for the majority of users, though those with large hands may feel like the unit borders on being a bit awkward at times.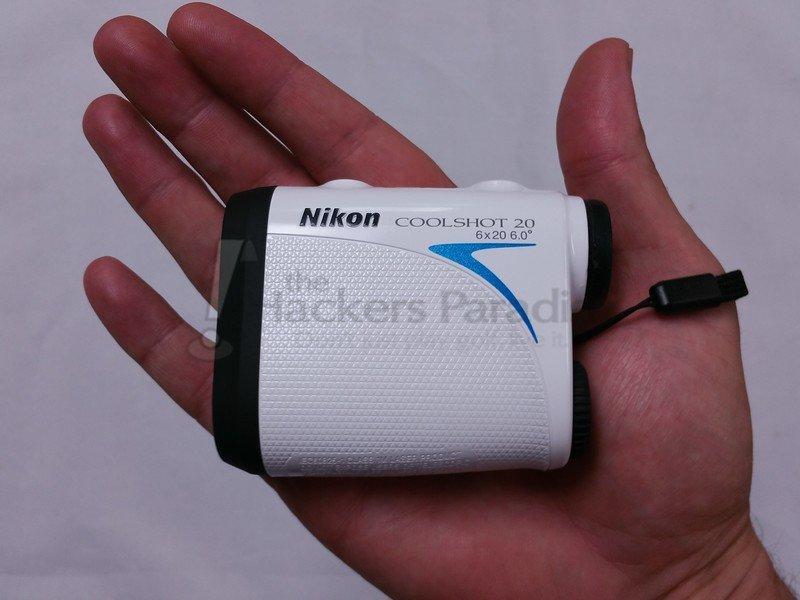 The unit also features an all-black layout including its reticules which are aimed at the target. As mentioned earlier, there is no pulse or slope, but it also isn't aimed at being the most technological unit, it simply serves to try and be an effective one. Additionally, the case which is included uses a heavy snap front flap and a double overlap Velcro rear loop to attach it to the bag.  A carabiner would have been nice here, but the Velcro stayed fastened throughout testing both carrying and riding.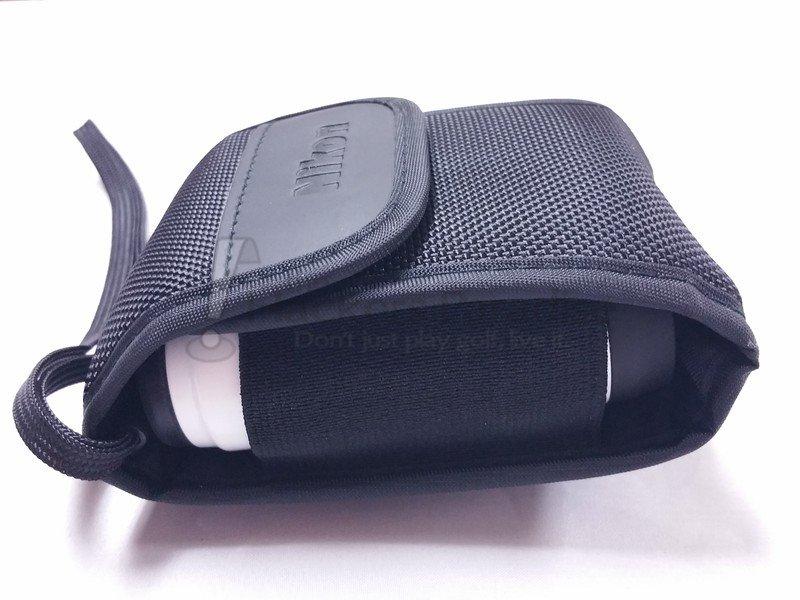 Performance:
The COOLSHOT 20 was truly put through its paces with a lot of rounds both carrying and walking and frankly it stood up incredibly well with no real issues in terms of durability. This was a relief given the small footprint an incredibly light weight.  Typically when things get lighter the outer casing is the major area where that weight is removed, but as mentioned there were no issues here even through a lot of use.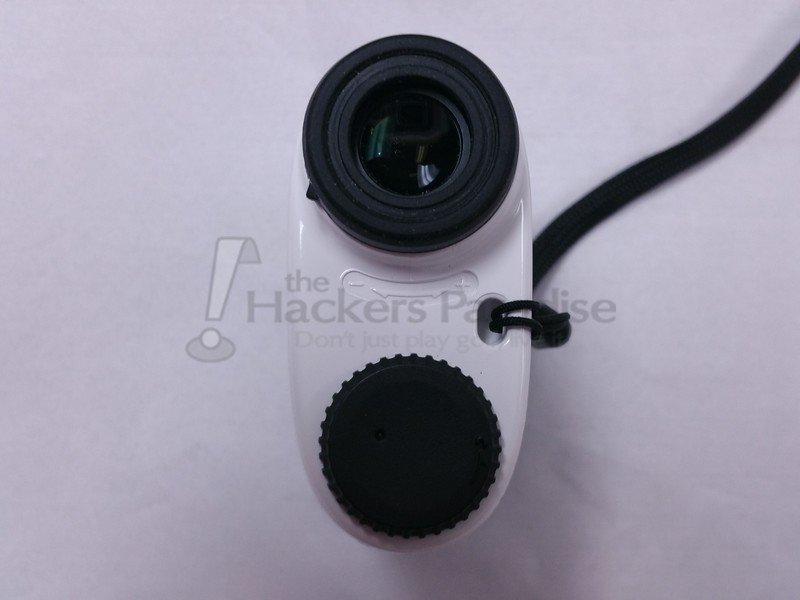 The laser on the unit showed to be on par in terms of distance measured when compared with two of the top units on the market to the point that they were all right there with at most a one yard differential between them. One thing to note, it is not the fastest unit in terms of locking on to your target, but it is still effective. There were a few situations where steadying and locking onto the pin when in a heavily tree filled area took a little more patience, but it was nothing outlandish or what this reviewer would consider as being a problem. Given the price point and the straight forward nature of the unit, it essentially performed exactly as it should, no more and no less.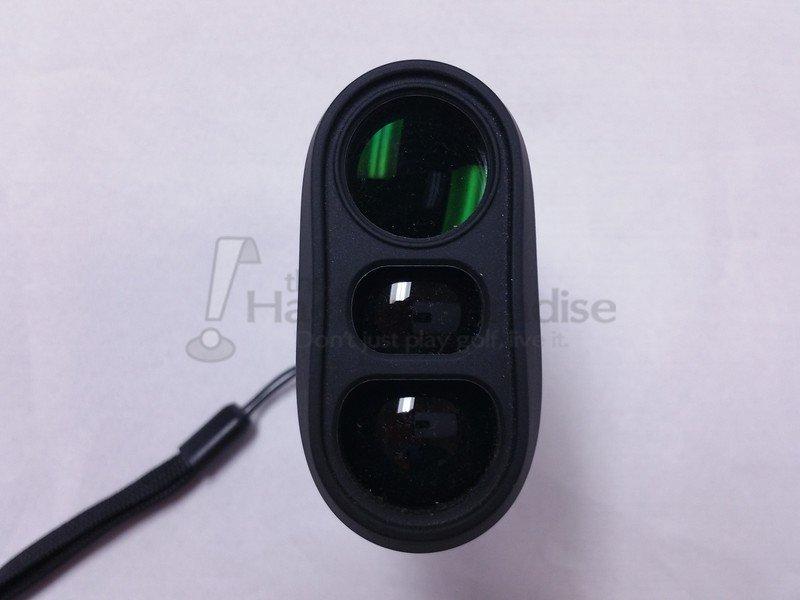 Parting Thoughts:
For the $199.95 price point where it sits, the Nikon COOLSHOT 20 brings with it a no frills, straight forward, laser rangefinder unit which while hitting a price point that is much more enticing price than a lot of units out there, maintains a brand name that is traditionally synonymous with good quality and engineering. In the end, it will come down to what the user wants and needs. If its bells and whistles then looks should go elsewhere, but if it is a simple point and shoot distance tool, then the COOLSHOT 20 definitely deserves a look.
More information on this and the rest of Nikon's golf rangefinder unit can be found on their website at www.Nikon.com.