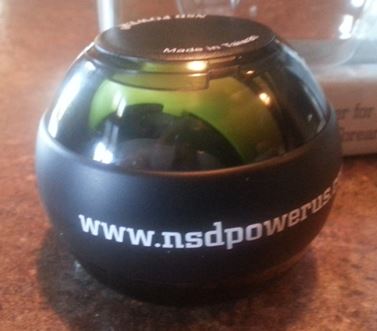 Not long ago, the topic of strength and fitness rarely crossed the minds of golfers.  The general idea always seemed to be that golf is more of a game of finesse and coordination.  It didn't seem that any amounts of strength or fitness would really help lower your handicap.  Those days are long gone and the proof is as evident as ever just by turning on the TV during a PGA Tour event.   Golfers today are spending more and more time in the gym working on their bodies and they know it's important to be physically fit so that they can get the best out of their golfing talents.  Recently, a company called NSD sent over a product called the NSD Power Essential Spinner.  According to the company, using it every day will improve your golf game by making your hands, wrists and forearms stronger.    
About the Essential Spinner from the company:
Our NSD Power Essential Spinners are the most affordable gyroscopic hand, wrist, and forearm exercisers we have! The Essential Spinner is a great way to get started with your hand, wrist, and forearm training. The small form factor means you can take it with you just about anywhere. Comes in a stylish hard plastic shell with ergonomic soft rubber grip. It's the essential Spinner to have to strengthen your grip and workout your forearm!
All Essential series of NSD Spinners are tested to be vibration free at 15,000 RPM and generate up to 26.8 lbs-in of torque at 10,000 RPM.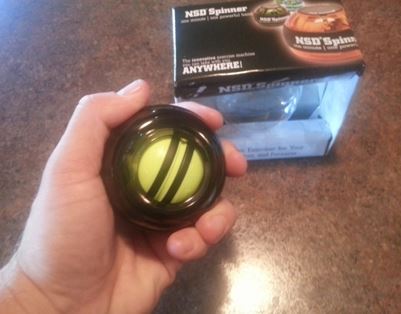 On the company's website they list a number of benefits to using the NSD Spinner beyond just the fact that they believe that it will help your golf game, but because THP is a golf website let's limit the focus to what it can do for our golf game.  According to NSD, a golfer's grip is vital to his or her overall game, and by using the NSD Spinner to strengthen your grip and forearms you will see dramatic and immediate improvements off the tee. 
More from the company:
The hand, wrist, and forearm area is like a gateway into a golfer's swing. Master control over your wrist will open up a new world of possibilities in your game. Our Spinners are designed specifically to target the hand, wrist, and forearm area to give you control throughout the golf swing, and power through the hitting zone. Your wrist position is vital in generating the maximum impact and distance, our Spinners are a vital training tool that should belong in EVERY golf bag…And the small form factor means you can train to get better at your game everywhere!
After looking through all of their information on their website I was anxious to get started using the NSD Spinner.  I've been on a kick to improve my own physical fitness for most of the past 2 years and I've seen firsthand the benefits strength training and an increase in cardio can do for my own golf game.  I like the idea behind the NSD Spinner a lot. It's something I can do quickly while I'm doing something else, like watching golf on TV or listening in on a conference call at work. 
I will say that it wasn't exactly easy to use right away. I felt quite awkward and uncoordinated when I first began using the NSD Spinner.  It took a while to get the concept down and really develop some coordination with it.  While frustrated at first, I continued to work on it and eventually got to the point where I could use it without difficulties.  I didn't stick to a specific routine necessarily. Instead, I just keep it sitting on my desk at work and periodically throughout the day I'll pick it up and spin it for a minute or two a few times a day.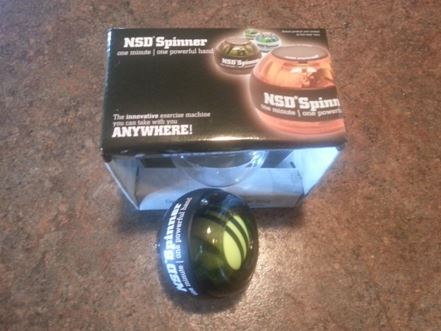 I have definitely gotten much more coordinated using the device and I feel some differences, particularly in my wrists and even a bit in my forearms, but I can't tell you with 100% honesty that I've seen any dramatic changes to my golf game just yet.  I've only been using it a few weeks, so I'll definitely continue to use it in the same fashion I have been and will continue to update the THP Forum on the progress I see.  I definitely think that something like increasing strength is a very slow and gradual process and a lot of times the benefits are not always apparent for a while.  I can't sit here and say that the NSD Spinner has made me a better golfer, but I can say that I'm noticing difference in how my wrists and forearms feel and I believe that will help my golf game over time. 
The NSD Spinner is available in several different models. The model THP tested was the Power Essential Spinner that costs $19.95 and is available for purchase directly from their website at www.nsdpowerus.com.  I definitely suggest checking them out. There are several different benefits listed beyond just improving your golf game and the product is very easy to take on the go and use anywhere.