Early in 2017, Odyssey released the new O-Works line of putters featuring what they call Microhinge Technology. The insert quickly became a favorite of THPers based on their reviews as something that gets the ball rolling quickly and on line with a feel that is preferred. Expanding on that line are new models that are inspired from tour player feedback since its inception.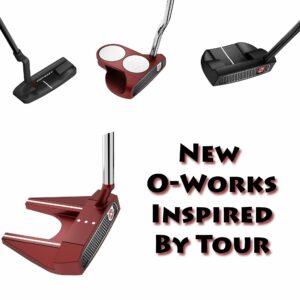 What is Coming
Beginning August 4th, there will be a number of new options available. The new clean Black Head Shape features these options.
#2W, #3T, #1, 330M, #2M CS, #7S
The striking Red Head Shape features these options.
2-Ball, #7, #7S
Commitment To Tour Feedback
Relying heavily on detailed player feedback from early prototypes to final products, the Odyssey R&D team continues to work on designs. In this instance, there were a number of staff members that asked the team to build a red or black head shape with a clean look at address and since bringing them out to tour, have been extremely popular. The feedback also led the team to create the unique #3T and #2M in all Black with an O-Works insert and the always popular #7 with a short slant neck for both color options.
The Story
Cost $199-$219
Grip: Stock Winn or SuperStroke Mid Slim 2.0
In Stores: August 4th
Scroll through the gallery below for each of the models that will be coming out and let us know which is your favorite.
Have you downloaded the THP Mobile App? Available now for iOS and Android devices everywhere and is 100% free. The easiest way to enjoy all of the THP content, right in the palm of your hand. You can find it in the Google Play Store or the App Store right now.