Golf is one of the few things in which you can always improve upon some facet, no matter your age or skill level. Sometimes the improvements may be tedious and small, while others are quick and major. Either way though, we as golfers always believe that we can be better, and with the hectic nature of everyday life, sometimes it just takes a little guidance along the way. One such product which sets out to provide that type of guidance is the PGA Tour Academy: Home Edition. Designed by PGA Tour teaching professionals with the intentions of helping golfers of all skill levels better hone and improve their skills through a detailed 8-week schedule, the Home Edition is definitely one of the more interesting teaching programs to hit the market in recent memory.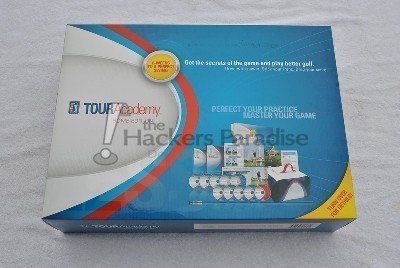 FROM THE COMPANY:
Play. Better. Golf. 
Discover the TOUR Academy Home Edition, our revolutionary golf instruction system designed to help you unlock your swing potential and play better golf. Developed through years of studying the best professional players, this comprehensive golf DVD improvement program provides the TOUR Academy experience directly in your home. Click each of the lesson titles and watch the preview video to learn more. 
TEN DVDs, with secrets that the pros know.
28 LESSONS and PRACTICE SESSIONS, for a complete instruction experience.
TWO PRACTICE TRACKS that follow each lesson – white track for all abilities and BONUS blue track for advanced players.
8-week total golf improvement PRACTICE CALENDAR.
Complete PRACTICE GUIDE to take to the range or practice facility.
Two lesson-specific training aids: CONTACT BAG for Lesson Three — Impact Zone, and ALIGNMENT STICKS for all lessons.
Complimentary 100+ Page TOUR Academy® INSTRUCTION BOOK.
To unleash every golfer's potential and accelerate their improvement.
5 Full Swing Lessons. More consistent, accurate play.
Grab a golf club and watch the dynamic TOUR Academy Home Lessons. Practice along at home and master new skills and techniques before heading to the practice facility. The Home Lessons cover every facet of the game and teach you the secrets of a great swing. You will learn how to:
Drive the ball with more power and distance
Adjust your grip and posture to improve your accuracy
Synchronize your body and the club for more consistent ball striking
Master the fundamentals of the impact zone – the moment of truth when the club hits the ball
Hit accurate approach shots and make more birdies
Unlike most golf DVDs, you won't be sitting back passively watching the lesson from your couch. You'll feel like you're being coached one on one by a TOUR Academy instructor right in the comfort of your own home.
4 Short Game Lessons. More control around the green.
The quickest way to improve your golf score is by mastering these short game lessons. The pros know that scoring well depends on saving par after you've missed the green. The short game lessons cover:
The fundamentals – grip, posture, and alignment for all short game strokes
The mechanics of putting and how to execute a smooth stroke every time
Mastering bunker play and other trouble shots
How to consistently chip the ball close to the pin
Learning the secrets of the short game and how to practice like a pro will shave valuable strokes off your score. All you need is the knowledge and techniques to make it happen!
18 Practice Sessions. Master skills like a pro.
The companion Practice Guide was designed by the instructors at the TOUR Academy so you don't just aimlessly hit ball after ball at the driving range. Learn how to maximize your time by following our short, efficient, and focused practice sessions. The TOUR Academy Home Edition offers two different 8-week practice tracks:
White Track: For players of all abilities and those new to golf
Blue Track: Advanced skill development for experienced players, or players that have graduated from the White Track
The TOUR Academy practice sessions will change how you play and think about golf – you'll be practicing and playing like a pro.
8 Week Calendar. Get TOUR Academy® Results.
All your golf lessons and practice sessions are laid out in an easy-to-follow roadmap. The travel-sized Practice Guide ensures maximum transfer of new skills from home to the driving range. After completing the home lesson you'll find the practice session fun and rewarding:
Your golf lessons are mapped in a specific order that build your swing gradually
We provide a structured, flexible practice plan that teaches you how to practice with a purpose
You don't need to spend hours at the driving range pounding golf balls – quick, efficient, focused practice sessions are all you need.
For the first time ever you don't have to be a pro to play like one. Complete the TOUR Academy Home Edition 8 Week instruction program and you'll become a better and more consistent golfer for the rest of your life.
OVERVIEW AND EASE OF USE
THP was fortunate enough to take a closer look at the Tour Academy: Home Edition "Pro" package and upon getting it in hand the immediate reaction was that there was clearly a lot of detail that was put into in such a small package.  The "Pro" edition contains the same 28 Lesson program as the basic version, but with the addition of two alignment sticks, an impact bag, and a fully illustrated instruction manual.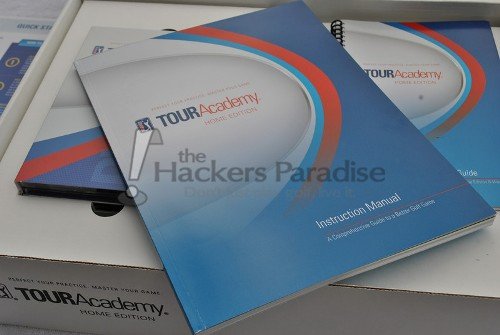 After spending a lengthy amount of time with Home Edition program, the amount of detailed information that it presents to users is nothing short of impressive. The program ranges from the most basic of lessons on things like stance and grip all the way up to the actual mechanics of the golf swing and how it pertains to ball flight. Notably however, it manages to present a large amount of information over the course of the lessons while still keeping it easily accessible by providing two separate "paths" for the different skill levels of golfers.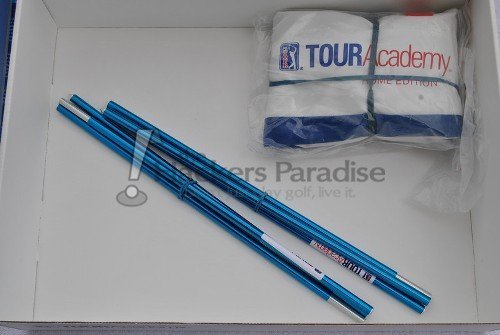 Thanks to the inclusion of a calendar to keep track of the sequence of lessons, as well as where the lesson takes place each day (home or range/course), there is very little confusion. The fact that the program itself is DVD based with concise and to-the-point lessons allows for those golfers who are short on time a way to truly dedicate themselves to improving their game. The point of the Tour Academy program is not to go out night after night and bash balls, as even on range days the goal is to address the fundamental areas of the game that every golfer can improve on in the most efficient manner possible.  The name of the game here is to teach golfers how to practice with a purpose and focus on specific areas to improve, something that many of us could undoubtedly do better.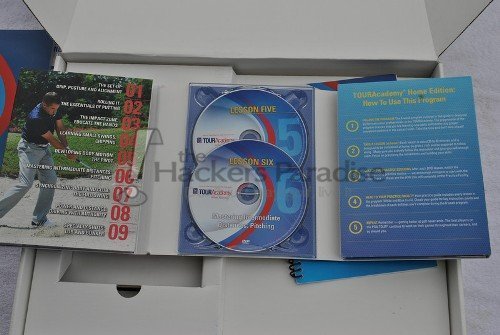 OVERALL THOUGHTS
After getting to really try out the Tour Academy program it is evident from start to finish that a lot of development went into it and that corners were not cut. Every piece has its purpose, and better yet it also has a graspable explanation as to just what that purpose is. The Home Edition provides just what it says, instruction and practice with a purpose for golfers of many skill levels that will undoubtedly have something for everyone. That being said, it is clearly not a replacement for taking in-person lessons under the trained eyes of a teaching professional, as nothing can replace the feedback that a golfer receives in that situation. However, it can truly be a very useful supplement for many.
The PGA Tour Academy: Home Edition is available in a base version (119.00) and the pro version (179.00). For more information, be sure to check out www.touracademydvds.com.