If you have followed the THP forum's Garage Sim Crew thread, it quickly becomes apparent that physical space and cost are big issues for golfers that are looking for in-home simulation. The reality is that many interested consumers simply can't afford all the necessary components or don't have room in their homes to put it all. Phigolf believes they have a solution for people in this situation with their Phigolf 2 Mobile Golf Simulator. While it may not be the most comprehensive or accurate option on the market, the fact that it can be used without actually hitting a golf ball might make it something to consider if you're looking for a bit of simulated practice or just entertainment.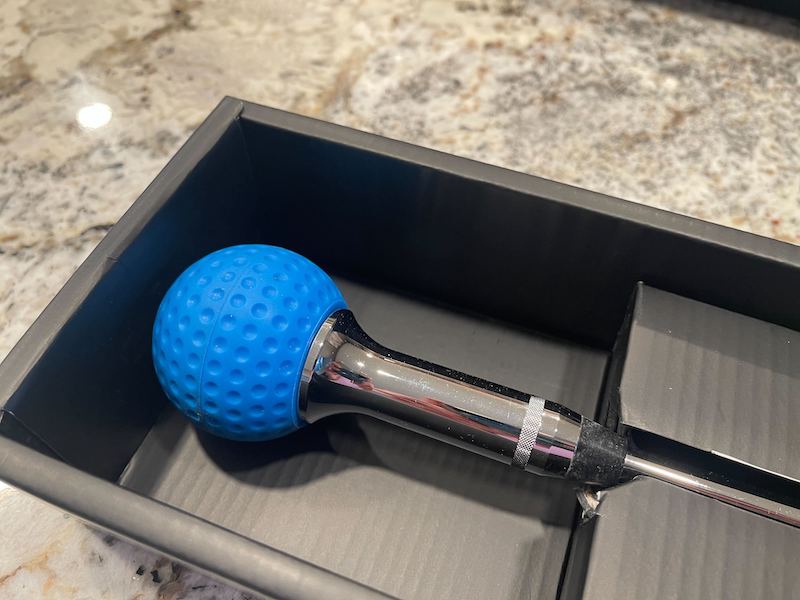 What is Phigolf 2?
Phigolf 2 is a cutting-edge mobile golf simulator that allows you to practice and analyze your swing from any location. With live feedback on various aspects of your swing, including head speed, tempo, club path, and more, you can improve your skills and track your progress.
The Phigolf 2 package includes a compact swing trainer club that simulates the feel of a real golf club, as well as a sensor that can be inserted into your own clubs for use with the simulator. You can also use the Phigolf 2 swing stick and sensor with popular golfing apps like World Golf Tour and E6 Connect and play on renowned championship courses.
What's in the box?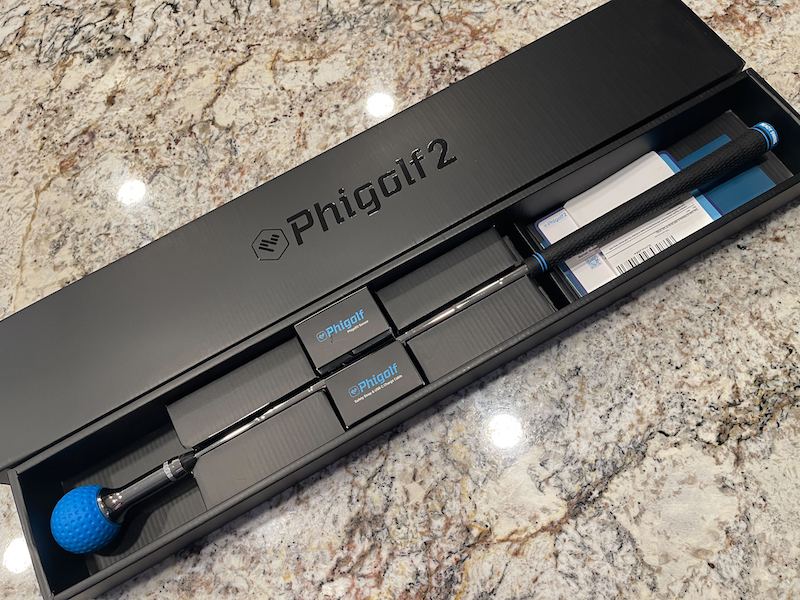 Delivered in a delightfully-stealth black box, there are two primary components of the Phigolf 2 system.
The "club" is just over 24 inches in length and weighs around a pound. It's gripped with a comfortable and familiar feeling grip that is installed on a stepped steel shaft. Although it's in the general weight range of a golf club, it feels heavier in the hands than its stated weight. The ball end sits on top of a substantial chunk of metal that almost resembles a hosel.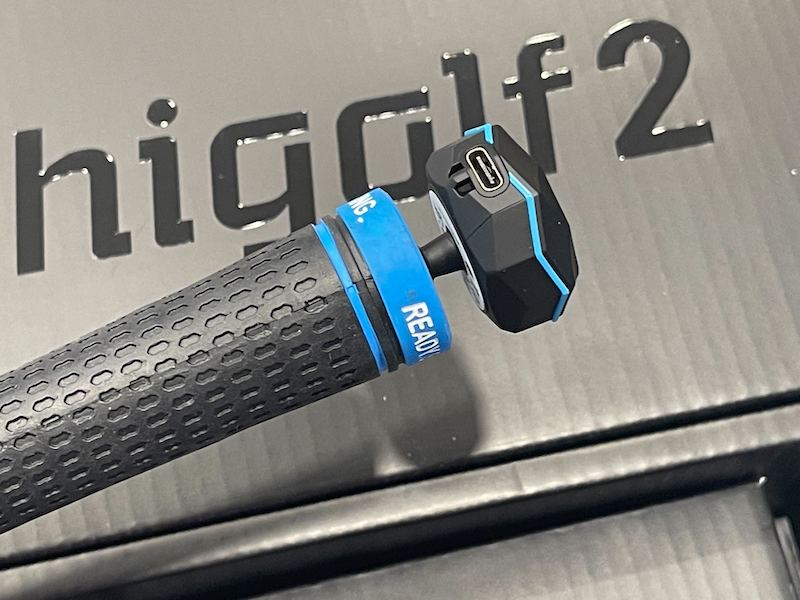 In a small box sits the brains of the device, the 9-axis Motion Sensor. This is a small grip insert that resembles an oversized version of shot tracking devices like we see from Shot Scope. As shown in the picture above, the motion sensor doesn't sit flush with the end of the grip, but instead protrudes about a quarter inch. While it's specifically designed to fit into the Phigolf 2 club, it can be inserted into any standard golf club, although it does take a bit of effort to make it fit.
In addition to the items listed above, a USB-C cord is supplied for charging, along with a safety strap that is highly recommended for indoor use. The safety strap is similar to what comes with a Nintendo Wii and is meant to protect items in your home, the TV for example.
How Does it Work?
After unboxing the Phigolf 2, a quick QR code scan will take you to a set of online instructions and safety warnings. Before you can do anything, you will need to insert the motion sensor into the grip and download the Phigolf app from your desired app store. We tested both the iOS version and the version available on Fire TV's app store, giving us the option to either use a mobile device (and cast to a TV if needed) or to just play directly on a Fire TV.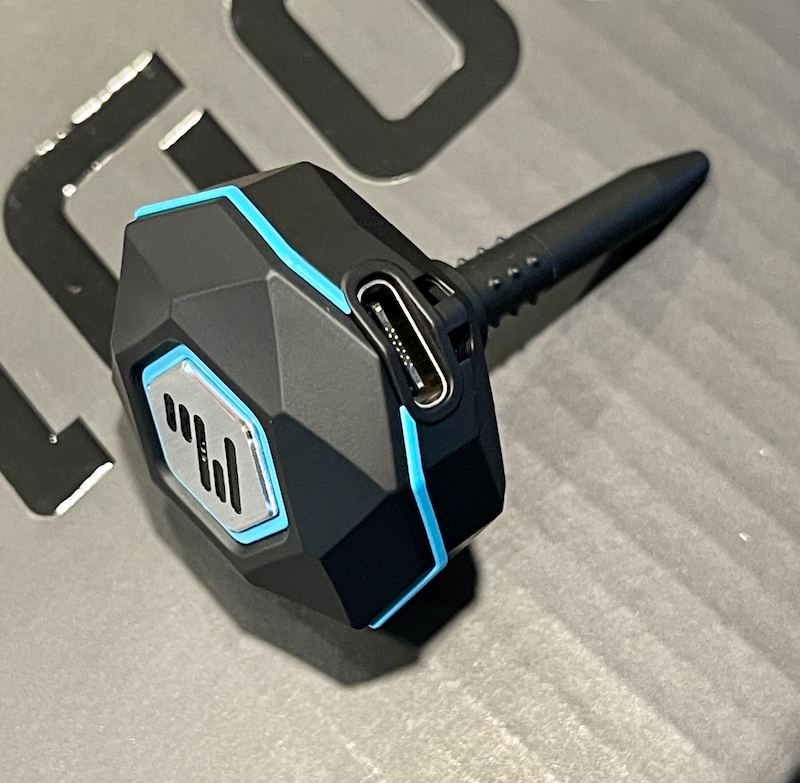 Once the app is downloaded and running, simply long-press the button on top of the motion sensor and it begins pairing automatically. We experienced no issues getting the device set up on either platform. Both the iOS and Fire TV versions had their own set of advantages and disadvantage. For example, playing on the small screen of an iPhone made for a somewhat clunky and unsatisfying experience, but navigating through the app was easy. Alternatively, the visual experience of the Fire TV app was very good, but we were forced to use a remote control for navigating. While casting to a TV is a viable option, there is still the need to navigate on the mobile device. In the end, the Fire TV option was probably the most enjoyable.
Gameplay
The Phigolf app provides a solid list of gameplay options. Aside from basic range practice, there is also a number of challenge modes like closest to the pin. For sim golf, there is a selection of 10 free courses available for download that can be played locally or online. In addition, it can connect to both e6 Connect and WGT.
The practice range allows you to pick a target distance and club. After making your choice, you simply grip the club in a standard address position and wait to hear the app say, "Ready Swing". From there, you swing away. The Phigolf 2 club makes a clicking sound when the club is released, which was a bit unnerving at first. In theory, this audible feedback could help someone working on their release timing.
After the shot is away, Phigolf analyzes the swing and provides its interpretation of the ball flight. Afterwards, a swing analysis screen pops up and displays metrics, along with a visual representation of the swing plane. The data displayed was certainly interesting to see, though it's very difficult to know if it is in any way accurate. The shot shown in the video above seems reasonable based off what I know happens with my real swing, so the best judgement I can offer is that Phigolf is at least in the ballpark.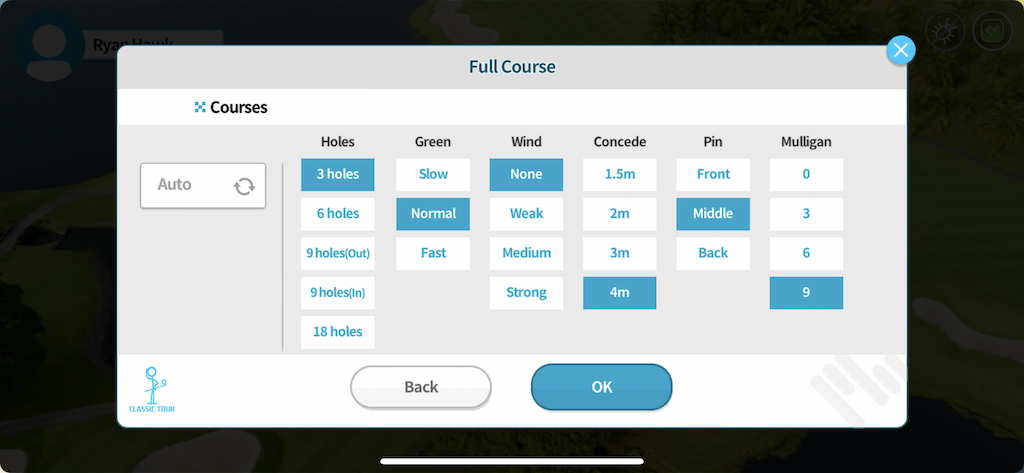 As noted before, there are ten simulator courses available to play, and users can adjust their settings to play both full and shortened rounds, along with a handful of other parameters like green speed, pin location, and wind speed.
As you can see, the graphics are more than adequate for an app-based simulator. The detail of the terrain and surroundings are much better than we expected. The gameplay was mostly good as well. One aspect we particularly enjoyed was how easy it was to change aim direction. Rather than utilize the graphic interface, all that is needed is to twist the motion sensor in the desired direction.
The two most challenging aspects of the gameplay were touch shots and putting. Both left us somewhat confused and resulted in a lot of missed approaches inside 50 yards and even a few four-putts.
While the Phigolf 2 motion sensor can be inserted into a normal golf club, we found it quite unreliable and the motion sensor made swinging the golf club uncomfortable. The device is probably best used in the Phigolf 2 club, though we recommend at least trying it in a normal club, as your experience may be better than ours.
How Useful is it?
First of all, let's be realistic. Phigolf 2 isn't going to replace swinging a real golf club and a real golf ball. It's almost a foot shorter than the shortest club most golfers carry in their bag, and that makes it much easier to swing. In addition, the lack of a ball makes almost any swing somewhat acceptable in that there's no worry about making contact. However, we found the swing metrics to be at least plausible, so there is the potential that one could utilize the device for feedback when working on something like swing path.
We tested Phigolf 2 in a number of locations around the house and felt mostly comfortable swinging it, though rooms with ceilings lower than nine feet tall still felt claustrophobic. It took a while to feel safe standing in front a TV, even when using the safety strap. While the club is only around a pound in weight, it feels like more than that and it could do a great deal of damage if it were to be sent flying.
In reality, Phigolf 2 is probably best viewed as an entertainment device. It's a more realistic experience than golf on a Nintendo Wii for example, but really doesn't compare to even the most basic golf simulator experience. However, it's attractively priced at $225 and its ability to be used in smaller spaces could certainly make winter more enjoyable for a large number of golfers in colder climates.