The 3rd leg of the 2013 major championship season has come to an end and it was as dramatic a finish was viewers have seen in recent years. Muirfield held up to the challenge of the Open and low scores were not seen in abundance. When the final putt fell, Phil Mickelson came from behind to win the championship and his 5th major of his career.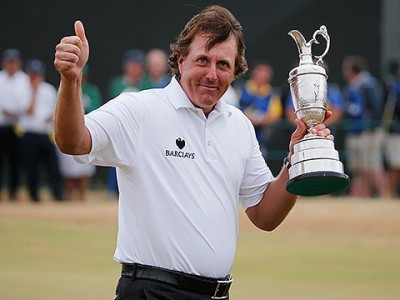 Heading into Sunday, Mickelson was hanging around, but was definitely not the talk when players teed off. Lee Westwood owned the lead and superstars Hunter Mahan, Adam Scott and of course Tiger Woods were all in contention. During the round, there were fireworks, first by Ian Poulter making a run and then by Mickelson getting the hot putter on the back nine. At the same time this was happening, Mahan, Westwood and Adam Scott were all going the wrong way and Tiger Woods was joining them.
This left last week's Scottish Open winner with a chance to take home the trophy and when the door opened, Mickelson took advantage by going low and walking away with the championship.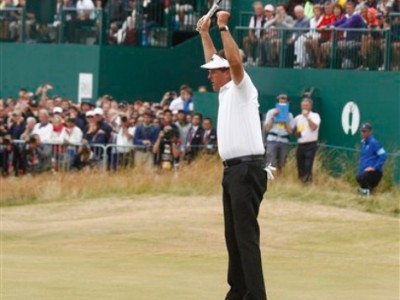 Here is a look at the unique club setup he used to take home the 2013 Open Championship trophy.
Phil Mickelson WITB
Fairway Wood: Callaway X Hot 3Deep Fairway Wood,13-degree (Fubuki K 70x shaft)
Hybrid: Ping Anser 17 degree
Irons: Callaway X Forged 4-9 Irons + PW(KBS Tour shaft in long irons, KBS Tour V2 in mid and short irons)
Wedges: Callaway JAWS Wedges 52- and 56-degree (KBS Tour V2 shafts) and Callaway Mack Daddy 2 Wedges, 60-(proto) and 64-degree (KBS Tour V2 shafts)
Putter: Odyssey Versa #9 Putter(white/black/white)
Golf Ball: A Callaway HEX Chrome+ golfball