Earlier this year Ping announced that they would be re-introducing their premium apparel line to the United States. The same apparel the world sees on players like Louis Ooshtuizen, can now be purchased on this side of the pond. Ping's apparel lineup is built upon their Sensor Technology Platform. For this review, the articles of clothing received focus on the Sensor Cool lineup, as a way to keep cool and dry when playing on those warm summer days.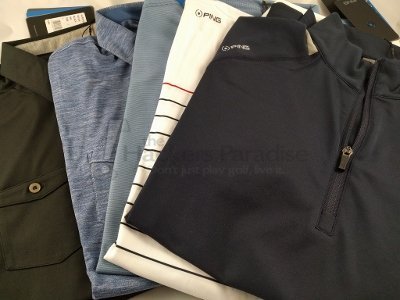 About Ping's Sensor Cool Technology
The Sensor Technology Platform consists of Sensor Cool, Sensor Warm and Sensor Dry. The platform is an innovative system designed to ensure that every garment worn is specifically engineered to respond to the body's requirements and the demands of the game, whatever the conditions.
Engineered to be worn next to the skin, Sensor Cool moisture moving technology draws excess perspiration away from the surface for exceptional comfort in play. Each Sensor Cool garment is crease-resistant and engineered from stretch fabrics, designed to complement the athletic movements made during a golf swing.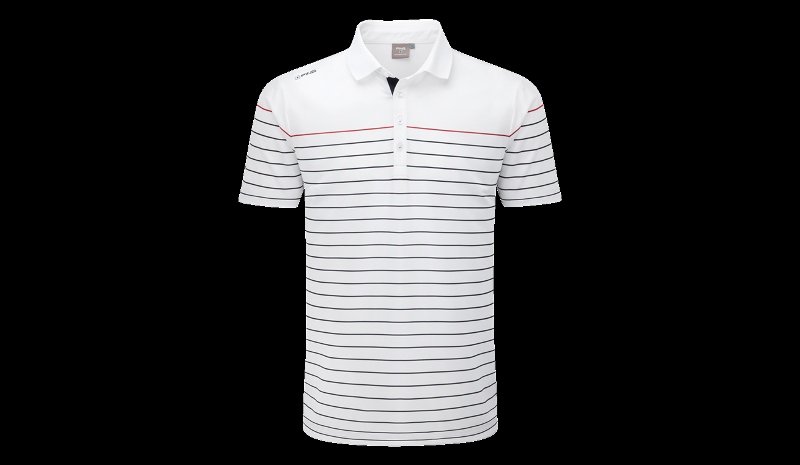 Bancraft Polo
Engineered Polo Stripe

Sensor Cool Technology draws perspiration away from the body, keeping you dry for complete comfort in play

Crease Resistant

96% Polyester, 4% Elastane

S-XXL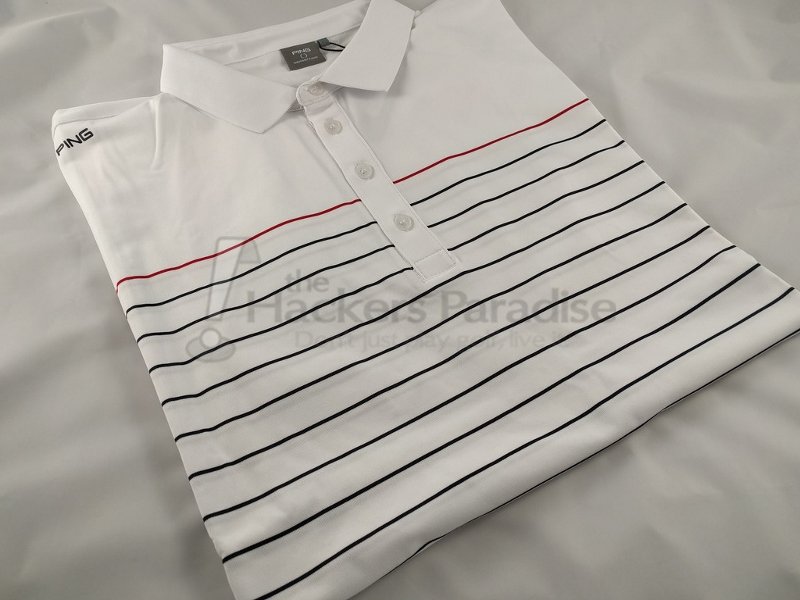 When thinking of the PING brand, some words used to describe them are classic and contemporary. The Bancraft polo without a doubt exudes those qualities with what is a very nice classic looking polo by featuring horizontal stripes that stretch across the torso section of the shirt. The garment that was received for review was white, with all navy blue stripes, except for the top stripe which was red. As will be the case with most of the other polos listed in this review, the Bancraft features a crease resistant design which helps keep these polos with a nice ready-to-go look to them after having them in a drawer or packed in a suitcase for a golf trip.
Latimer Eye Polo
Plain Merino Polo Shirt

Sensor Cool Technology draws perspiration away from the body, keeping you dry for complete comfort in play

Natural Anti-Bacterial Properties

Water-Resistant Finish

75% Polyester 25% Merino

S-XXL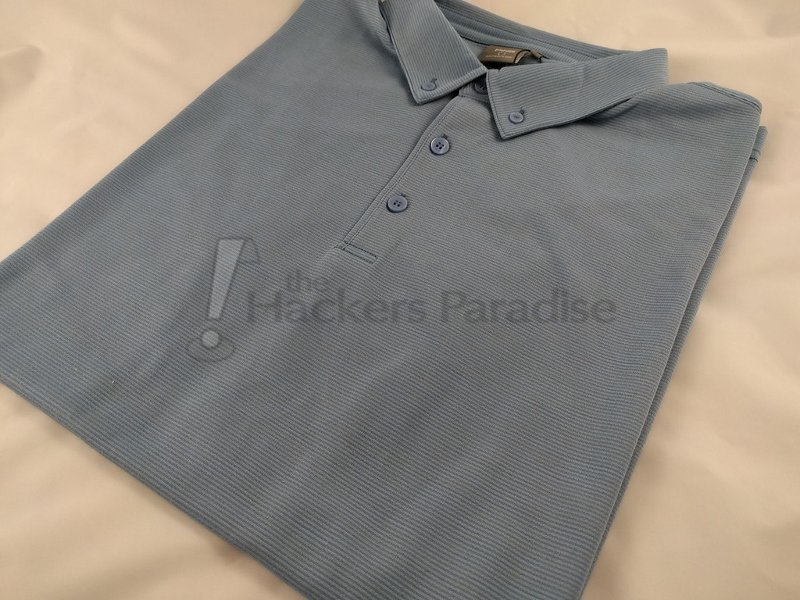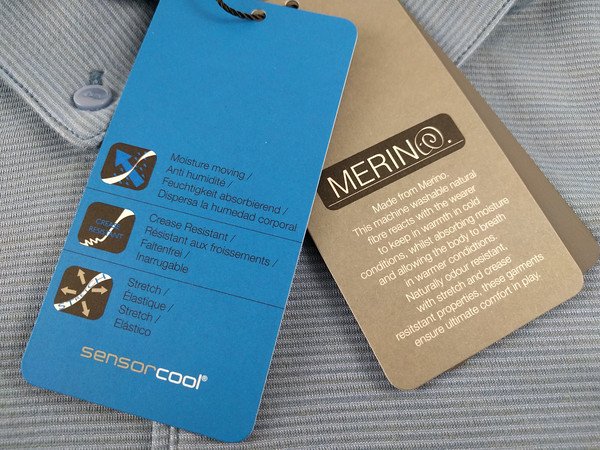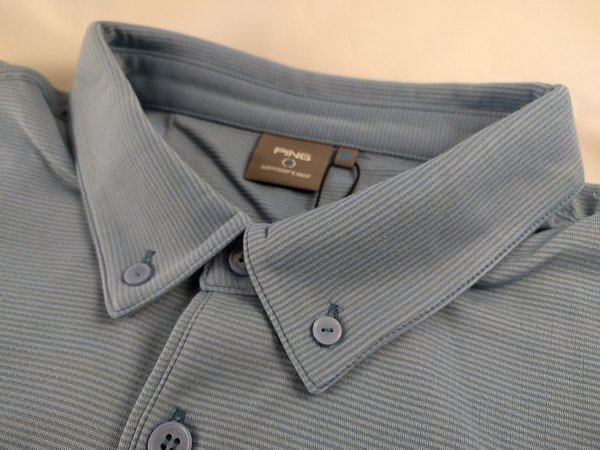 This polo offering really stands out in two different areas. Like the other polos featured in this article, it does carry with it a tailored fit, but unlike the other polos received, it incorporates some Merino Wool in to its threads. Being a blend of Merino and Polyester, the Latimer Eye presents what could be considered a best-in-line feel when it comes to comfort. The second part of this polo that stands out is the fact that the finish on it is water-resistant. Having played a round of golf in which the weather changed from sunny to raining frequently, having this attribute was more than appreciated. Before the need to throw on a rain jacket, seeing the water bead up on the fabric was a very welcome result.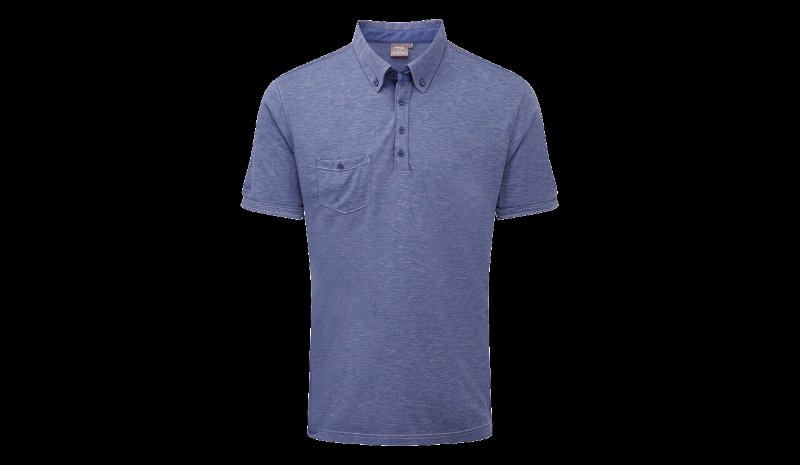 Karsten Polo
Chest Pocket Polo Shirt

Sensor Cool Technology draws perspiration away from the body, keeping you dry for complete comfort in play

Crease Resistant

UPF 50+

100% Polyester

S-XXL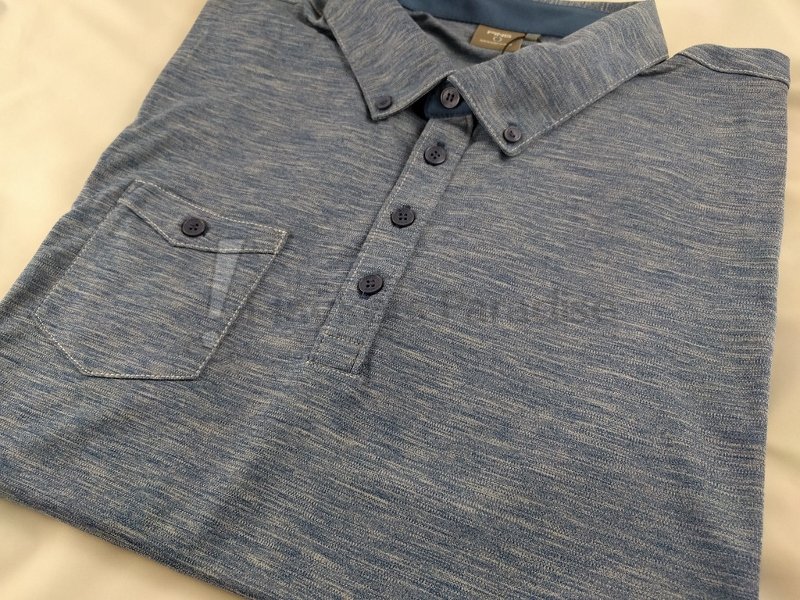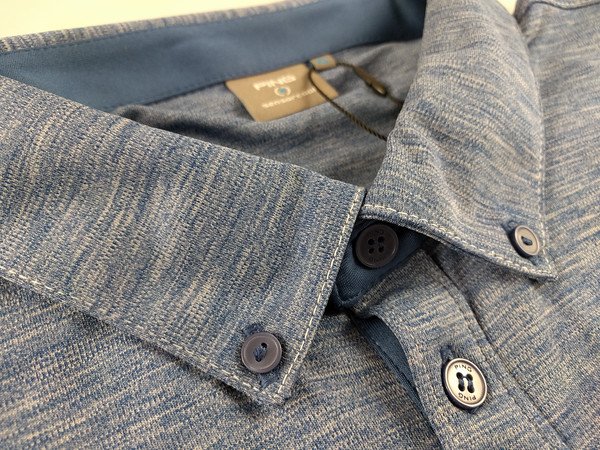 Featuring a button down collar and a pocket on the chest, the Karsten polo offers a bit of a throwback design combined with the more modern style and fit. The pocket brings a flashback to the polos of yesteryear. In terms of style choices with this polo, the only real area in which this one might raise some eyebrows is the cuff around the sleeves. That cuff aside, the Karsten polo, specifically in the deep-sea-blue-morl color, offers a nice subtle pattern in a shirt that is certain to turn many heads. Receiving a UPF 50+ rating is also a nice feature, as golfers everywhere know how important it is to use different products to protect one's skin from the harmful rays of the sun.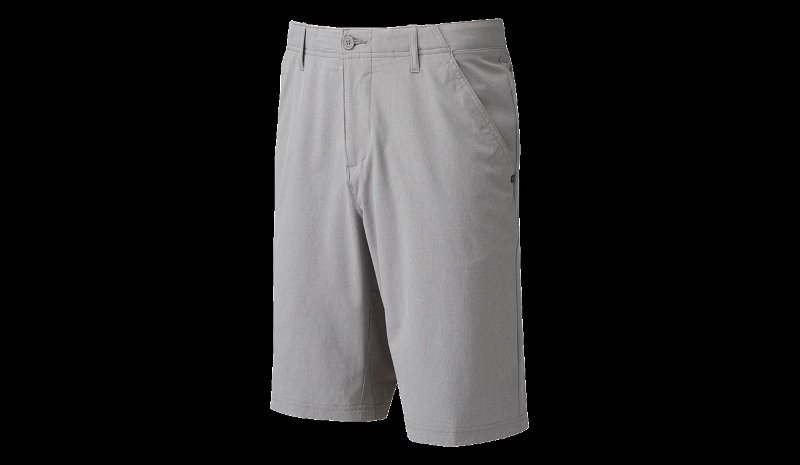 Blakey Short
Lightweight Fashion Short

Moisture-Moving Properties

Stretch Fabric

Crease Resistant

Tee Pocket & Back Security Pocket

2 Front Pockets

49% Nylon, 38% Polyester, 13% Elastane

Waist 30″- 44″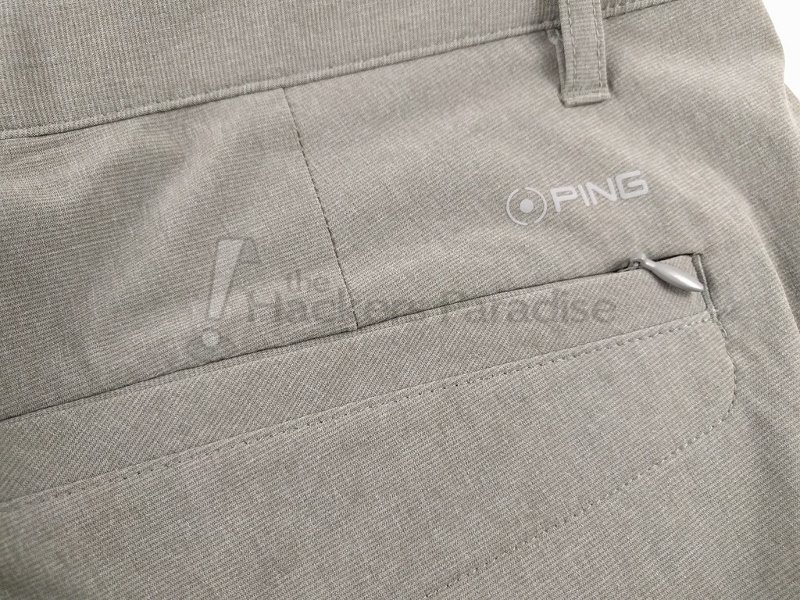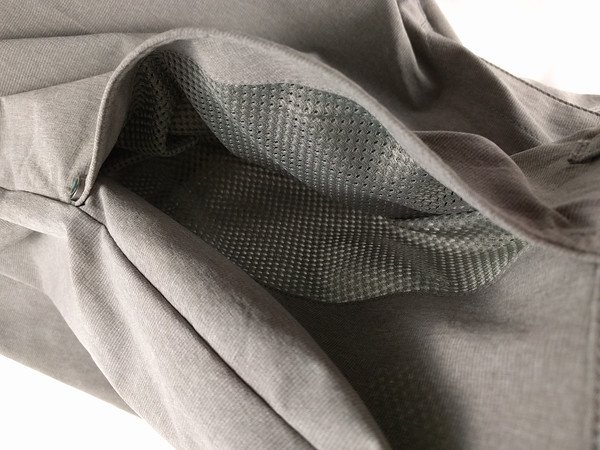 Matching up these polos with the Blakey shorts provides not just a complete look, but one that is very comfortable to play 36 holes of golf. The comfort of these shorts easily rivals other offerings on the market. In terms of overall fit, the waist size seemed a touch more generous than what could be expected from the labeled fit. Other characteristics of the Blakey shorts that stand out are the pockets, which employ a mesh lining, keeping with the light-weight and breathable design. For the player who tends to carry multiple items, such as tees, ball markers, divot tools, etc. in the back pocket, this next design feature should be well received. The right side rear pocket contains two pocket sections. One of those pockets zippers shut, keeping its contents safe from falling out. This dual-pocket design was tested by using a scorecard holder in the one pocket, while keeping tees and a divot tool in the other, and it successfully kept any of those artifacts from falling out or getting caught when pulling out the scorecard holder.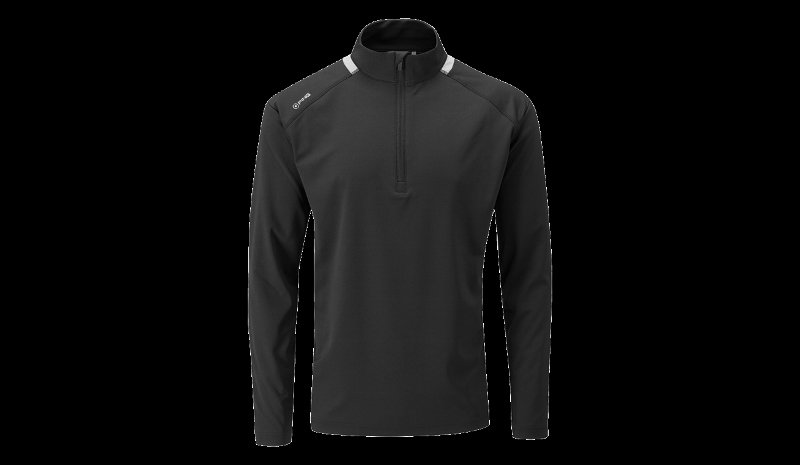 Largo ½ Zip Pullover
1/2 Zip Pullover

Mechanical Stretch

100% Polyester

S-XXL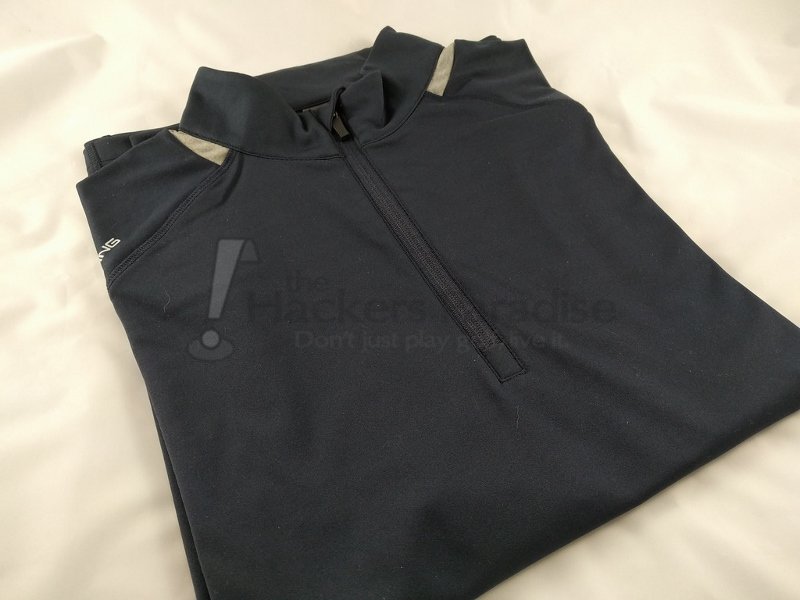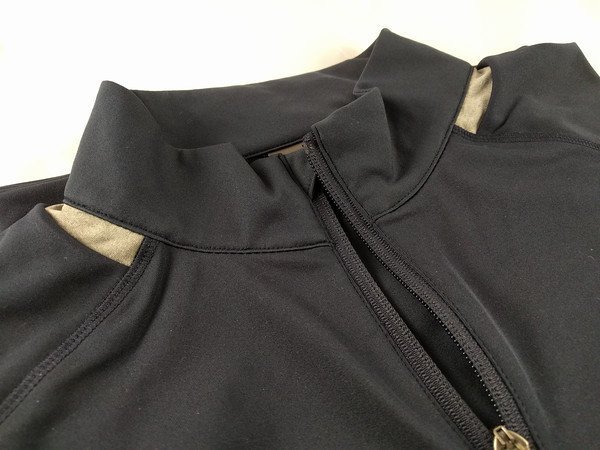 When playing in climates that produce some cooler conditions, having a solid long sleeve option to play in is an absolute must. The Largo Pullover has shown to be a fantastic layer option for those days. However, it's not just a pullover that can be worn in those cooler conditions thanks to the incorporation of some of PING's Sensor Cool Technology. The material is heavy enough to keep warm, but light enough, with a good amount of stretch, that will not hinder a player throughout the swing. As part of their apparel lineup, PING does offer other layer options as part of both the Sensor Warm and Sensor Dry lineup. The Largo Pullover is available in five different colors, making it easy to match with just about any golf apparel combination one wants to put together.
Overall Impressions
Ping's apparel lineup for 2016 is one that should not be overlooked. The Sensor Cool Technology that has been put into this apparel lineup has made for a very comfortable and dry outcome on the course. In terms of fit, each polo that was received consisted of a tailored fit, which really slimmed in just under the arms, providing a tidy looking appearance. Having experienced different Euro Cut polos in the past, going up a size was a necessity, however in the PING line even with the tailored fit, staying at a normal size fit just fine. Thankfully PING did send some samples in both large and extra large, with the large fitting the best. The XL was not baggy by any means, but there was more room in the mid section, which should be expected.
Thanks to their stylish designs, wonderful fit, and Sensor Cool Technology, Ping's current lineup should impress on many different levels. With the different types of fabrics and materials being utilized here, it's safe to say that Ping has made a strong return to the premium clothing market. More information, including different color options, please visit their website at www.ping.com.