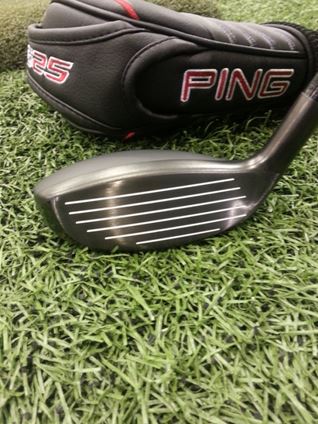 Hybrids are those clubs that we don't necessarily need in our bags the way we need our putters, drivers and irons, but life sure gets a lot easier with a good hybrid you can trust.  Hybrids vary in their shape and design more than just about any other clubs on the market.  Some manufacturers prefer to put out hybrids that resemble small fairway woods while others produce hybrids that are more iron-like in their design.  Then you've got PING who seems to cover all the bases with their different hybrid offerings.  THP was sent PING's latest hybrid offering, the G25 – let's check it out.
With PING you've got vastly different hybrids from one line to the next.  The G20 and I20 were both solid hybrids in their own rights, yet to me they had more of a driving iron look and feel to them.  Personally I tend to struggle with those types of hybrids.  The G25 came in for review and I was quite happy to see that PING went in a slightly different direction with the shape and overall makeup of their newest hybrid offering. 
G25 Looks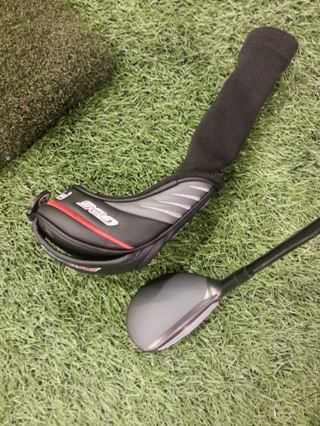 The G25 has the now popular PING matte black finish that they recently started doing with some driver offerings and I happen to love it.  We're in an era where more color and more gloss seems to be the norm for a lot of clubs, but PING bucks the trend and comes at consumers with a stealth looking matte black finish that just screams mean.  The gloss is there if you want it, but in the sole of the club, combining with the matte black to complete a gorgeous looking hybrid.
The G25 has softer edges and a shallower face to give more of a mini fairway wood feel to it than previous PING hybrid offerings.  I like this a lot and I suspect many golfers will tend to agree with me.  The look and shape of the G25 immediately provided me that confidence I need at address.  It just feels right setting up behind the golf ball and you know a good shot is coming.
Technical Info from PING
Progressive CG Locations
Ball flight is custom-engineered through progressive CG locations.  In the lower-lofted hybrids, weight is low and back to increase the launch angle and spin rate.  In the mid and higher lofts, the CG moves forward to minimize spin and keep the ball from ballooning.
Forgiving Face
The low toe and heel sections are squared off to create a generous hitting surface and ensure consistent performance, especially on shots struck low on the face, the most common "miss-hit."
Traditional Shape
The classic, confidence-inspiring profile has a dark, non-glare finish that eliminates distractions.
Testing the G25
Upon arrival, the G25 immediately went into the bag.  Initially it was still winter time here in the upper Midwest, so my first testing came at the indoor facility on aboutGolf simulators.  This provided me with a great opportunity to test the distance.  The model I used for review came in 20 degrees of loft, which just happens to be the perfect loft to fill a yardage gap at the top of my bag.  A hybrid is unique in the fact that you want them to go far, but not too far.  I have a pretty specific gap to fill by the hybrid that goes into my bag.  I'm looking for my hybrid to cover yardages from 215 yards to around 230 yards – nothing more and usually nothing less.  In the simulator on day 1 of testing I hit several shots that ranged from 217 to 227 yards.  So far, I was quite happy and super excited to get it outside for real life testing.
Finally getting outside I knew a couple things about the G25. I knew it was super easy to hit off a perfect lie and I knew that it fit perfectly into my yardage gap between my 4 iron and my 3 wood (off perfect lies mind you).  A few things I was looking to answer outside were how it performed from various lie conditions, how it performed with some wind factored in and lastly how that straight/tight shot dispersion I found inside carried over.  The first couple rounds outdoors came at the THP Texas Invitational in Dallas, TX.  I used the G25 from the tee, from the fairway, from the rough and even from a bunker once (the bunker shot did not go good but we'll throw that shot out).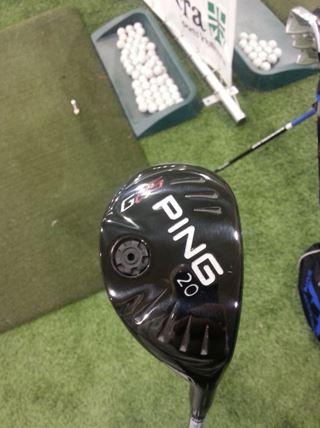 As expected, the most distance and best performance came from the tee box with the ball teed up.  Tee shots were easy to hit and shots went high, far and straight.  Shots from the fairway and light rough were much like what I experienced in the simulator – very easy to get the ball airborne and I had a nice tight shot dispersion.  Right at first I noticed myself subconsciously holding back just a bit to ensure that I'd hit the ball straight. The more I saw good shots, I started swinging more confidently and aggressive and what I found was the ease of hitting good shots remained intact.  I liked that regardless of the shot I attempted to hit the G25 was more than up to the task.  I didn't push the limits of the distance. I knew that 225 yards was my range and putting a good smooth swing would put me right there.  Another area that I used the G25 a lot of were for low trajectory punch shots into the wind, which seemed to be blowing pretty hard each time I've played so far this year.  The G25 performs these shots quite well with some predictable results and no ballooning shots at all.
All testing came with the stock PING TCF 189H shaft in stiff flex.  This shaft weighs in at 77g and is said to offer a mid launch angle.  As with most of the stock shaft offerings from PING lately, this shaft more than lives up to the billing.  I think this is a great pairing for this club. It delivers on that mid launch promise if not even bordering on more of a mid-high trajectory shot.  I love the ball flight I get from the G25. I was able to get the ball high, which resulted in a nice soft landing on shots into the green.  On shots off the tee however I was able to manipulate my ball flight to bring it down, which resulted in some nice rollout for some overall great distances. 
Conclusion
I'm not alone in the fact that I count on my hybrids to perform a wide variety of shots during any given round of golf.  There should be no end to the versatility of a good hybrid and that certainly seems to be the case with the G25.  I know a lot people liked the G20 and I20 lines, but I personally was thrilled to see PING go in more of a softer-edged, shallower-faced mini fairway wood looking hybrid with the G25.  It fit into my bag seamlessly as far as the yardages that I needed out of it and it definitely looks like it'll be staying put for quite a while.  Every time someone else got a hold of this club for the first time their reaction was similar in respect to their fondness for the look. It's simply a gorgeous looking golf club – simple as that.
The part of the G25 that I'm most impressed with is the consistency.  I was absolutely serious when I said earlier that my entire first testing experience with the club resulted in upwards of 20 balls all of which fell between a distance gap of about 10 yards.  I would be happy with that kind of consistency out of an 8 iron, let alone a hybrid.  The consistency is what stands out, but don't overlook the performance of this club either. It is a flat-out performer and will certainly make a lot of people very happy with it in their bag.  The G25 hybrid is available now and comes in lofts of 17, 20, 23, 27 and 31 degrees.  The retail price if the G25 is $199.