PING's popular G series continues with the release of 2013's G25 irons. The most forgiving and longest of PING's iron offerings, the G series has often been accused of lacking visual appeal. The G25 line appears to be starting a new era by offering the same benefits that many love in a better looking package. I've been reviewing these irons over the last month and will be sharing my thoughts in this review.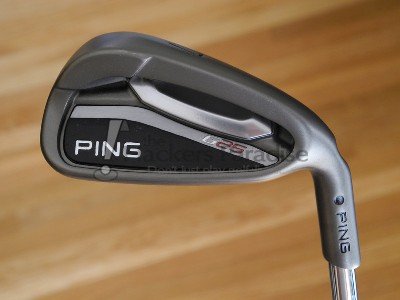 Product Features from PING
Solid. Precise. Long
Experience better accuracy, distance, feel, and control.
The G25s offer game-improvement technology — high trajectory, distance, and extreme forgiveness — in a sleeker head that inspires confidence. A custom-engineered face structure ensures a solid feel and distance with control. Progressive sole widths help optimize CG placement for accurate distance gapping. In appearance and performance, these 17-4 stainless steel designs will appeal to golfers of all abilities.
Available 3 iron-LW in both right hand and left hand versions.
Available with three stock shaft options.

Steel CFS (109g in stiff)
Graphite TFC 18I (86g in stiff)
Graphite TFC 80I (70g is soft regular)
Two stock grip options.
Constructed of 17-4 Stainless Steel
U.S. MSRP: $97.50 per club w/steel shaft; $125 per club w/graphite shaft.
Aesthetics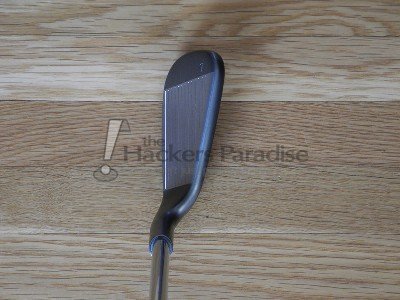 The introduction of the G25 irons marks an advancement in PING's presentation of their 'extreme forgiveness' line. They are marketing the G25's as all-ability irons that should appeal to a wide variety of players.
A key reason that the G25's are able to creep into that all-ability category is through changes to the line's aesthetics. While previous G series irons were among the widest soled, clunkiest looking, and most offset irons on the market, the G25's feature a thinner top line, progressive sole widths, and less offset than their predecessors. These new features, in addition to a smoky black finish, make the G25's stand out as irons that provide the benefits of game improvement without an extreme appearance.
As highlighted in the video above, PING is particularly proud of the progressive sole widths that the G25's offer. As the iron number gets higher, the sole widths decrease, which is intended to improve versatility in the scoring irons. At the same time, the wider soles on the longer irons are designed to make them more forgiving and easier to elevate.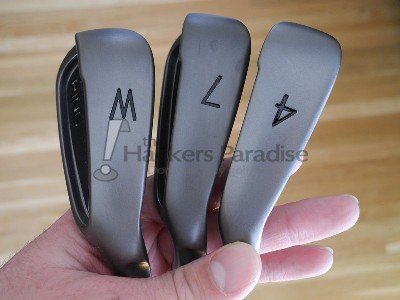 As far as looks go, the total package that the G25's offer far surpasses the last two sets of G series irons. While they still bear the classic signs of game improvement irons (offset, larger blade, wider sole), everything is toned down just enough to give the perception that they are sleeker and more visually inviting.
The G25's offer what I'd characterize as a softer sound at impact, though they do possess a small, distinctive crack. The elastomer insert in the cavity does appear to mute the sound/feel a bit, but center strikes were still very pleasing. I felt like off-center shots were masked by the insert, though I was still able to discern where I'd missed most of the time. Aside from the thinnest of shots, there was never any harshness transferred to my hands, even in cooler spring temperatures.
Performance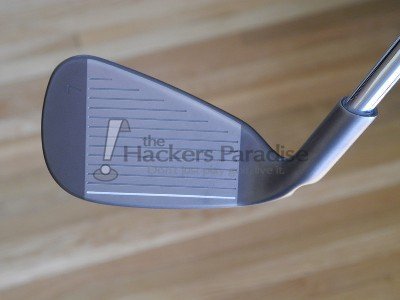 The G25 irons were tested in the standard Black Dot version with stiff flex CFS shafts. Testing was performed both on the golf course and using a Vector X launch monitor. I'm a mid-handicap golfer with a 7 iron swing speed in the mid to high 80's. I typically impart lower spin rates with my irons.
The following numbers were taken with the G25 7 iron using a Pro V1 golf ball. This is a six shot average from the Vector X at the very end of the review process and gives a consistent representation of what I saw with shots that were well struck.
| | |
| --- | --- |
| Ball Speed | 119 mph |
| Launch Angle | 20.0° |
| Descent Angle | 46.8° |
| Back Spin | 5,425 rpm |
| Side Spin | 299 rpm (left) |
| Horizontal Launch | 1.4° (left) |
| Offline | 11 yards (left) |
| Carry Distance | 173 yards |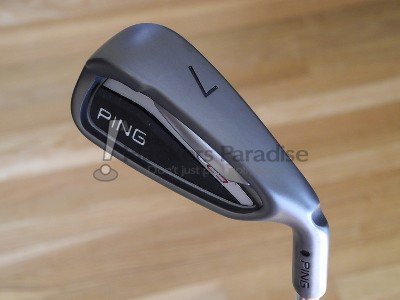 Distance, Gapping, and Distance Control
As evidenced above, the G25's did offer robust distance throughout the set. While they were not the longest irons I've tested this year, they generally stayed within a 5 yard window of, which is more than acceptable. Slightly higher launch angles and spin rates were the primary cause of the variance in distance rather than ball speeds. The benefit there was a ball that flew higher, fell at a steeper angle and stopped faster. Results on the course backed up the data I took from the launch monitor.
PING claims the G25's heel and toe support bars enhance their ability to maintain consistent gaps between irons and provide distance control. I did feel that this was an area where the G25's excelled. The transition between the mid irons and the scoring irons was particularly good when it came to consistent distance and gapping. I found this to be very useful on the golf course.
The G25's larger cavity, wide sole, and perimeter weighting all combine to deliver very good forgiveness on off-center contact. I did feel that they fell a bit behind one of their competitors by a small margin, especially low on the face and on the toe, but forgiveness was still more than acceptable for an iron in the game improvement category. Ball speed losses were moderate when missing the sweet spot. In addition, I did experience some twisting of the head  on off-center impact, which affected directional ball flight, but nothing abnormal for an iron in the same class.
PING claims that the G25's Center of Gravity (CG) was placed even lower in the iron through changes to weight distribution and a redesigned Custom Tuning Port (CTP). The effect of this enhancement is a higher launching ball, which is one of the big selling points with an iron of its type.
I found the G25's to launch higher and spin more than a comparable2013 iron I tested, which had the effect of a moderately higher ball flight. As a golfer than can struggle with low trajectory, I found this very useful while on the golf course. The longer irons were especially easy for me to elevate, which made it easier to control distance and hold greens.
At the same time, I was sufficiently able to manipulate ball flight and keep it lower when desired. That's a feature I found very useful in the windy Midwest spring.
The G25's were neither more accurate nor less accurate for me when compared to similar irons. As a mid-handicapper, I wouldn't characterize myself as an exceptionally accurate player, but I do have my moments. During on-course testing I hit a comparable to slightly higher number of greens in regulation with the G25's in the bag. I did notice a consistent shot shape (right to left) with the G25's that I was able to count on when taking aim, which was to my benefit.
This is certainly an iron set that golfers of almost any ability should find easy to hit, especially if they are able to get a proper fitting. I found the long irons particularly friendly to my swing, which I attribute to the weighting of the head and the design of the sole. It did take me a couple weeks to become absolutely comfortable with the G25's, but once I did, I felt very confident with them in my hands.
A long held belief among many golfers is that game improvement irons like the G25's lack versatility compared to smaller irons. While that may be true to a degree, I still found them useful in many different circumstances on the golf course.
As I mentioned earlier, I was able to successfully choke down and lower my ball flight when playing into head winds. In addition, I got the results I desired when I encountered situations that required a low running punch shot. Lastly, the scoring irons performed well from a variety of lies,  distances and different length swings.
I lack the desire and skill to consistently work the ball around the golf course, so I can't speak to the G25's performance in that regard.
Final Thoughts
When it came to performance the G25's delivered on many promises. They offered a well-balanced combination of distance, forgiveness, consistency, and playability. What set them apart from the pack in my eyes was the package in which they were delivered. While they will never be mistaken for a player's iron, the G25's have a profile that offers a little more compactness than some competitors. The offset remains substantial, but the top line and finish do impart a sleek look that many will appreciate. Those players looking for higher ball flight, ample forgiveness, and above average distance in a smaller appearing iron would definitely benefit from taking a look at them. At $699 for a stock 4-UW set, they are also priced competitively. For more information, you can head to PING's website www.ping.com.