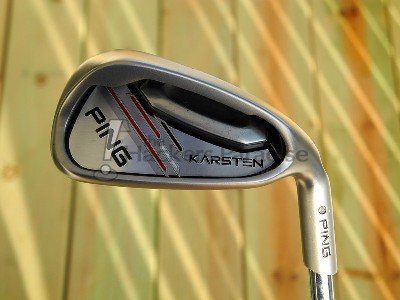 Utilizing the name of their beloved founder, PING recently released their latest offering in the maximum game improvement category – the Karsten Hybrid Iron set. Best described as a combo set of both irons and hybrids, Karsten is synonymous with ultimate playability and forgiveness.
Karsten
In the 17-4 stainless steel irons, longer distance comes from precision-engineered loft and club length progressions scientifically paired with wide, forgiving sole designs that yield a deep Center of Gravity. The sole geometry positions the CG low and back for higher maximum height while helping the sole glide through the turf for increased forgiveness. The Custom Tuning Port integrates with the sole, which reinforces the thinner face to increase ball velocity for greater distance and maximum height. Made of soft elastomer, the CTP produces a solid feel, an attribute that is often sacrificed in thin-faced irons.
The hybrids have a deeper head profile and a wide sole to blend seamlessly with the irons for proper distance gapping and trajectories. The hybrids' CG locations are progressive – farther back in the lower-lofted heads to promote higher launch; they are lower and more forward in the higher-lofted options to reduce spin. Extreme internal heel-and-toe weighting raises the MOI, so you don't always have to hit it perfectly to get maximum performance.
Specifications
Available Clubs
3h, 4h, 5h – lofts ranging from 19° to 25.5°
5-PW, UW (50°), SW (55°)
All clubs available RH/LH
$106.25/club steel
$125/club graphite
Shaft Options

PING KS 401 Graphite
Soft Regular (61g), Regular(64g), Stiff(76g)
Mid to high launch, depending on flex chosen.

PING CFS Distance Steel
Soft Regular(95g), Regular(100g), Stiff(110g), Extra Stiff(115g)
Low to mid-high launch, depending on flex chosen.
Key Technology
Wide Sole Geometry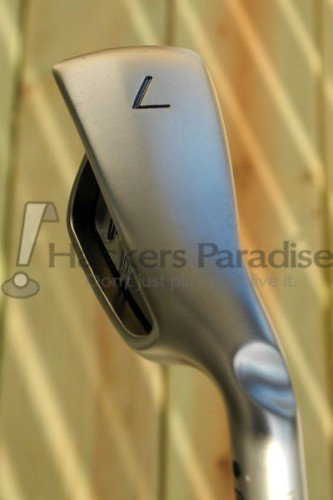 Probably the Karsten irons' most notable physical attribute, the extremely wide sole serves a number of purposes that could help make them both longer and more forgiving for certain players.
Many view wide soles as a way to lessen the negative impact from heavy shots, which is something they do well, but at its core a wide sole has one standout benefit. It allows extra weight to be positioned at the lowest possible spot on the club head, which in turn produces higher launch angles. Depending on the individual, increased launch angles can certainly provide more distance. Those players suffering from lower than desired ball height could find exactly the help they need in a set of irons like this.
As noted, sole width does promote forgiveness for certain types of players as well. Rather than dig so much on heavy contact, a wide sole will function much like a sand wedge in the bunker in that it helps glide the club through the ground a bit easier. Players that want maximum control over what their club does when impacting the ground may not like this as much, because a wider sole tends to dictate the ground/club interaction a bit more than a narrow one. Conditions also play a part in how well a sole works for the individual, with the wider varieties performing better in softer conditions rather than hardpan.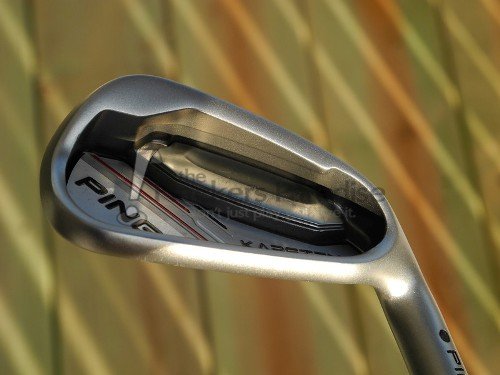 Worth noting is the beveling that PING incorporated into the trailing edge of the sole, visible in the picture at the beginning of this section. This allows the iron to incorporate the benefits of the added weighting, while leaving some of the material in a position that it may not impact turf interaction quite as profoundly.
Lastly, a wide sole goes hand-in-hand with the very large cavity the Karsten's possess. As many are already familiar with, this cavity design moves weight to the perimeter of the club, which enhances performance on off-center shots.
Custom Tuning Port (CTP)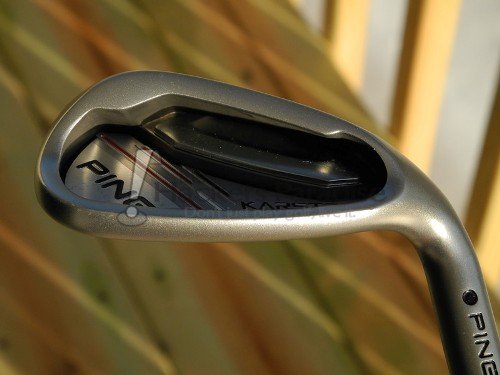 PING's Custom Tuning Port is a stalwart of their club design philosophy, and in the Karsten irons it serves a couple purposes. First, it adds some stability to the club face, which is very thin. Thin faces are a great thing for producing distance, but can introduce some inconsistencies, so stabilizing this area with the CTP allows the Karsten irons to maintain reliable gapping from club to club.
In addition, the CTP contributes greatly to the feel/sound the iron produces at impact. The Karsten irons had a shockingly 'soft' feel at impact, which was certainly due in part to this technology PING offers.
Hybrids – Progressive CG Location and Perimeter Weighting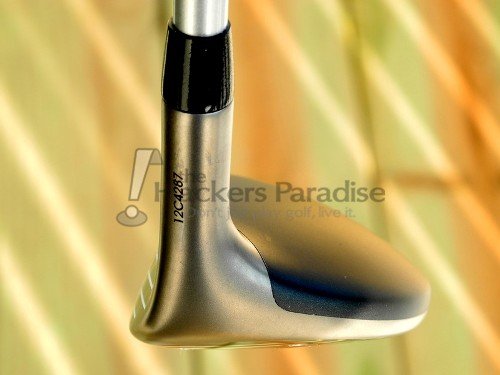 Each hybrid in the Karsten set was designed to perform a bit differently, in the hopes that they'd provide maximum benefit for all players.
Though they all feature a wide, mostly flat sole, the longer hybrids have weight situated farther back in the head to promote higher launch angles. Conversely, the higher lofted hybrids have the weight slightly more forward, which should help players control the trajectory a little better through lower spin rates.
All three hybrids in the set feature heel and toe weighting to encourage maximum performance on lateral misses across the face.
Aesthetics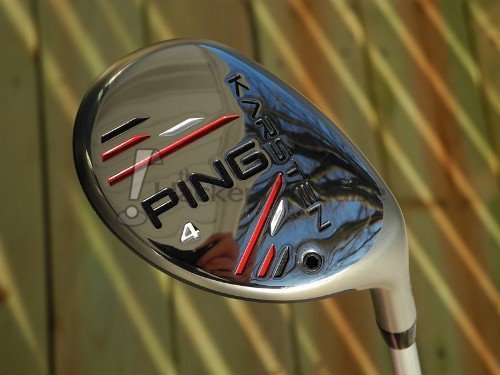 This is a set of irons that will invoke strong feelings for some, with their remarkably wide sole, prominent offset, and large blade size. At the same time, PING left the finishing touches fairly void of flash, so they do offer a sense of sophistication that will be attractive to a wide group of consumers. The deeply undercut cavity has a few small stripes of red, white, and black, but it still gives off a fairly minimalist look since much of the surface area is devoted to the silver background.
Though the cavity and sole are remarkably large, at address the Karsten irons do hide both from view quite well. The longer irons show a hint of what lies beneath, but it is all but forgotten when holding the 7 iron in hand.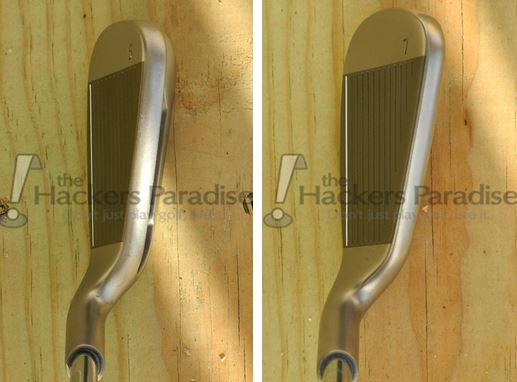 Even with the perceived added size, when held side-by-side at address with the G25's it is apparent that the Karsten irons aren't all that much larger. The top line is a bit thicker and the blade length somewhat longer, but both irons bear resemblance to one another in ways, and the difference in offset between the two sets is barely perceptible to the eye.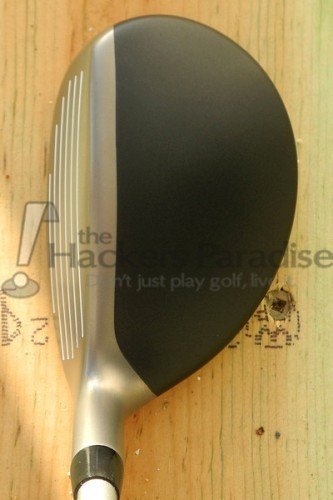 The set's hybrids share the same no-flash look, though the shiny chrome finish on their bottom side does spruce them up a bit. With a deep, flat sole, the hybrids are on the larger side compared to 'iron-like' hybrids, but are very much in line with similarly positioned clubs on the market. The matte black crown and satin face that creeps over the top edge gives a nice alignment visual, even in the absence of a true alignment aid.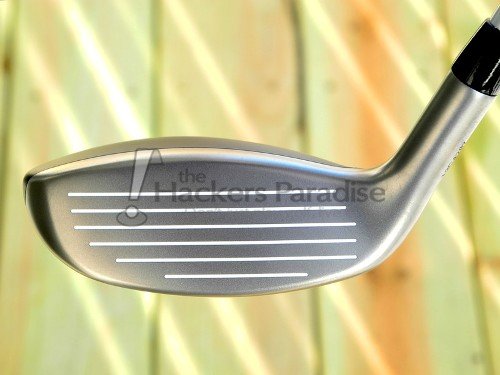 While the sole leads one to believe these hybrids offer almost no camber at all, a face-on look shows that isn't the case. With a low-profile, the Karsten hybrids look like they should be very easy to hit off the turf.
Performance
The Karsten Iron/Hybrid set was tested with the stock CFS Distance shafts in stiff flex, in a 3-4 hybrid/5-SW configuration. Testing took place both indoors on a Vector X launch monitor and outdoors on the golf course.
Ball Flight and Trajectory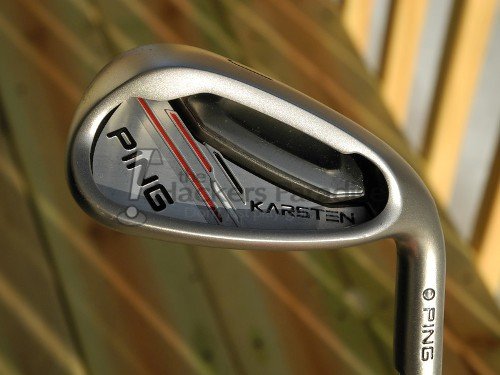 Launch monitor testing showed the Karsten irons' wide sole wasn't just put there for looks, as they truly do launch the ball very high. Tested with other game improvement irons, launch angles averaged at least 2° higher with the Karstens (club for club), and at times higher. Coupled with moderate to lower spin rates (similar to many thin-faced irons on the market), the trajectory observed was high and penetrating. Those players seeking more ball height should find exactly what they are looking for in this set.
Often the assumption is that a set like the Karsten irons only produces 'straight' shots, however the reviewer's typical drawing shot shape was still present and consistent with reasonable swings. A setup change even allowed for the slightest of fades, though obviously this is a set that is not made for those players seeking to substantially turn the ball one way or the other.
The hybrids, while very playable and easy to hit, didn't appear to offer as high a trajectory as the irons did. While the experience with the irons could be labeled 'effortless height', the hybrids lagged slightly behind. This comment shouldn't be taken in the extreme sense, as they produced a suitable trajectory for any club with a 3 or 4 on the bottom, but the irons were clearly the higher launchers of the two club types in the set.
Distance and Forgiveness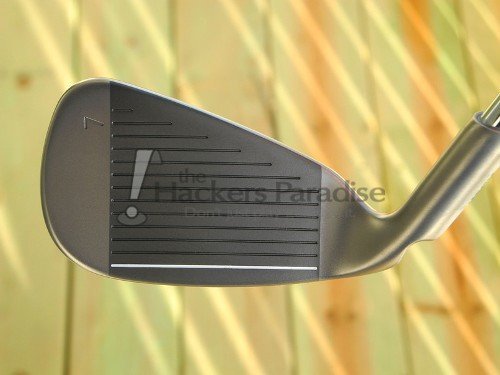 Distance is undoubtedly a product of fitting, and PING is a leader in both fitting technology and making it accessible to a wide group of players. For the reviewer, who benefitted from higher ball flight, the Karsten irons delivered consistent distance that was slightly above average. While ball speeds weren't exceptionally high in comparison to other irons in the class, the combination of high-end ball speeds, high launch, and moderate spin rates produced impressive carry distances. Certain players will find similar results, but others may find less benefit in the increased ball height in the way of less distance. As THP always recommends, fitting holds the final answer to this often asked question.
It goes without saying that forgiveness was a very strong attribute the Karstens possessed, with minimal loss of distance on slight misses both across and low on the face. As misses crept further from the center, ball speeds did suffer, as did directional control, but at an impressively low rate. This truly is a set made for the player that struggles with consistent center contact. Impressively, misses were very muted feeling in the hands, even in very cold temperatures, though it was still possible to ascertain where the ball impacted the club face.
The hybrids were better at gapping with the irons than they were for raw distance, which suits their role in the set quite well. Directionally, they performed admirably on toed misses, though distance loss was an issue. Low face impacts seemed to lose both trajectory and carry distance more rapidly than lateral misses, though on dry fairways they'd likely travel just as far as most decently struck shots, since ball speeds were only marginally impacted.
Versatility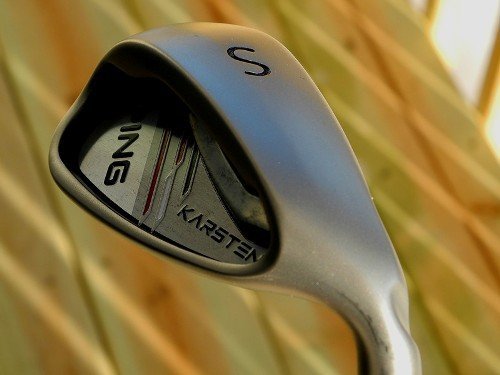 While flighting the ball lower with the Karsten irons was a possibility, the set doesn't excel in this category. However, the wide soles and generous offset are indicators that those seeking maximum versatility may want to look elsewhere anyway. The UW and SW will be especially attractive to the player that likes to take full and ¾ wedge swings, with performance degrading a bit for specialty shots, including those taken with shorter swings, shots that needed to fly low, and anything with an open face. Again though, this is a set that is designed for simple playability, so its strengths are best taken advantage of by those that need them.
Final Thoughts
While the Karsten Hybrid Iron set will appeal mostly to a certain segment of player looking for maximum height, forgiveness, and distance, they were unexpectedly attractive to the reviewer and a good reminder that sleek looks aren't everything when it comes to golf clubs. With a massive amount of technology built to help make the game easier, they will undoubtedly be appreciated by the people that take the time to demo them. For more information, head to PING's website at www.ping.com.