Precision Pro has been on a tear lately offering up a string of releases aimed at providing golfers not just options when it comes laser and GPS rangefinders, but more affordable options that are not short on features. Last year, THP was able to spend time with the company's first foray into laser rangefinders, the Nexus (Here: https://www.thehackersparadise.com/precision-pro-nexus-laser-rangefinder-review/), which earned high marks for accuracy and overall performance at an attractive price point. In 2017, Precision Pro is now offering the NX7 Pro, which offers a bevy of features including slope and vibration. THP recently got the Pro model in-hand for full review, and at $249.95, it proved to be quite the interesting device.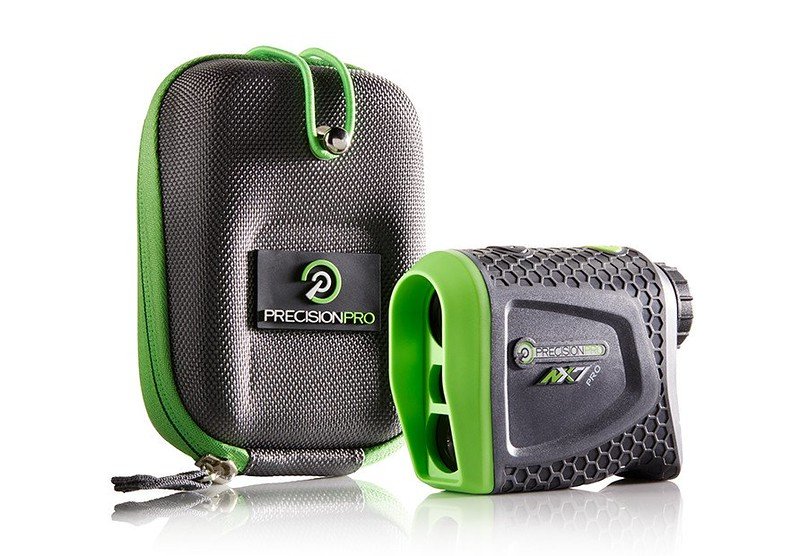 NX7 PRO Features:
Adaptive Slope Technology– allows you to toggle between elevation measuring Slope and tournament legal Non-Slope modes. Provides (play as) distances in Slope mode. 
Pulse Vibration Technology– gives a quick Pulse when locked on to the target so you know what you've hit.
Accuracy +/- 1 Yard– gives you the confidence to choose the correct club each time.
(TAG) Target Acquisition Technology– scans your field of view and locks in on the target to ensure you get the yardage to the target, not what's behind the target.
400 Yard Measuring Range– ensures you'll never be out of range of the target.
1/10 Yard Measurements– an added layer of accuracy to give you the confidence that your distance is correct. 
High Speed SD Laser– picks up distance readings in under 1 second.
Water Resistant Design– ensures the NX7 Pro can be used in wet and rainy conditions without issue.
Shock Proof Design- helps to survive the drops, tosses, any other impact on the golf course.
6X Magnification– brings the target 6 times closer to you for improved viewing and target acquisition.
Multi Distance Mode– easily switch between yards and meters depending on your unit of measure. 
Tournament Legal- you should always check with the rules committee, but the NX7 Pro Rangefinder is legal for tournaments that allow distance measuring devices when Adaptive Slope Mode is turned off.
2 Year Warranty- if anything happens to the NX7 Pro Rangefinder during the normal course of use we will quickly replace or repair the product for you.
Free Battery Replacements- provides free battery replacement for the life of your product.
Ergonomics and Design:
Given the more affordable price of the NX7 Pro, some might naturally have concerns about the overall build and design of the unit, and we definitely felt that way entering the review. After getting it in hand though, Precision Pro has put together a design that is not overly compact but at the same time offers up nothing overly-cumbersome. The rangefinder is comfortable and it sits well in either hand regardless of the user's dexterity.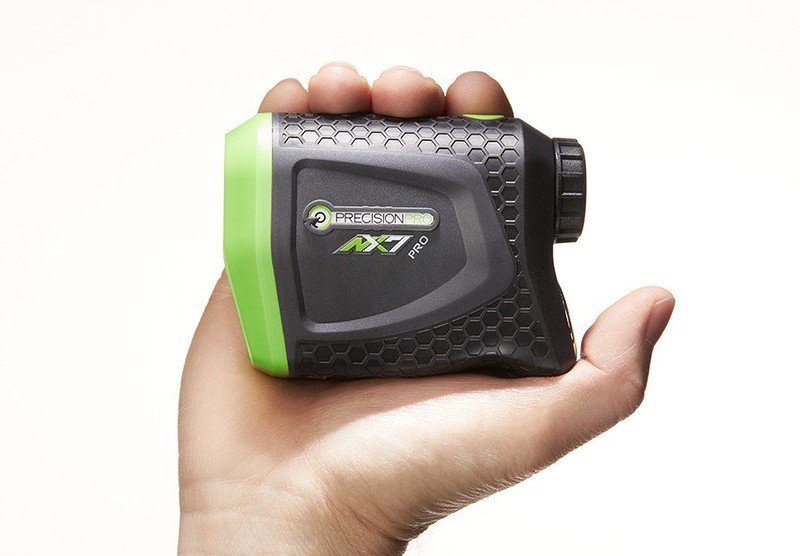 The color palette makes it stand out with the lime green accents, but it avoids the pitfall of too much flash making it look cheap or like they are trying too hard. The carrying case is top notch, in fact, it is identical to one used by another leading brand, just with Precision Pro's lime accents and branding. For the rest of the unit, the eyepiece does offer adjustable focus as well as black text which doesn't necessarily "pop" like red does, but it is well organized and easy to read and that is what matters most. Another nice feature is an actual mode button to jump back and forth, it just makes life easier when needing to make a change to mode or measurement metric, something perhaps overlooked at times in the design of other units.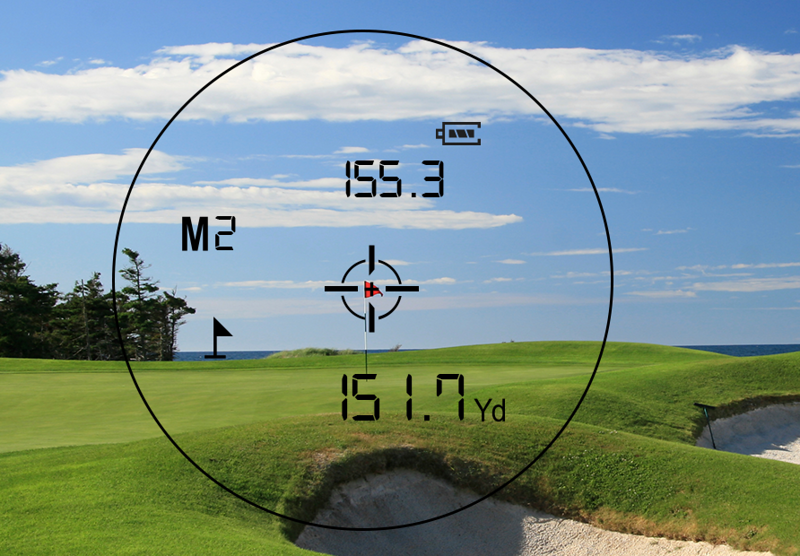 We would be remiss though to bring up the fact that there is no removable faceplate that can indicate if slope is activated on the unit or not. While in the past, this would have brought into question the legality of such a unit, thanks to USGA Appendix IV-5; if devices are permitted for play by local rules and the unit has the ability to turn off features like slope (which the NX7 Pro does with its two modes) then it is legal for play.
Performance:
The NX7 Pro was tested against three other popular rangefinders (two different manufacturers, two with slope, one not) and throughout the review period there was a consistent 1-2 yard variance between them all in both slope and non-slope modes. Seeing as Precision Pro claims +/- 1 yard of accuracy, the feedback seen in the review is definitely positive. The NX7 Pro is as consistent and reliable as any other unit we have put into play. Something else to note, the NX7 Pro does not round the distances up or down like some others, so if you are the type of golfer who wants information down to the tenth of the yard, this will provide that for you.
The lens on the device is 6x where most other units on the market are still using 5x, and though this will be a personal preference, there was definitely a noticeable jump in clarity from long range while not causing any issues at close range. More than that, the NX7 Pro locked on easily and the TAG (Target Acquisition Technology) worked as advertised with vibration feedback. Some might also have concerns about how easily the unit locks on to a flag when there are trees or other things in the immediate area/background, but that honestly was not an issue at all during testing.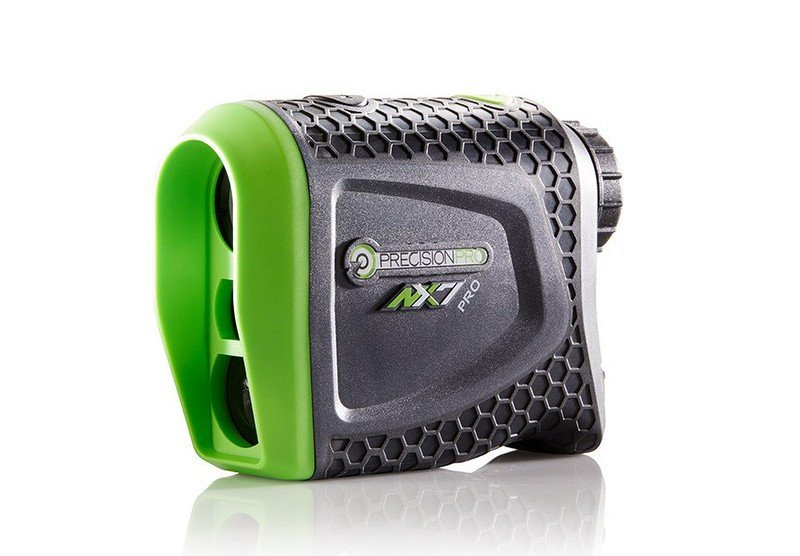 From a measurement and ease of use standpoint, the NX7 Pro is a very good little unit, especially for the price. With that said, the speed of the Precision Pro is not on par with the major brands it was tested against. The company claims readings in less than a second and while that was the case throughout most of the testing, if one has used other rangefinders in the past then they will notice a definite delay comparatively. If there is any shortcoming to adding the vibration feature to this release, then this may be that area since you are getting a tactile feedback after waiting on the unit to lock on and read the distance instead of just a visual notification, it tends to make the timeframe much more exaggerated. However, with all of that said, it is the opinion of this reviewer that it really should not be seen as any sort of deal killer because at this price point most who dive in will likely be golfers who have no experience with rangefinders thanks to past price deterrence. On top of that, regardless of the speed of the device, it works as advertised, and in the end that is what matters most.
Parting Thoughts:
Precision Pro is aggressively attacking both the GPS and Laser Rangefinder segment which is a good thing as more options, especially more affordable ones, are a win for the golf consumers out there. While the NX7 Pro may not be the fastest unit, all that it offers will more than make up for it to most. By creating a $249.95 option which offers vibration and slope technology the attraction and intrigue will most certainly be there. Additionally, outside-the-box ideas like free battery replacements where you notify the company when the battery gets low and they will mail a replacement, is a fun touch that shows some initiative to give the people something different.
More information about the NX7 Pro and everything else Precision Pro offers can be found on their website at www.PrecisionProGolf.com.   You can also find the NX7 at Budget Golf, and you can use the coupon code on the right side of the screen for even bigger savings.