While most emphasis for foot comfort on the golf course is put on the shoes, and rightfully so, that is not to say what is under the shoes is unimportant. Socks have become a legitimate piece of performance apparel with many different materials and design options. With a heavy emphasis on the importance of proper compression for added stability, support, and recovery, PRO Compression is looking to show that their broad range socks can work for golfers too.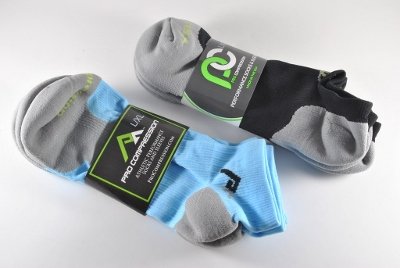 THP was able to spend time with PRO Compressions two lines of lower cut compression socks, the "No-Show" and the "Trainer Low" to find out just what they are bringing to the table.
About PRO Compression:
It's one of those things that you don't really think about, unless you're a sock buff.
Sock buffs think about it a lot. They think about the impact a sock can have on a person's well-being. They think about the difference a well-designed sock can have on how you feel at the end of the day, after you've planted your foot 10,000 times.
That's the average amount of steps a person takes in a day. And let's be honest, the PRO Compression customer is nowhere near average.
So when you think about a number like that, you start to realize what PRO Compression founders Eric Smith and Jeff Pennington realized as they set out to create a better sock. They discovered that when you combine quality materials with a thoughtful construction, you can do all kinds of wonderful things, like improve circulation, reduce fatigue and discomfort, and shorten recovery time.
And most importantly, make people feel better. 
Now, after thousands of thank you emails and millions of miles conquered by PRO Compression customers, Eric and Jeff know they got it right.
Trainer Low:
"Popular with golfers, tennis players, walkers, runners and everyone at our headquarters, the Trainer Low is the ideal under-ankle compression sock to support your daily life. The lightweight, moisture-wicking materials and built-in "Stabilizer Zone" combine to provide incredible comfort, and the advanced design eliminates slipping on your foot and inside your shoes."
The Trainer Low model is a lower cut sock, but still a height which sits right at the ankle of the wearer. PRO-Compressions nylon and poly material blend is in use here and the compression zones through the foot make the socks feel like they are wrapping the foot and not just a simple cover. Even sitting at the ankle, there was no sign of the material breaking down or slipping.  Additionally, the added height here compared to the No-Show did an exceptional job of covering all potential rubbing areas from golf shoes (heel and tongue). The Trainer Low socks are also available in 13 different color combinations for maximum style versatility.
No-Show:
"Enjoy the same comfort and feel as our Trainer Low socks, in a No Show style. If you're looking for amazing comfort and a lower tan line, this sock is for you!
Lightweight, moisture-wicking materials and built-in "Stabilizer Zone" combine to provide incredible comfort, while the advanced design eliminates slipping on your foot and inside your shoes. Each item includes two pairs of socks."
The name here properly describes what you are getting with the No-Show, this is your standard below the ankle cut sock but with PRO Compression's stabilizer zone built in. A multi-material nylon and poly design, the No-Show's definitely wrap the foot well through the arch and into the heel zone. One concern with a sock of this style is always how well they stay up, the material used here prevented them from slipping for this reviewer and even after multiple wears and washes there was no sign of them breaking down. The No-Show's are currently available in both black and white versions.
Overall Performance Thoughts:
Compression socks are not a new technology, in fact, people with careers that require them to be on their feet the majority of time have utilized them for decades. The idea of taking that concept and refining it into utilization for people who lead active extracurricular lives however, is something just recently getting the attention it deserves. Compression technology allows for an increase of bloodfow to the worn area through added pressure to specific points of the wearers anatomy, that increased bloodflow we know aids the recovery process. When applied to something like golf, where the wearer is going to take thousands of steps while also constantly planting, twisting, and transferring their weight, the benefits of compression socks are very real.
 For this reviewer the socks sent in for review were worn daily, both while on his feet teaching throughout the day, as well as on the golf course while coaching. While there are definitely other sock companies offering similar design traits, the way that the PRO Compression socks wrap the foot is different as they really seem to emphasize added compression through the arches and heels. The dual material seems to wear very well, and unlike some others grass and debris clinging was not much of an issue. Through a lot of walking on the course as well as walking at work in general, both sock models held up very well and left no discomfort at all, which is one of the biggest praises you can give any sock.
Both the Trainer Low and No-Show models are priced at $25.00 for two pairs making them an extremely competitive price-point. Additionally, they are fully designed and manufactured in the U.S.A. More information on the company, as well as all of their different lines/products can be found at www.ProCompression.com.