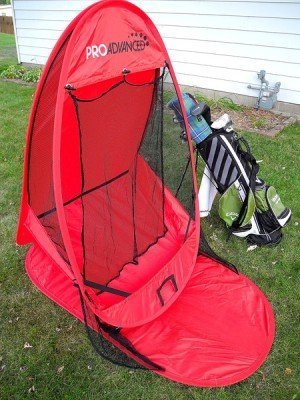 With fall upon us, many golfers in the Northern states are starting to think about ways to keep their swing fresh through the upcoming winter months. One often used method is hitting balls into a net, either inside the house or in the garage. That does present challenges for some people though, often because nets can be large and hard to set up and take down. ProAdvanced Sports believes they have come up with a solution to that problem with their ProApproach net. It's small and designed for easy storage and I've been testing it for the last month in the hopes that I can help some of my fellow Northerners cope with the excruciatingly long off-season.
Company Information and Product Specifications
About ProAdvanced Sports
Like many good golf products, ours was born on the driving range.
During a golf lesson, Renan (one of the founders) was approached by a young Chinese man (Huaimian) who was doing market research for a new golf net he was working on. Renan was an engineer at the time, and so surprised Huaimian with his technical feedback. Before long, they were working together to create a golf net that solved the three main deficiencies that all current golf nets suffer from:
No ball return
Flimsy design
Slow to setup
For years, Huaimian had been working on mass-produced nets which always emphasized cost over quality. Renan, even as a newcomer to golf, was pretty unimpressed with the training tools on offer, and so they established ProAdvanced.
Today, because of our multicultural team based across three continents, you can buy the highest quality practice nets and golf products, direct from the factory. Innovative design, superior quality and the attention to detail that you deserve.
The ProApproach Net
Launched at the 2013 PGA Show in Orlando, the ProApproach Net is the World's Most Compact Golf Practice Net, designed to develop your short-game indoors & outdoors (Short-Game only – No Full swing). When unfolded for use, the ProApproach measures only five feet by three feet (1.5mx1m) and returns the ball automatically. The ProApproach opens in seconds and folds up instantly for storage purposes. ProAdvanced Sports has its own production facility to help ensure high quality standards. The nets are made of polyester and feature a spring steel frame. Comes with hitting net and practice target. US & international patents pending.
World's Most Compact Golf Practice Net!
Pops up & folds up instantly for easy storage!
Practice Anywhere: backyard, office, hotel room, garage…
Automatic Ball Return
Extended size: 5ft x 3ft (1.5m x 1m)
Description and Setup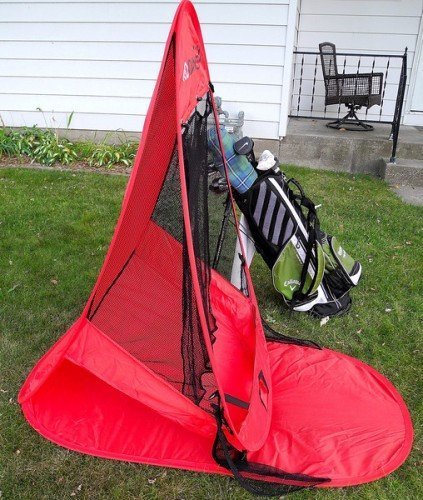 As the two pictures above show, the ProApproach is extremely compact. At five feet tall, it will fit into any room or space suitable for swinging a golf club without taking over half the area. In its disassembled state, it takes up the same amount of space a small pillow does, so it's easily stored in a closet or under a bed. Due to low ceilings in my 'man cave', I typically use a one-car garage as my indoor practice area and I found that the net was far easier to manage in that space than a larger product I used last year.
Setting up the ProApproach was as simple as it gets. After removing it from its case, it unfolds itself into a flat state. From there, all it takes is standing up the top portion and fastening four elastic bands. All told, it took me about 2 minutes to go from storage to hitting balls, which is just unreal when I think about how much time and effort it took to set up my old net. It was so bad that I refused to take the old net down until the end of winter if that tells you anything. For those people using the net outside that want to secure the ProApproach to the ground, there are stakes included, though I never found a need for them when using it on the grass.
A couple small details stood out to me, both upon first inspection and while using the ProApproach. First of all, the actual net material is removable and hangs freely. This should allow it to absorb a little more of the impact without undue stress on the material. The other benefit to that is if it does sustain damage over time, it's easily replaced. Secondly, the ball return (essentially just a hole in the front that is fed by the sloped nylon structure) should make hitting consecutive shots less of a chore. Those of you that have spent much time hitting into a standard net will know the hassle of walking up and leaning down to get your ball time after time.
Using the ProApproach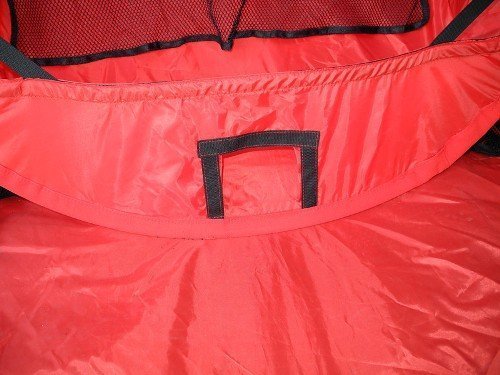 First off, a word of caution: ProAdvanced describes the ProApproach as a net designed for practicing your short game, however it is tall enough (and you stand close enough to it) that full iron swings are an option. However, it could be possible to miss the net if you hit a ball off the hosel. If you're looking at this for use inside your home, I'd recommend you full consider the risks of using it for anything other than short game practice beforehand. Since I used it in my garage, I was willing to take the risk, but by no means am I advocating that you do the same. ProAdvanced does offer a larger net if you feel this could be an issue.
That being said, I did use the ProApproach extensively for both partial swing wedges (short game) and full swing irons and didn't have any issues of the ball not flying into the enclosure. Past experience has shown me that durability can be an issue with some nets, but I can say that I experienced no such issues while preparing for this article. Both the supporting structure and the actual net material stood up to regular use. Obviously, four weeks doesn't give a full picture of long term durability, but I've had nets that didn't last a week in the past, so results were promising.
The ball return worked fairly well. There were occasions in which the ball didn't make it out of the hole and I had to walk up to grab it, but for the most part it performed as advertised. I was told that the company has redesigned this feature to make it even more reliable and that this upgrade is already part of the nets being manufactured at this time. Either way, this was a very handy feature than I appreciated. Most times the ball rolled all the way back to my mat.
In summary, the ProApproach performed as advertised and ran by the competition when it came to compactness and convenience.
Storage
I posted a video from ProAdvanced on the THP Forum that shows the process for taking the ProApproach down for storage, but I wanted to quickly show how easy it really is. Like setup, it only took a couple minutes.
The first step is unhooking the elastic bands and laying the net flat (making sure netting is tucked in).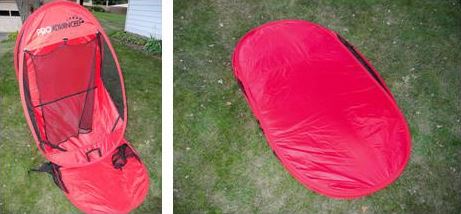 From here, you pull one end of the flattened net towards its center and step on it with your foot. Grab one side of the 'U" and pull it towards the middle. The tension will cause the net to force itself into a circle.

Finally, you stuff the circle into the ProAppoach's carrying case. I sat the stored net next to my golf bag to show how small it really is when folded down.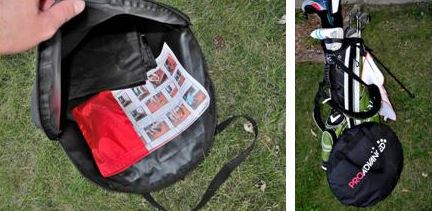 Final Thoughts
THP loves innovation and ProAdvanced is definitely showcasing it with the ProApproach net (not to mention their other, larger offering). This product solves the problems that make many nets a hassle with its compact size, easy set up and take down, and handy ball return. This is a product that can be used at home or easily transported anywhere. In addition, it's affordable at $79.00. Stay tuned to our forum for more information on long term durability, but early results were promising. For more information, including ordering instructions, check out the company's website at www.pro-advanced.com.