With comfort and budget-consciousness in mind, Callaway's Chev Comfort shoes offer a solution for the golfer looking for footwear that will cushion their feet without costing them an arm and a leg.
Information from Callaway
Its sleek, athletic look and brand new permanent traction outsole sets this shoe apart from the rest of the industry.
Soft, easy-clean synthetic material upper.
All  rubber Engineered Traction System Comfort Spikes.
All rubber Comfort Traction outsole.
Lightweight EVA Comfort midsole.
Callaway Comfort insert.
Five colorways (White/Brown/Black, Black/Black, White/Black, White/Black/Red, White/Black/Blue
$59.99
1-Year Limited Water-Resistant Warranty
Callaway Golf warrants to the original purchaser for a period of one year from the date of purchase that the shoes will be free from any material or workmanship flaws that may result in water leaking into the shoes.
30-Day Comfort Guarantee
Warrants shoes for fit, comfort, or cushioning within 30 days of purchase.
Style and Comfort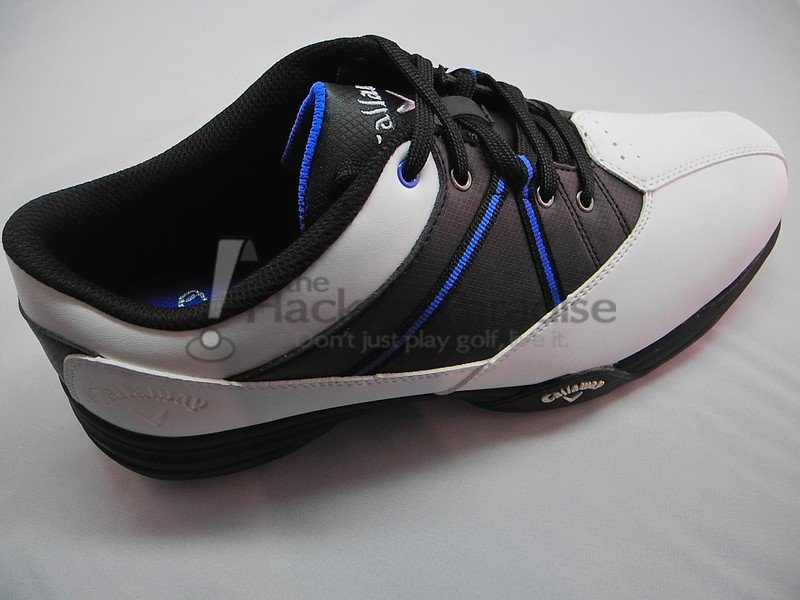 While they appear to be a standard spiked golf shoe, the Chev Comforts are really almost a hybrid of sorts. The sole is actually closer to what we'd see in spikeless shoes, with the addition of some larger 'almost' spikes. This means they offer a little more traction than some of the typical spikeless shoes, while at the same time retaining some of the comfort spikeless shoes are known for.
The Chev Comforts probably aren't going to win any style awards in 2015, though that is tempered somewhat by their very modest $59.99 price tag. The synthetic uppers have a saddle-style design with small accent colors jutting down the sides. The best way to describe them would be 'no-frills'. This is a pair of shoes that will quietly blend in on the golf course, which for some is exactly what a golf shoe should do. Those looking for a little flair will probably want to look elsewhere though.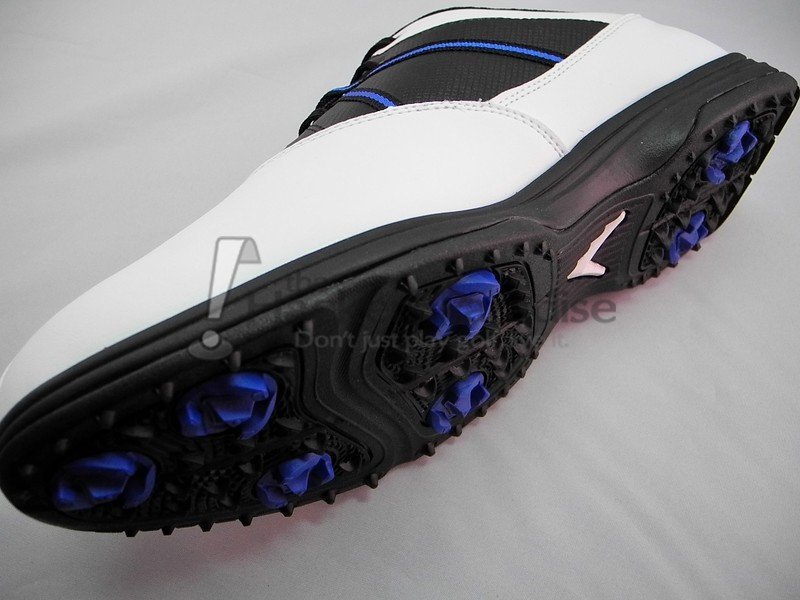 What the Chev Comforts lack in style they do make up for in comfort. With a very roomy toe box and ample padding, they will please many feet. Those players that need just a little more space should find they fit true to size. This especially nice for those that aren't quite in the "Wide" category, but find that some golf shoes create friction on the toes due to their taper. If you've worn a Callaway shoe before, you should be able to take these directly from the box to the golf course without a second thought. They seem to run just a hint larger than some of the brand's offerings, but not enough to warrant a change in size. Rather, the difference is just enough to give them a little added space to wiggle the toes.
At $59.99, the Chev Comforts may not offer any bells or whistles, but the golfer that is looking for a cheap footwear solution that he can wear comfortably may find them an attractive option. More information and pictures of the other colorways can be found at www.callawayfootwear.com.