For a vast majority of people who tee it up to play the game of golf, there is one simple truth; golf is hard. For many, the key to getting better at this game is to get out and practice. Not just grabbing the clubs and heading to the driving range to beat ball after ball, but finding a way to practice with a purpose. Creating a plan to make the most of practice time is something that most amateur golfers fail to do. Thanks to Epic Golf Games, a practice plan for both putting and short game is now laid out for golfers everywhere in the form of challenge cards.
Short Game Version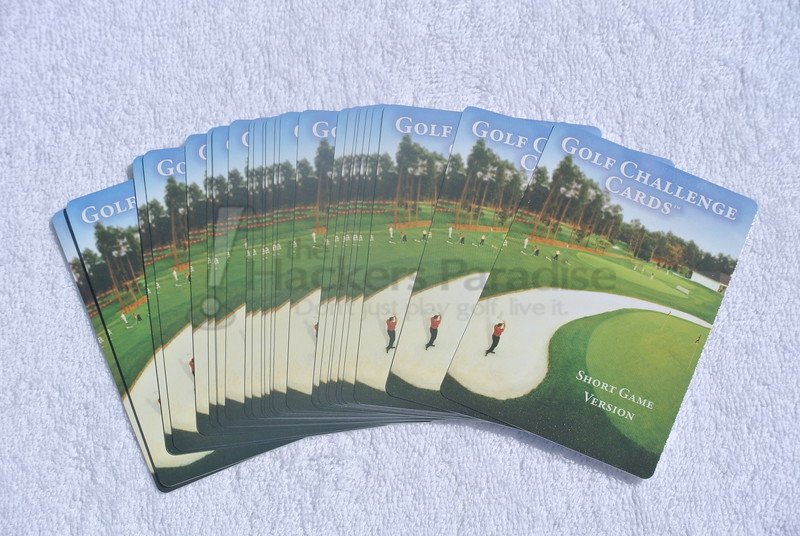 The short game is without a doubt a very important part of the game. Consider that most amateurs are not hitting many greens in regulation, which means they need to rely on this aspect of the game to try and save par on a repeated basis. However, practicing the necessary short game shots is something that probably doesn't get done frequently enough. To become a player with an all-around short game, one must practice getting up and down from a variety of lies and distances. This deck of cards will test every facet of the short game, from pitches and chips, to bunker shots, and some long putting.
To get the most out of these cards, it is recommended that players draw one random card from the deck. Printed on each card will be a specific challenge pertaining to the short game. Each challenge with also contain four different levels of success. On one of the guideline cards, it recommends that players choose the level of success based their handicap. Players who carry a handicap of 25 and above, should aim for level one. Level two should be the goal for those in the 12-25 handicap range, while those under 12 aim for level 3. The fourth level is labeled as level X and is the extreme challenge. Unlike with the next deck of cards, there is no real score based system, instead these cards get players practicing and achieving a different set of goals with each card that is pulled.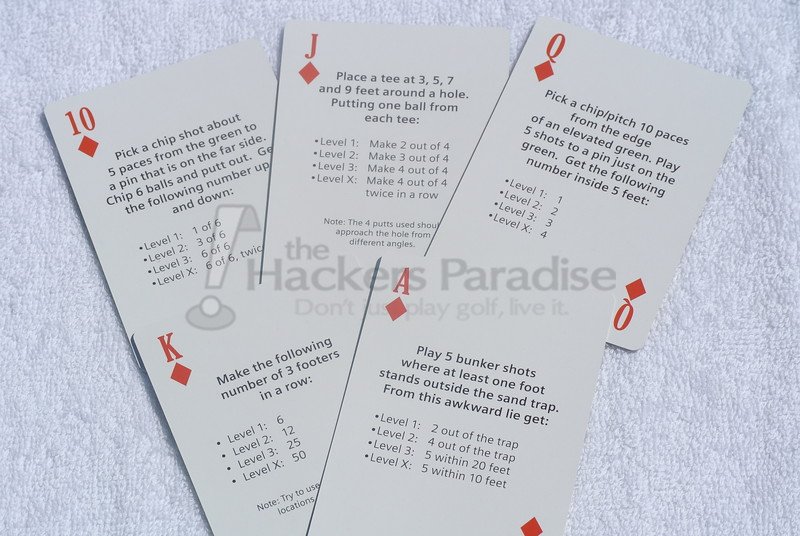 The Putting Edition
Moving on to the putting edition, the practice plan becomes a bit more regimented. Unlike the above mentioned cards, these are broken down by different challenge categories. Those categories are EPIC Eighteen, EPIC Journey, EPIC Workout, EPIC Drills, Epic Battles, and EPIC Crazy Challenges. The suggested routine is to successfully complete two cards from each of the first five categories listed per month. The Crazy Challenge cards are there for players to take on when they feel they are ready for a more difficult task. As an example, one of those tasks is to make 75 15-foot putts in one single day without putting from the same location.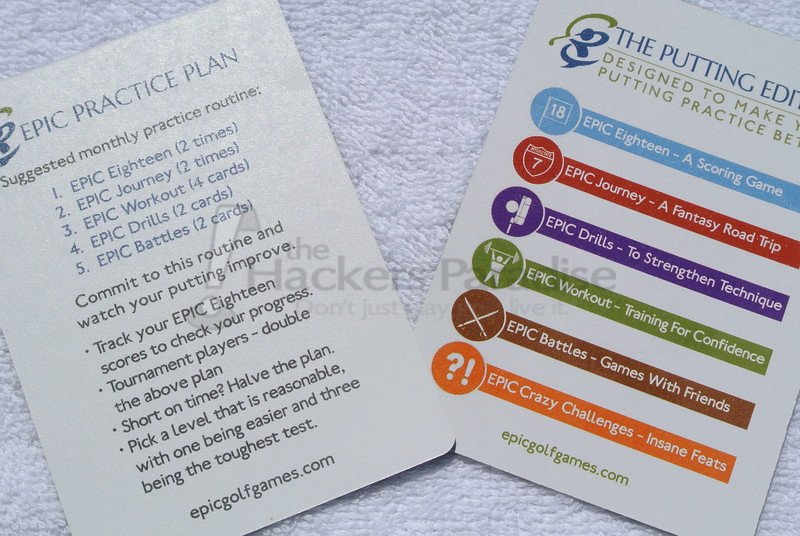 Providing players a way to keep track of their progress, a scorecard is included as part of the Epic Eighteen rotation. Each card within this set gives a certain task, and then as part of the task, a value is assigned to the final result. After spending time with these cards, keeping score and seeing where improvement is needed, was something that made putting practice less mundane and more enjoyable. Due to the fact that this part of the practice sessions had a score involved, it seemed to aid in increased focus and concentration, something that at times can vanish during ordinary putting practice. Below is a quick rundown of what the other practice formats provide.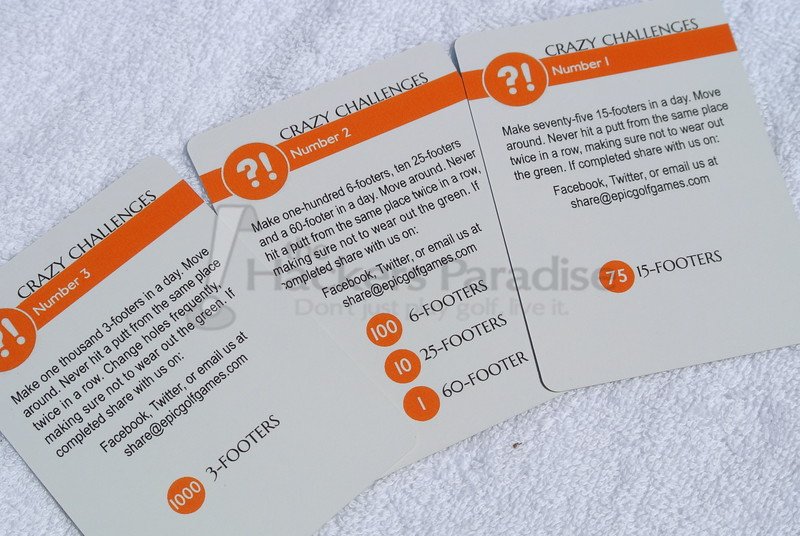 EPIC Journey – Using these seven cards is fresh way to not only get players to go through certain drills, but to do so with an end point in sight. The imaginative journey kicks off in Bandon, OR and ends in Pinehurst, NC. The goal is to make the 7-day drip in a 7-day period. Players should not move locations (draw another card), until they have completed the challenge card in hand. These drills do offer three different levels, for those who get through the first level without a stumble.
EPIC Workout – Confidence is what these eight cards are all about. Providing drills that will assist in developing a strong mental aspect to putting. Workouts are as simple as surrounding a hole with four balls that are three feet away, and seeing how many putts one can make in a row. Not all drills are that close to the hole, as there are lag putting workouts as well.
EPIC Drills – These cards offer more of a boot camp style of practice. Each drill found within these cards has a certain focal point to help players perfect their technique. Since becoming a strong putter includes excelling in multiple characteristics, these eight cards will assist in that. Challenges for these include specific drills to help one master distance control, feel, green reading, and solid contact.
EPIC Battles – For many golf is much more fun when a partner is included. These battle cards can be used for two or more players. Games are as simple as playing a putting version of H-O-R-S-E, and a different version of baseball. Practicing with a friend introduces competition, which can make those practice sessions both more focused and fun.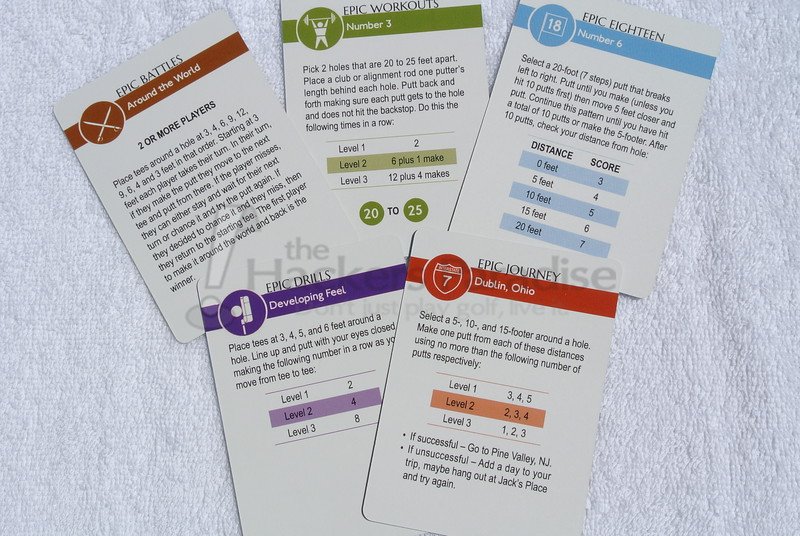 Going to the practice facility with a certain goal in mind is something that professional golfers have been able to do for most of their lives. For the masses of players who enjoy this game, developing such a plan and sticking to it is not as easy. Epic Golf Games has helped create a simple and fun solution for the average golfer. These packs of cards are something small that can be easily kept in a bag and taken out when getting to a practice green. They will keep practice fresh, fun, and above all, help develop a boost in both short game technique and confidence. Those interested in the Short Game Edition, can purchase the cards for $12.99, while the Putting Edition sells for $14.99. More information on these challenge cards can be found at www.epicgolfgames.com.