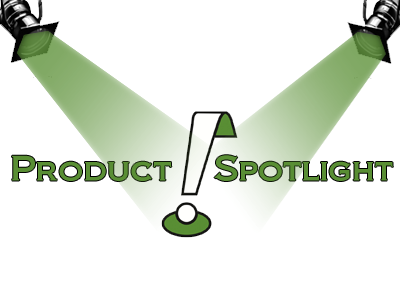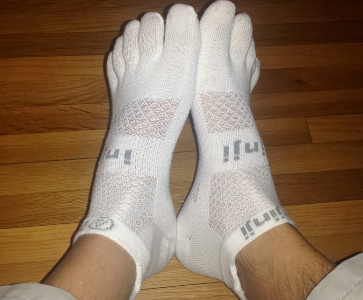 Joining the growing number of golf-specific socks on the market, the Injinji (pronounced In-gin-gee) Golf sock offers many must-haves we've come to expect along with an unmistakable distinction. As you can see from the picture above, it's a toe sock!
Information from Injinji

Injinji's NEW Golf specific sock is the ultimate sock for hitting the links. The original weight padding is the perfect amount for the demanding game of golf, while the new proprietary Tour-Venting™ breathing system provides 360 degrees of air-cooled comfort. Like all Injinji's, the new Golf specific sock completely eliminates skin-on-skin friction, wicks more moisture and will improve your balance. Just some more great reasons to stay on-par by wearing Injinji.
Many people wonder why toe socks are better than the traditional sock design. The answer is surprisingly simple. We created a sock anatomically designed to your foot, and the five-toe sleeve design allows your toes to splay naturally and align properly, enabling greater stability and more comfort. We only use superior fibers that are durable, light, and flexible to offer superior breathability, which means cool, dry, and comfortable feet. We intended to create a sock that fits naturally, protects from blisters and is so comfortable you forget you're wearing socks. That's the way it should be.

Availability
Available is sizes small, medium and large (ranging from men's sizes 5-13).

Colors: white, white with pink lettering, black

$12
Fit, Comfort and Performance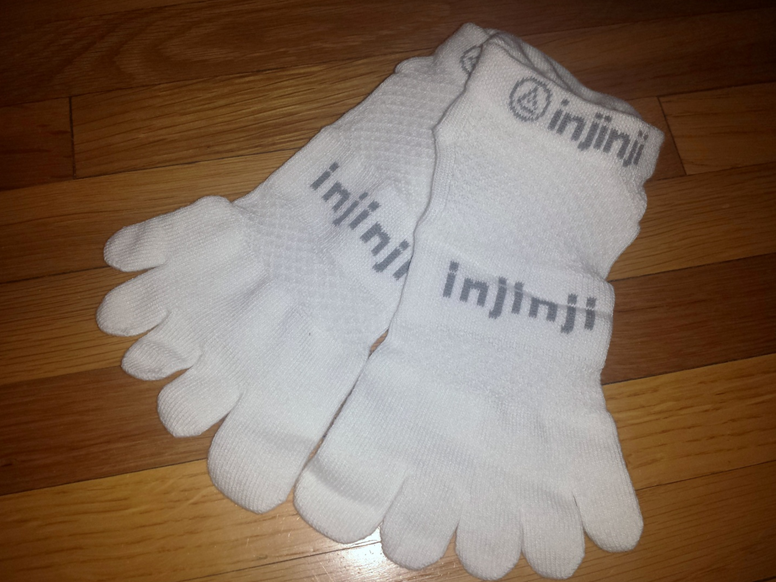 As noted above, the Injinji Golf sock does come in three different sizes and the company sent samples of all three. With a men's size 11 bordering between medium and large, it turned out that both sizes worked fine. The medium was bit more snug, but was sufficiently comfortable and it seemed to hug the toes a bit better. If there is any doubt for those near the cutoff of two sizes, Injinji recommends going with the larger one.
One of the first things you'll notice when putting on a toe sock is that it takes more time than a conventional one. This wasn't necessarily an annoyance, but it worth mentioning that a little effort is needed to route the toes to their correct place and get the sock on correctly.
The ultra-thin Coolmax material was comfortable and breathable for extended wear, much like one would expect from any performance sock. As seen in the pictures, the heel area rises higher; this meant that there wasn't any of the irritation found from a no-show sock that wants to creep below the top of the shoe. In fact, the Achilles area was well protected in a variety of different shoes, both for street wear and for golf.
It is worth noting that wearing a toe sock takes a little getting used to. Though the point is that skin-to-skin friction is eliminated (reducing the chance of blisters), it is a different feeling having fabric between the toes. Testing showed that this feeling went away quickly, but it will take a little time to acclimate.
Admittedly, there weren't any noticeable benefits as far as the golf swing is concerned while wearing the Injinji sock, but the comfort, breathability, and Achilles protection were all appreciated. The company feels that having the toes aligned and separated can enhance performance, but there wasn't really an indication that was the case in our limited experience. Still though, as a walking golfer, anything that lessens the chance of blisters is a positive and they'll certainly get a great deal of use as the golf season ramps up.
At $12 a pair, Injinji's Golf socks are more expensive than a generic sock, but are competitive with others that are geared specifically for golf. In addition, they come with a 100% satisfaction guarantee within 60 days of purchase, offering some assurance for those unsure whether or not to take the leap. More information on Injinji and their golf sock can be found on the company's website, www.injinji.com.