With a multitude of features meant to make tracking a variety of sports easy, the ScoreBand Pro watch is reasonably priced and inconspicuous on the wrist.
Product Information from ScoreBand
ScoreBand PRO is everything you loved about the original ScoreBand and more. Built on input procured from thousands of user surveys, product reviews and direct feedback, ScoreBand PRO encompasses everything the passionate recreational athlete could ask for in a scorekeeping watch. Three scorekeeping modes (Golf/Tennis/AllScore) plus Stopwatch and Time mode make ScoreBand PRO the only sports watch you will ever buy.
GOLF
Track Hole and Round score
Running total of strokes display
Post-Round score summary of Front 9/Back 9/hole-by-hole
Elapsed time of round (hole-by-hole)
TENNIS
Track Game / Set / Match scores
Player Serve indicator ("P1″/"P2")
Tie-Break scoring option
Post-Match Set Score summary
Elapsed Match time (by Set)
ALLSCORE
Track Game and Series score (up to 99:99)
Post-game summary of Game scores
Record statistics or counts for other sports/activities
STOPWATCH
Standard Stopwatch function (to hundredth of second)
Includes lap counter
Lap time review
FEATURES
WATER RESISTANCE: 3ATM
BACKLIGHT
"HIBERNATE" MODE TO CONSERVE BATTERY LIFE
LOW BATTERY INDICATOR
REPLACEABLE 3 VOLT LITHIUM BATTERY (CR 2016)
SMALL/MEDIUM SIZE = 216mm (8.5″) long X 16mm wide (wristband)
LARGE/XL SIZE = 241mm (9.5″) long X 20mm wide (wristband)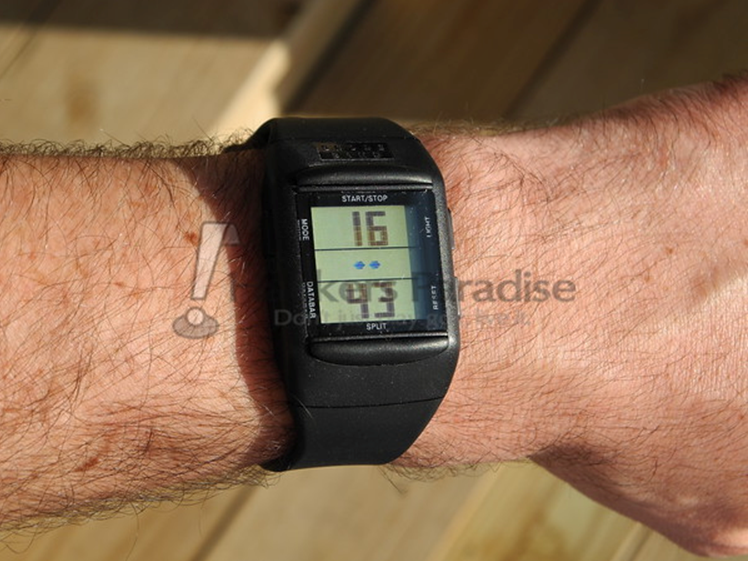 As illustrated above, this tiny device brings with it a number of different features that pertain not only to golf, but a number of other sports, including tennis, soccer, running, biking, volleyball, and many more.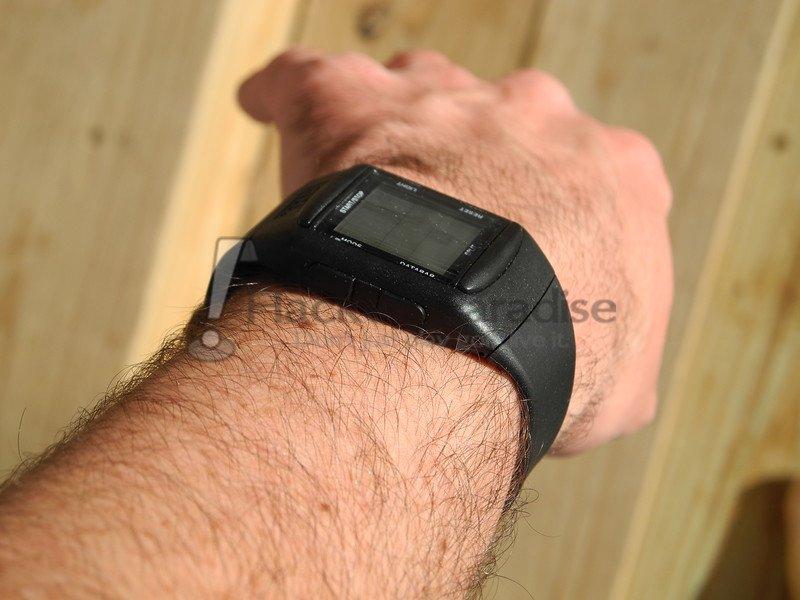 No larger than a standard wristwatch, the ScoreBand Pro has a smaller profile than the GPS watches that many of us are familiar with. The rectangular shape and flatter profile sat comfortably on the wrist and the band held the watch securely without being uncomfortable.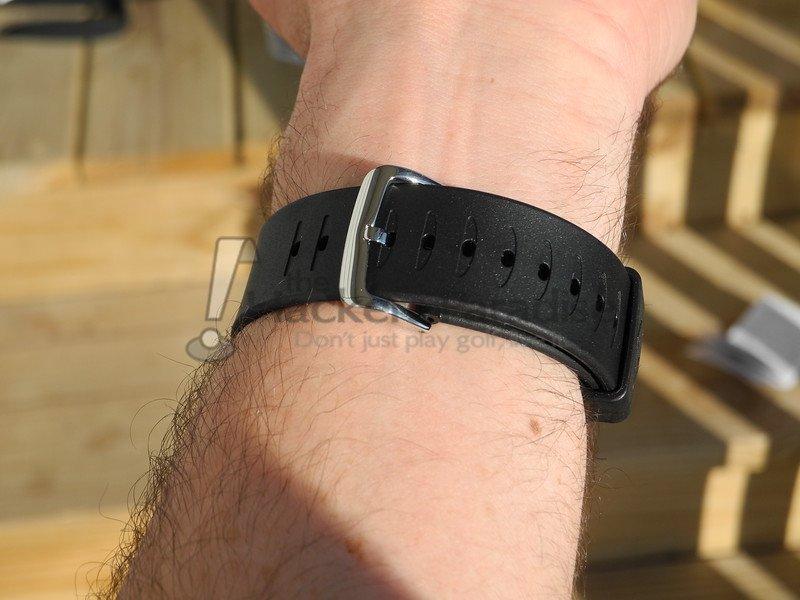 It is advised that purchasers take time to thoroughly read through the included instruction pamphlet, as it's not immediately apparent exactly what features are available and what it takes to access them. An aptly labeled button cycles through the five modes, but once in the mode of choice, there are certain buttons that need to be recognized and pushed for the mode's intended purpose.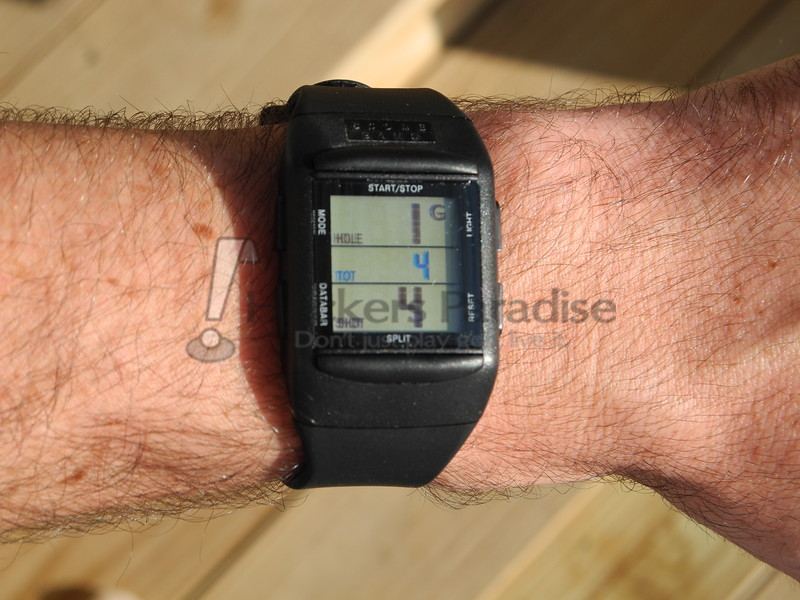 Compared to what many of us are used to, the golf mode is rather bare bones. This is purely a score tracking device (with some time tracking included), so those that seek to record more involved statistics will likely want to look elsewhere, though it's obviously unlikely they'd find a dedicated unit to do so at a comparable price. Those that want nothing more than the simplicity of entering their score rather than writing it down should find the large buttons easy to find and press when needed. The watch records a hole-by-hole score as well as a running tally for the entire round.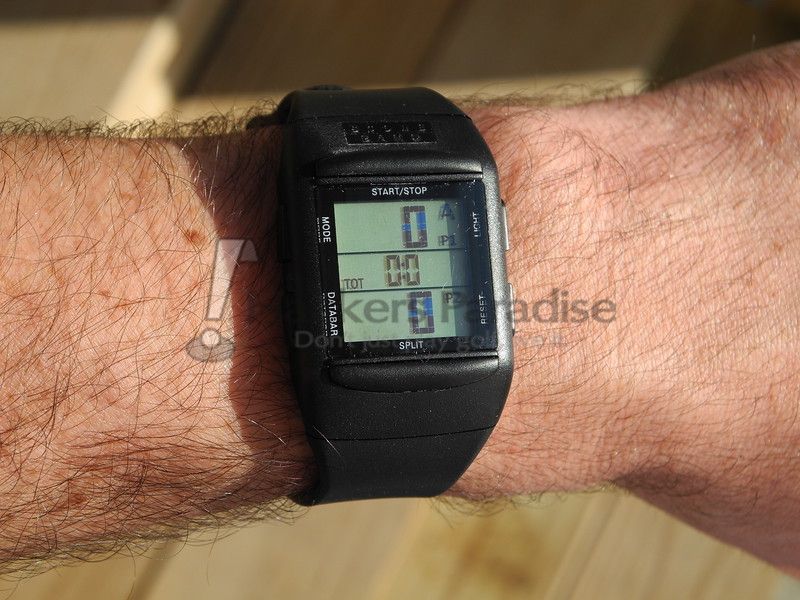 Aside from the dedicated tennis mode that will find popularity among some golfers, the All Score mode may be the other most valuable feature the ScoreBand Pro offers. It's universal in that it can be used for scorekeeping and general timing of almost any sport. Those golfers that moonlight as coaches for their children's activities will likely appreciate having score and time in such an out of the way, yet accessible spot.
Conveniently, all modes are accessible and usable at the same time, meaning that one could use the stopwatch for more detailed timekeeping while still keeping score. Also, any undesired modes can be hidden by the user, making cycling through much quicker for multi-taskers.
The ScoreBand Pro retails for $49.95, comes with a one-year warranty, and can be purchased on the company's website, www.scoreband.net.